CREI Concept
Around the Centers for Research, Education and Innovation (CREIs) the whole research, education and innovation identity of Skoltech will develop. Through them, the processes to become a high performing university and an international hub of scientists will be established.
Skoltech has defined six priority areas for its efforts – Biomedicine, IT, Energy, Space Science, Nuclear Science, and Science cutting across these areas (e.g., composite materials, product realization etc.).
The CREIs aim to:
* Pursue leading research in their fields
* Deliver world-class graduate education programs which are aligned with a European (Bologna) structure in a Russian context
* Generate results that can form the basis for innovation and entrepreneurship activities at Skoltech and in Russian industry.
The establishment of CREIs in close cooperation with one (or more) international and Russian academic partner institutions is done because we believe this is the most efficient and fastest way to establish a new world-class graduate research university complementing the existing research and educational system in Russia and develop a gateway between Russia and the rest of the world.
The simplified conceptual structure is shown in the figures on the left and below. Skoltech CREIs embody the increasingly important collaborative and multi-university research partnerships required for multidisciplinary advanced research. CREIs are Skoltech's units. Each CREI will have two or more major university or research institution as CREI Partners, bringing Skoltech faculty and researchers into collaboration with researchers from both international and Russian institutions. The faculty, post-docs, students, and other researchers participating in CREI and CREI partnership primarily conduct their research at their home institutions and in existing facilities at their home institutions, but work collaboratively at the project and center levels to achieve the thematic and intellectual joint research goals. Each CREI Partner will also work on Capacity Building for CREI, mainly when CREI launches and grows. The CREIs will be led by a Skoltech CREI Director, top notch senior researcher, recognized leader in his/her field, supported by the same class people serving as Principal Investigators or Faculty at Skoltech and Partner universities.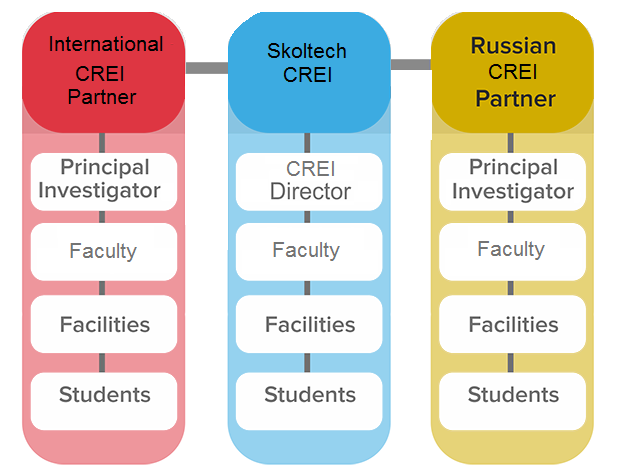 Once established, the CREIs pursue leading research in their fields, deliver world-class graduate education programs which are aligned with a European (Bologna) structure in a Russian context, and generate results that can form the basis for innovation and entrepreneurship activities at Skoltech and in Russian industry.
The following principles will apply as we set up the CREIs and the CREI partnership program of Skoltech.
The key leaders of the research project at the partner universities will have the appropriate Skoltech faculty affiliations, as will the post docs
The Skoltech CREI director need to be identified at start of the partnership program and begin work in Moscow as soon as possible. The functions and responsibilities are described in a separate document.
The partnering universities will host faculty, post-docs and students from Skoltech
The partnering universities will actively work with Skoltech to recruit faculty, postdocs and students for the CREI and may host some of them until they can move to Skoltech.
All equipment bought using Skoltech funds will be owned by Skoltech and should be transferred to Skoltech campus as soon as practical. An alternative to buying equipment is to rent equipment from vendors or to pay for the cost of time on equipment bought by the partner with independent funds.
CREI leaders, faculty and partners will participate in various committees and projects at Skoltech to build capacity and establish the university. Such activities include for example, board of education, innovation activities, faculty committees, faculty search committees, etc.
In recognition of the fact that all new projects have a normal ramp-up period and that CREIs in addition have a great need to initiate capacity building as soon as possible, there will be an approximately six-month period of detailed planning of the project, including identifying needs, developing plans, recruiting key personnel, and building the team. This reinforces the notion that a CREI is not research "business as usual," but is a new model of integrated research, education and innovation, with the primary intention of building a new institutions in Russia.
During the first six months, the following types of activities will be conducted:
Recruiting the Skoltech senior staff for the CREI, other Skoltech faculty members, and senior administrative staff at Skoltech
Recruiting the Skoltech partner staff, including the administrative staff, competence on innovation and education, and key researchers
Forming committees and working groups among Skoltech and partners to address planning issues and other ongoing activities, including for example, education planning
Understanding and engaging the Russian industrial complex, identifying industrial stakeholders, their needs, their existing capabilities, and plans for deeper engagement
Developing the working relationships among the members of the partnership, including building relationships of trust and open communications, close working relations, etc.
Creating an operating plan for the first few years of the CREI, including planned progress, staffing, outcomes, budget, etc.
Issuing the sub or secondary contracts from the lead organization to the other non-lead to partners
Planning for equipment purchases, facilities and infrastructure for research, as well as renting or acquiring space for the CREI activities
The first six-month review of the center will examine the progress on these and other start up issues. If progress is considered to be unsatisfactory at the review, a review of priorities and budgets will be necessary which may delay the full scale ramp-up.
| | | |
| --- | --- | --- |
| | CREI | CREI Partner |
| Location | Skoltech Campus | Partner's institution |
| Leader | CREI Director | Principal Investigator |
| Personnel | CREI Faculty and Staff | CREI Affiliates |
| Budget source | Skoltech | Skoltech pays under terms of Agreement |
| Role | Build Skoltech with help from Partners | Has deliverables to Skoltech |