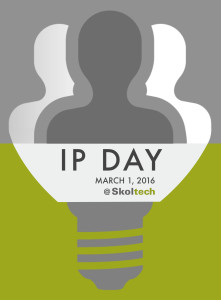 Knowledge Transfer Office @ Skoltech invites all faculty, students and staff to IP DAY!
KTO will address IP-related concerns, opportunities as well as services available at Skoltech.
Where: Skoltech 3rd floor, Multifunctional area
When: March 1 2016, 1pm – 5pm
The agenda will mainly consist of 4 main parts:
Brief introduction to Skoltech's intellectual property management ecosystem and services.
Discussion of typical issues based on real cases.
Technology transfer process from A to Z, and inventor's role in it (how-to).
Q&A session, open discussion.
There will also be networking and open discussion opportunities during coffee breaks.
Faculty, students and staff members are all welcome to participate in IP DAY.
If you have a question please send it to
or call us at +7 495 280 14 81 (ext. 3306).