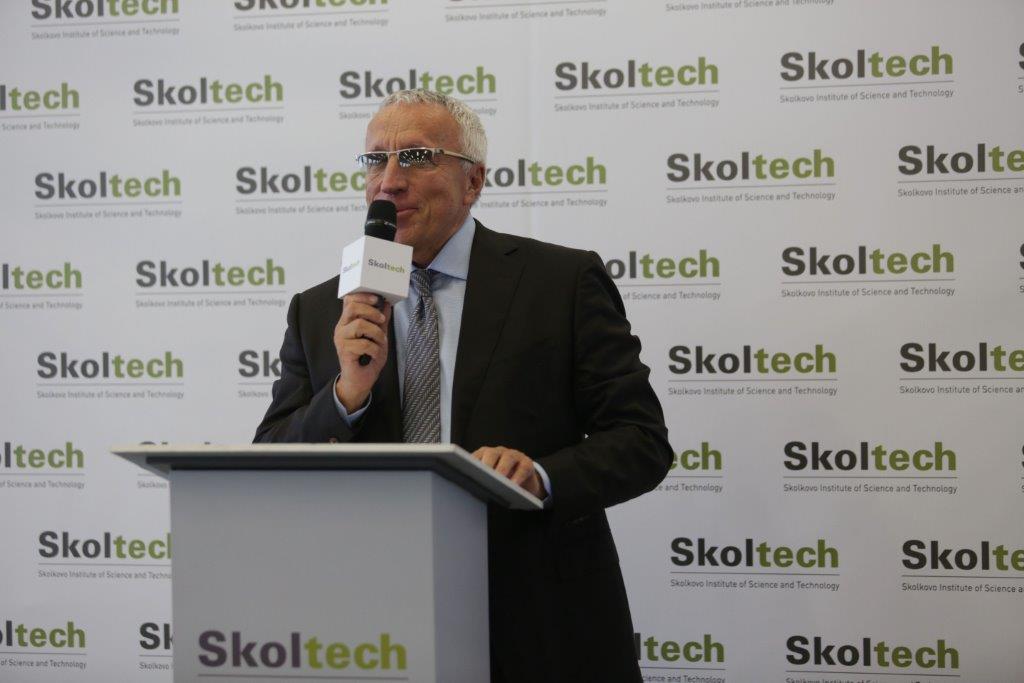 On Monday, February 15 RAS academician Alexander Kuleshov will take the office of the new Skoltech President. In this position Prof. Kuleshov will succeed MIT Professor Edward Crawley who led Skoltech since its inception in 2011. Professor Crawley will keep on lecturing at Skoltech.
Prior to this appointment, Alexander Kuleshov took an active part in determining the strategy of Skolkovo project and shaping of the Skolkovo Institute of Science and Technology, serving as a member of the Scientific Advisory Board of the Skolkovo Foundation and member of the Skoltech Board of Trustees.
Prof. Edward Crawley:
"Alexander Kuleshov is one of the world's leading scientists, he has the highest professional reputation and enjoys the respect of his colleagues. For four years Alexander has been serving as a member of the institute's Board of Trustees, and perfectly well understands and shares the priorities of the Skoltech development."
Prof. Alexander Kuleshov:
"My appointment is both a great honor and a huge responsibility. For me, the slogan of Skoltech would be "an institute for the gifted." The quality of students is the main key to success. "
Alexander Petrovich Kuleshov is an expert in the field of information technologies and mathematical modeling. In 2006 he was elected as the director of the A.A. Kharkevich Institute for Information Transmission Problems (IITP) of the Russian Academy of Sciences (RAS). Chairman of the Academic Council of IITP RAS, the chairman of the IITP RAS Doctorate dissertational council, head of the basic Chair of Information Transmission and Processing of the Moscow Institute of Physics and Technology in the IITP of the Russian Academy of Sciences. Author and co-author of 54 scientific works, including 4 monographs. Member of the international editorial board of journal "Problems of Management Theory and Practice", member of the coordinating council for innovation and intellectual property of the Russian Academy of Sciences.
For more information, please see the Skolkovo Foundation website
http://sk.ru/foundation/team/p/person.aspx?un=kuleshov
http://sk.ru/news/b/news/archive/2016/02/12/skolteh-provodil-akademicheskogo-papu.aspx (In Russian)
Media contacts – Alexander Zolotarev,
+7 916 686 73 34, , https://www.skoltech.ru
*****
The Skolkovo Institute of Science and Technology (Skoltech) is a private graduate research university in Skolkovo, Russia, a suburb of Moscow. Established in 2011 in collaboration with MIT, Skoltech educates global leaders in innovation, advances scientific knowledge, and fosters new technologies to address critical issues facing Russia and the world. Applying international research and educational models, the university integrates the best Russian scientific traditions with twenty-first century entrepreneurship and innovation. https://www.skoltech.ru/
The Skolkovo Foundation is a non-profit organization founded in September 2010 by the Russian government with the objective of accelerating Russia's transformation from a resource-intensive to an innovation-based economy. To achieve this objective, the Foundation is overseeing the creation of the Skolkovo Innovation Center, composed of more than 1,000 high-tech startups, Skolkovo Technopark, the Skolkovo Institute of Technology (Skoltech) – a new graduate research University established in collaboration with the Massachusetts Institute of Technology – and Skolkovo city, located near Moscow. Together, these entities establish a vibrant ecosystem of technology innovation and entrepreneurship. Fifty global corporations including Boeing, Cisco Systems, EADS, GE, Johnson & Johnson, IBM, Intel, Microsoft, Siemens, Nokia, Samsung, and Panasonic have already recognized the opportunity Skolkovo presents by signing R&D partnership agreements with the Foundation. The cumulative revenue of Skolkovo's startups through December 2014 reached $1 billion. They brought in more than $220 million in investment, creating 13,500 jobs and filing over 1,300 patent applications along the way. By 2020 over 2 million square meters of residential and office space will be built in Skolkovo with 35,000 people working daily in the Innovation Center. For more information:  http://www.sk.ru/en
Contact information:
Skoltech Communications
+7 (495) 280 14 81