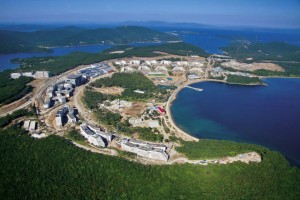 Skoltech professors Georgiy Bazykin and Konstantin Severinov from the Centre for Data-Intensive Biomedicine and Biotechnology participated in the first Skoltech scientific site visit held April 10-14 in Vladivostok. They presented a series of lectures to Far-East Federal University (FEFU) students, staff, and faculty. Topics covered during included genome editing, novel techniques for microbial diseases treatment, and bioinformatics. There were also research seminars on evolutionary theory, population genetics and peptide-like bioactive molecules. Besides, young scholars discussed career pathways and general misconceptions about grant application process with DIBB assistant director Maria Kolesnikova.
«Our lectures were very interactive, we wanted to get to know FEFU students: what are they being taught and how. Turns out the overall level is quite high.» mentions CDIBB director Konstantin Severinov. One of the key outcomes of this visit is an arrangement of summer internship for five FEFU students at Skoltech laboratories.
Selections were made by Skoltech professors and both Skoltech and FEFU Schools of biomedicine and natural science will provide support for the program. The FEFU students will work in Skoltech wet or bioinformatics laboratories under direct supervision of our faculty.
«The lectures were simply amazing! The internship will certainly broaden my horizons and will give me new ideas in my own research projects» told Yekaterina Gorobets, FEFU third year student. She is among the five students who have received Skoltech internship offer.
«This event is just a beginning of a long-term collaboration between FEFU and Skoltech. I am happy, that the outcome of this lecture miniseries by Skoltech professors is the internship of our top students at Skoltech CDIBB.  This is the first but very important step towards our future extensive collaboration. Skoltech president and I have discussed several promising directions for further development of FEFU and Skoltech strategic relationships. Biomedicine is clearly one of them» mentioned Gennadiy Molchanov, FEFU vice-president for strategic development.
«The results of this event have exceeded our expectations. The FEFU students' internship at Skoltech is not the only tangible result. We have also started negotiations on other issues, including network educational programs in Biomedicine and Biotechnology and cooperation in other areas of science. The success of this first event makes us look forward to upcoming Skotlech faculty lecture series in Novosibirsk, Kaliningrad and other university cities», said Alexander Safonov, Skoltech vice-president.
In addition to lectures by Skoltech faculty a Spring Workshop «Science vs. Life: Far East» organized by Skolkovo Open University took place at FEFU. Alexander Safonov has presented Skoltech to workshop participants who came from various academy institutes from all over Far East. Konstantin Severinov gave his vision of global biomedical trends. Bazykin and Severinov also participated in «Let's science!» student scientific club.