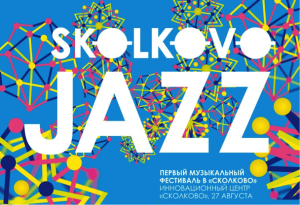 This summer will be the first time in Skolkovo's history that the Skolkovo Jazz Festival is held, so mark August 27, noon to midnight, on your calendar, because this is when Russian and international jazz musicians will be performing for you, along with a special academic program running.
There will be two stages operating in parallel at the Festival — the main one and the experimental one. The main stage will feature Igor Butman with his Moscow Jazz Orchestra (who is also the founder and the music producer of the Festival) and trumpeter Vadim Eilenkrig, while on the experimental stage you will be able to hear Tony Momrelle Band, Tesla Boy, Guru Groove Foundation, Alena Toymintseva with the Think Twice band, and some others. The name of the headliner we cannot make public as yet — keeping everybody in suspense.
And there will be more than music to it! The Festival agenda includes popular science lectures, master classes and interactive installations. Music lovers and those seeking something original will be welcome to attend the Vinyl Market where rare records will be available for purchase or exchange. There will also be a FoodTrack Fest, all part of the Skolkovo Jazz Festival, bringing together Moscow's most popular and best known street food projects.
Skolkovo Jazz Festival is open to all. Come along and bring your friends, your children and your parents — everyone will find something to their taste. Tickets are available on the Festival's official webpage. There is a special price offer running now — 1,200 rubles per ticket, while the price on the spot will be 2,000 rubles.
So, see all of you at the Festival, and join us in social media, where you can learn firsthand who and what can be seen at the first ever Skolkovo Jazz festival: