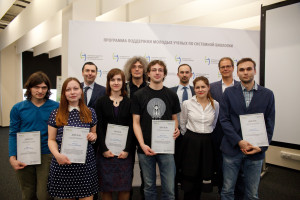 On April 27 an award ceremony of the winners in the Systems biology Fellowship Program administered by Skoltech Center for Data Intensive Biomedicine and Biotechnology with support from Philip Morris International took place. The program, which is the first of its kind in Russia, will grant the five winners a three-year support of basic research in the broad field of systems biology and data-intensive biology that is in the main focus of biomedical research at Skoltech. The total sum of each individual award is 1,890,000 rubles over the course of three years. Five winners were selected:
Ekaterina Khrameeva from Skolkovo Institute of Science and Technology, for her project "Molecular signatures of normal and aberrant development, aging and longevity in human brain​"
Ilya Vorontsov, from the Vavilov Institute of General Genetics, for his project "Prioritizing non-coding variants by transcription regulatory potential​"
Sergei Ryazansky, from the Institute of molecular genetics, for his project "Biological role of polymorphism of small RNA expression in Drosophila"
Mikhail Pogorelyy​, from the Shemyakin-Ovchinnikov Institute of Bioorganic Chemistry, for his project "High throughput sequencing of identical twins TCR repertoires after yellow fever vaccination"
Anastasiya​ Ivanova, from the Shemyakin-Ovchinnikov Institute of Bioorganic Chemistry, for her project "High-throughoutput study of the genetic network controlled by the secreted regulator of the brain development and regeneration, Ag1, which was lost in higher vertebrates".
«Systems biology is the biology of the future, it will allow scientists to put together the enormous amounts of disparate information that we have acquired during past decades to control various biological processes, battle disease, and some day even rationally engineer new organisms with desired traits. Because of its strength in mathematical sciences Russia is well-positioned to make a mark in this area. I am very happy that the first ever fellowship program in systems biology in Russia is supported by industry.  I hope other companies will follow soon. And it is only natural that Skoltech, an innovative university that combines research excellence with consideration of use, became the partner in this important program» – emphasized CDIBB Director, Prof. Konstantin Severinov.
«On behalf of Philip Morris International I'm glad to congratulate the winners of the program. Russian science and education are major directions of our support» – says Bertrand Bonvin, the president of affiliated companies «Philip Morris International» in Russia.