On July 13, 2016, in accordance with the agreements made during the St. Petersburg Economic Forum, a representative delegation of PJSC "Bashneft", headed by the President and the Chairman of the Board of PJSC "Bashneft" Alexander Corsica, visited the Skolkovo Innovation Center and Skoltech.
The Skolkovo foundation was represented by Viktor Vekselberg, the President and Co-chairman of the Board of "Skolkovo"; Vasily Belov, Senior Vice-President for Development and Commercialization; Alexander Chernov, Senior Vice President, External Communications and Advertising; Nikolai Grachev, Vice-President and Executive Director of the Cluster of energy-efficient technologies; Mikhail Tykuchinsky, Development Director (Cluster energy efficiency technologies); Marat Zaydullin, head of oil and gas center (cluster of energy efficient technologies).
Skoltech side was represented by President Alexander Kuleshov; Alexey Cheremisin, acting associate director for experimental research at the Center for Hydrocarbon Recovery; Andrei Ushakov, Deputy Director of the Center for Design, Manufacturing and Materials; Ivan Sherstov, director for research.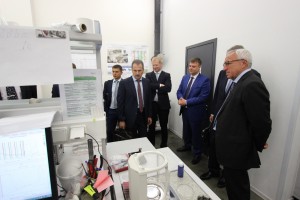 During the meeting, Skoltech President Kuleshov gave a detailed picture of the university's activities, the practical cooperation with companies in the sector, the plans to develop the Center for Hydrocarbon Recovery and to expand the laboratory facilities. During the presentation, Kuleshov announced proposals for cooperation between Skoltech and "Bashneft", which will allow the company to implement its projects more effectively.
At the end of the official part, the "Skolkovo" Foundation and "Bashneft" signed a technology transfer agreement.