The Ministry of Education and Science of the Russian Federation awarded Irina Dezhina, Head of Skoltech Scientific and Industrial Policy group, a certificate of appreciation.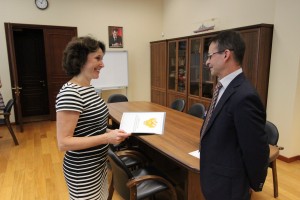 On August 19, 2016, the Deputy Minister of Education and Science of the Russian Federation, Alexander Klimov, congratulated Irina Dezhina, PhD, Head of the Skoltech Scientific and Industrial Policy Group, for being awarded the certificate of appreciation. "I would like to thank you for the enormous contribution you made to the development of science and education in our country, for the efforts you have made and contribution to the development and strengthening of relations between the Ministry and the scientific community. I hope that this is not your last award and we will celebrate your great work more than once", said Klimov, handing over the award on behalf of the Ministry.
"I am very pleased that my 30 years in the profession – and I started working in a science in the days of the USSR – are now marked by the state. I am very pleased to get recognition and receive this certificate in this place – in the Ministry of Education, which is closely connected to all the stages of my academic career", said Dezhina, accepting the award.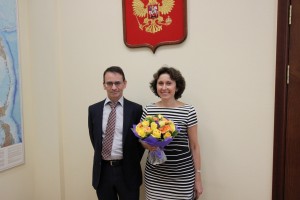 Irina Dezhina is a known Russian science theorist, chief expert-analyst of the Russian Fund for Technological Development, the author of more than 200 scientific articles and 10 monographs.
Prior to joining the Skoltech, she served as the head of economic sector of the Science and Innovation Institute of World Economy and International Relations. Dezhina was a Fulbright Scholar in the framework of the "Science, Technology and Society", Massachusetts Institute of Technology's research associate Institute, Kennan's Center for International Studies, Woodrow Wilson in Washington (1994. And 2013.). During 1998-1999 she worked as an analyst for Science Policy in International Stanford Research Institute (SRI International), a consultant to the World Bank, the European Bank for Reconstruction and Development, the Civilian Research and Development, the Organization for Economic Cooperation and Development, APEC, and an expert of the EU Framework Program.
In June 2016, Irina Dezhina was given the highest academic award of France – the title of Chevalier of the Order of Academic Palms, by a decree of the Prime Minister of the French Republic.