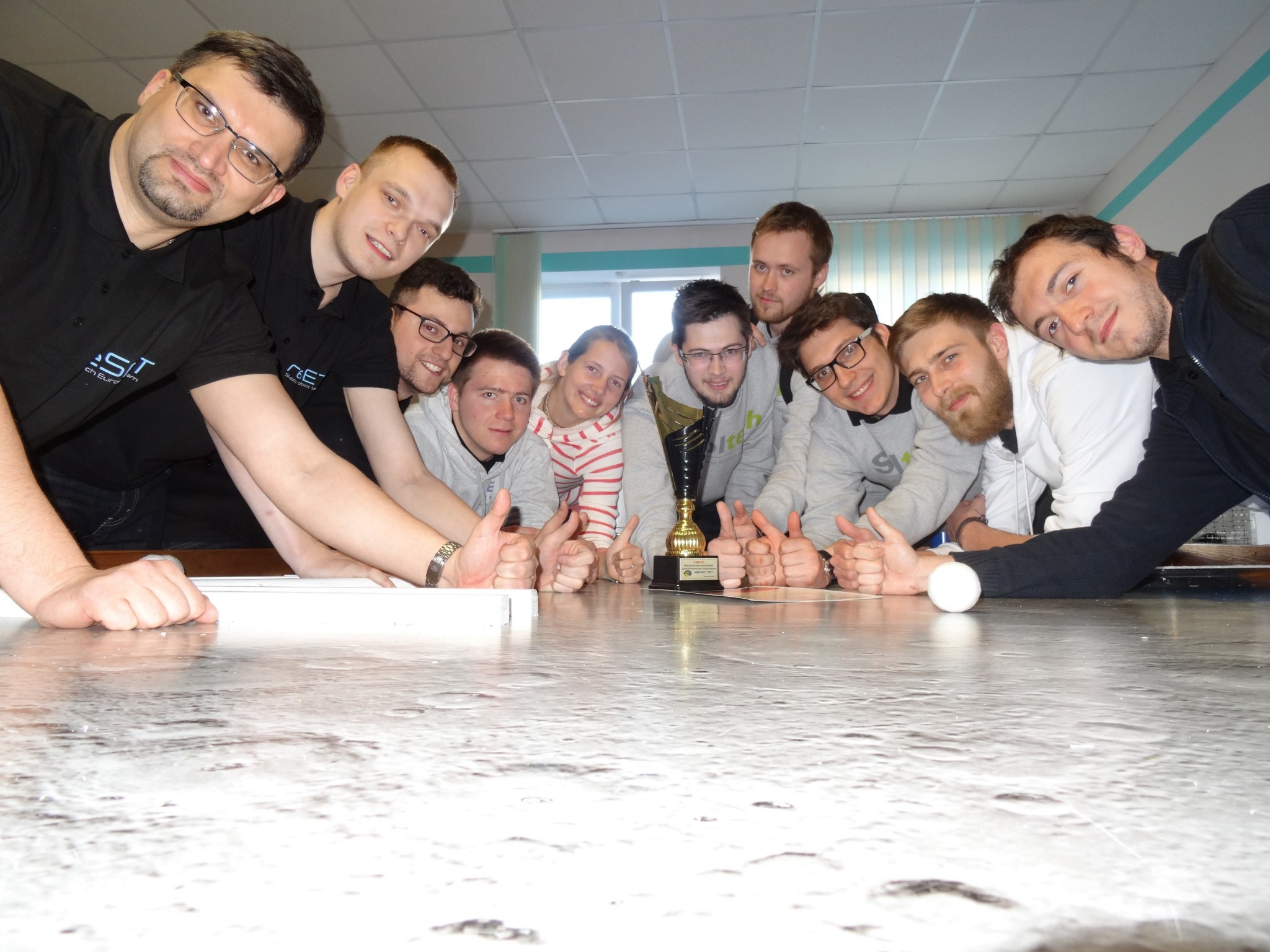 Through a combination of hard work, grit and reverence for the samurai code, Skoltech robotics team reSET has cemented its status as Russia's best.
Despite only having existed for two years, reSET has won the Russian round of annual robotics competition Eurobot twice in a row.
With the latest victory under its belt, the team is headed to la Roche-sur-Yon, a small village in France, where on Monday it will face off against the crème de la crème of the European robotics world.
We sat down with the team's leader, Skoltech Space Center Professor Dzmitry Tsetserukou, as well as its student captain, Oleg Shipitko, to learn the secrets to pulling together a first-rate team with limited time and resources.
Japanese roots
Tsetserukou attributes his successful leadership of Skoltech's Space Robotics Lab to the decade he spent honing his skills in Japan. After having earned his PhD from the University of Tokyo in 2007, he was awarded a prestigious two-year postdoctoral fellowship for research by the Japan Society for the Promotion of Science (JSPS).
Between 2004 and 2009, he worked in the laboratory of Susumu Tachi, a professor at the University of Tokyo and founding president of the Virtual Reality Society of Japan. Tachi is a world renowned innovator who created an invisibility cloak that was recognized by TIME magazine as one of the Best Inventions of 2003.
While working in the Tachi Lab, Tsetserukou conducted studies on telexistence robots – robots designed to provide users with the real-time sense that they are somewhere other than their actual physical location and able to interact with those virtual surroundings.
His focus was on robots capable of providing intrinsically safe and natural interactions with human beings. The technologies he developed during this period, including a series of devices aimed injecting human emotions and sensations into online chats, attracted international media attention.
In 2010, Tsetserukou accepted an assistant professorship at Toyohashi University of Technology, a school with a top-notch engineering program and a reputation for collaborating with Japanese manufacturing giants like Toyota. He remained in Toyohashi until 2014, when he joined the faculty of Skoltech.
"In terms or robotics and automation, I think that Japanese engineers are the best in the world," he said. "Technology and science are deeply appreciated in Japan. That's what makes this environment very powerful in terms of technology."
Humble origins
Once Tsetserukou arrived at Skoltech, he was tasked with building its Intelligent Space Robotics Lab from the ground up. One year later, team captain Shipitko began his studies at the institute.
"I wanted to get more practical experience, because at my previous university we had a lot of theory, but we didn't have real opportunities to apply it," Shipitko said. "That's why I joined Skoltech's robotics lab, because it seemed to be highly practical."
Shipitko and Tsetserukou joined forces to create top-notch Eurobot teams in 2016 and 2017. Aware that they didn't have unlimited resources for the ambitious goal, they set their sights on attracting the brightest young engineering talent possible.
"To motivate these students, [Shipitko] and I did a lot of work," Tsetserukou said.
He galvanized students by offering academic, professional and monetary benefits that proved difficult to pass up.
First, their Eurobot work would qualify as coursework, counting toward their grades in the robotics courses that Tsetserukou teaches at Skoltech.
Second, by developing and constructing robots that serve specific, preordained functions, they would acquire practical experience and technical skills that would appeal to future employers.
Third, they would receive an additional monthly stipend for their participation on the team.
Meanwhile, Shipitko served as chief evangelist, persuading friends and fellow students to join.
Rather than cherry picking students, Tsetserukou sought candidates that had the internal drive to devote long hours of intensive labor to creating cutting-edge robots.
"I just proposed this challenge and it was their personal decision to accept the call. They really learned a lot, so now there is no doubt for them why they selected this way – the way of Bushido," he said, referring to the samurai code of conduct, which champions the virtues of rectitude, bravery, benevolence, respect, integrity, honor, loyalty and self control.
The approach paid off, attracting a truly top-flight team.
"All of the team members are heroes," said Tsetserukou. "We don't have a huge budget or a huge room – the team itself, their skills, their team spirit, the time that they devoted to winning – they really make the team champions."
To prepare for their first Eurobot competition in 2016, reSET hired Alexei Gonnochenko, a project manager at the Skolkovo Foundation's Robocentre, to train them. Gonnochenko brought with him years' of experience designing robots for competitions.
By the time preparations began for the 2017 competition, the team was ready to go it alone, relying solely on their own skills and experience.
With each passing year, Tsetserukou expects his students to pass the skills and insights they have gained along to the next generation, ensuring the propagation of the knowledge and virtues that have propelled the team to victory.
Preparing for life on the Moon
Each year, Eurobot presents competitors with a unique challenge. The 2017 challenge relates to a topic that international authorities are currently grappling with.
In 2016, the European Space Agency (ESA) announced plans to create a Moon Village – a permanent base on the surface of the Moon that will strive to foster international cooperation and bolster space commercialization efforts.
As explained by ESA Director General Johann-Dietrich Woerner in a statement: "The Moon Village is open to any and all interested parties and nations. There are no stipulations as to the form their participation might take: robotic and astronaut activities are equally sought after. You might see not only scientific and technological activities, but also activities based on exploiting resources or even tourism. It is precisely the open nature of the concept that would allow many nationalities to go to the Moon and take part while leaving behind them on Earth any differences of opinion." The projected timeline is 20 years.
According to Eurobot's 2017 rule book: "It is within this context that your robots will set out to conquer the Moon!"
Teams were tasked with creating a robots capable of performing three functions:
Collecting titanium ore and lunar modules
Building a Moon base using lunar modules
Launching a spacecraft
When the Eurobot rules are published each autumn, reSET relies on a process of trial and error to arrive at the optimal design. "Each year we see the task, and then we start analyzing how we can perform it," Shipitko said. "We build simple prototypes of mechanisms – really simple ones made from cardboard and sticky tape, etc. – just to understand the mechanics, such as how the elements are working and how we can manipulate them. Once we see that one product is better than another, we assemble a more advanced prototype, and step by step we come up with the final design."
Tsetserukou explained that some teams consistently attempt to rebuild their robots from previous years.
Bucking this trend, reSET opted to start from scratch, concluding that last year's robot had been built to perform tasks that failed to adequately align with this year's mission. In 2016, competitors were required to build beach robots that could perform various functions, such as building sand castles and going fishing.
The team built two robots in 2017, which – combined – fell within the size requirements imposed by the Eurobot rule book. Both robots performed unique functions simultaneously, enabling the team to complete its tasks quickly and efficiently.
"The members of the team came up with an idea for new robots," he explained. "We improved the navigation using LIDAR, so each robot is like a more clever version of a Tesla."
Equipped with LIDAR, the robots are able to emit a laser and then judge their distance from a target based on the signal it receives in return. Many teams still rely on odometers to navigate their robots – a slightly less accurate technology. Since an error of even half a centimeter can result in the failure to insert a module into its designated spot, increased accuracy is a crucial strategic asset.
Omnidirectional wheels enable the robots to move in any direction from the starting point, giving them superior maneuverability.
A timing belt mechanism enables one of the robots to take hold of lunar modules, while a pneumatic sucker enables it to rotate the position of each module and then store them with maximum efficiency. This efficiency is key in light of strict size restrictions.
"The RocketBot is very, very unique," Tsetserukou said. "We've never seen a similar robot before, and we're pretty sure that even in the final competition [in France], there won't be another team that will use the same strategy. It's called the RocketBot because of its high speed, maneuverability, and the fact that it operates the rocket modules."
He added that the movement of its mechanisms is reminiscent of the AK-47 – a world famous assault rifle developed in the Soviet Union. "The RocketBot is smart, compact and reliable – just like the AK-47."
The second robot, which is responsible for collecting titatnium ore, has been given a face lift since this year's Russian round. Tsetserukou believes its updates will give reSET a strong competitive edge in France.
"The team built this brand new robot in only 10 days. This is engineering at the speed of light," he said. "The robot, called OreHarvester, generates low-level pressure, generating suction with which to pull all available ore on the field into itself; hence its name." The previous version relied on an adhesive surface to collect the ore.
Victory
Backed by a solid strategy and a sturdy infrastructure put in place during the 2016 competition, Tsetserukou and Shipitko had gone into the Russian round of Eurobot with confidence that reSET would win.
The team's sponsors, including Avi Solutions, Maxon Motors, and Phoenix Contact contributed equipment amounting to RUB 500,000 (~EUR 8,000), which the team used in full.
After five rounds, reSET won with a score of 538 – more than double the 233 points earned by the second place team. "It gave us just an overwhelming sense of pride! We won, scoring higher than all of the other top Russian universities competing."
Both Tsetserukou and Shipitko stressed the importance of monitoring the strategies of adversaries and having numerous plans to combat them.
"You should carefully watch your competitor, understand how they get their scores, and if they have a strategy that interferes with your work area, you should adapt. Otherwise, you will lose," said Tsetserukou. "That's what makes this interesting and captivating."
Shipitko added that it's important to implement different strategies during different phases of the competition. Eurobot has two stages: first, teams compete in qualifying rounds. The winners of those rounds move on to the finals.
"It's really smart to have different strategies for these two. In the qualification stage, it's only important to get the highest score possible. It doesn't matter if you win or lose the match; it just matters how high you score," he said. "In the finals, you have to win to go further. And depending on the topic and the year, the best strategy can be very different."
He added that a key component of reSET's success is the ability of its team members to think on their feet and adjust their strategies on the fly.
Though Tsetserukou, Shipitko and their team were not shocked by their consecutive victories in Russia, they were delighted.
"We didn't earn cars or yachts or billions during this competition. What we won was honor," Tsetserukou said. "We are like stars shining for the next generation of young engineers. And people who want to work, live and find success in [Russia] need these kinds of stars and heroes. Otherwise they will say, 'Ok – there's nothing to see here. Let's go to Europe or the United States. They have great funding opportunities, they have great science and world famous Professors; so why should we stay here in Russia?"
Gearing up for France
After winning in Russia last year, the team took 13th place in the French competition.
And while winning first place this year is the dream, Tsetserukou said the team will be thrilled if they can simply beat their own record from 2016, noting that some of the teams they'll be facing have been competing for upwards of 15 years. He expects the fiercest competition to come from France, Romania, Serbia and Switzerland.
"Our basic target is to improve our score, so if we make it into the top five, it will be an unbelievably great achievement. But even if we improve two or three positions, it will be good. Because I believe in the evolution of technology," he said. "It is important to make steps forward no matter what – move and fight! The evolution of technology is a steady process that takes time and requires hard work. But if we win it will definitely be a revolution; everyone will know what Russian students are truly capable of."
Tsetserukou stressed that reSET's success is Skoltech's success.
Since its inception, the team's composition has come to reflect the diversity of Skoltech's academic offerings. In its first year, it consisted solely of MSc students studying space. This year's team also includes students from Skoltech's energy and IT programs, and has enthusiastic fans and well-wishers from across the university's faculty and student body.
"All together, we created wonderful robots that in the past would have been unreachable in Russia," Tsetserukou said. "And now many students and professors in Russia know that Skoltech is an excellent place to study. They have their own specific educational system, they have a great robotics program and they have great students who study here."
In addition to Tsetserukou and Shipitko, reSET team members include: Aleksei Postnikov, Alexandr Petrovskii, Denis Karpenko, Andrei Kvasov, Vladimir Karandaev, Igor Sorokin, Evgenii Ulianov and Bojan Lazic.