On September 1, the Skolkovo Institute of Science and Technology (Skoltech) hosted the round table "Neurobiology and Neurorehabilitation: International Cooperation for Global Challenges" dedicated to international cooperation in neurobiology.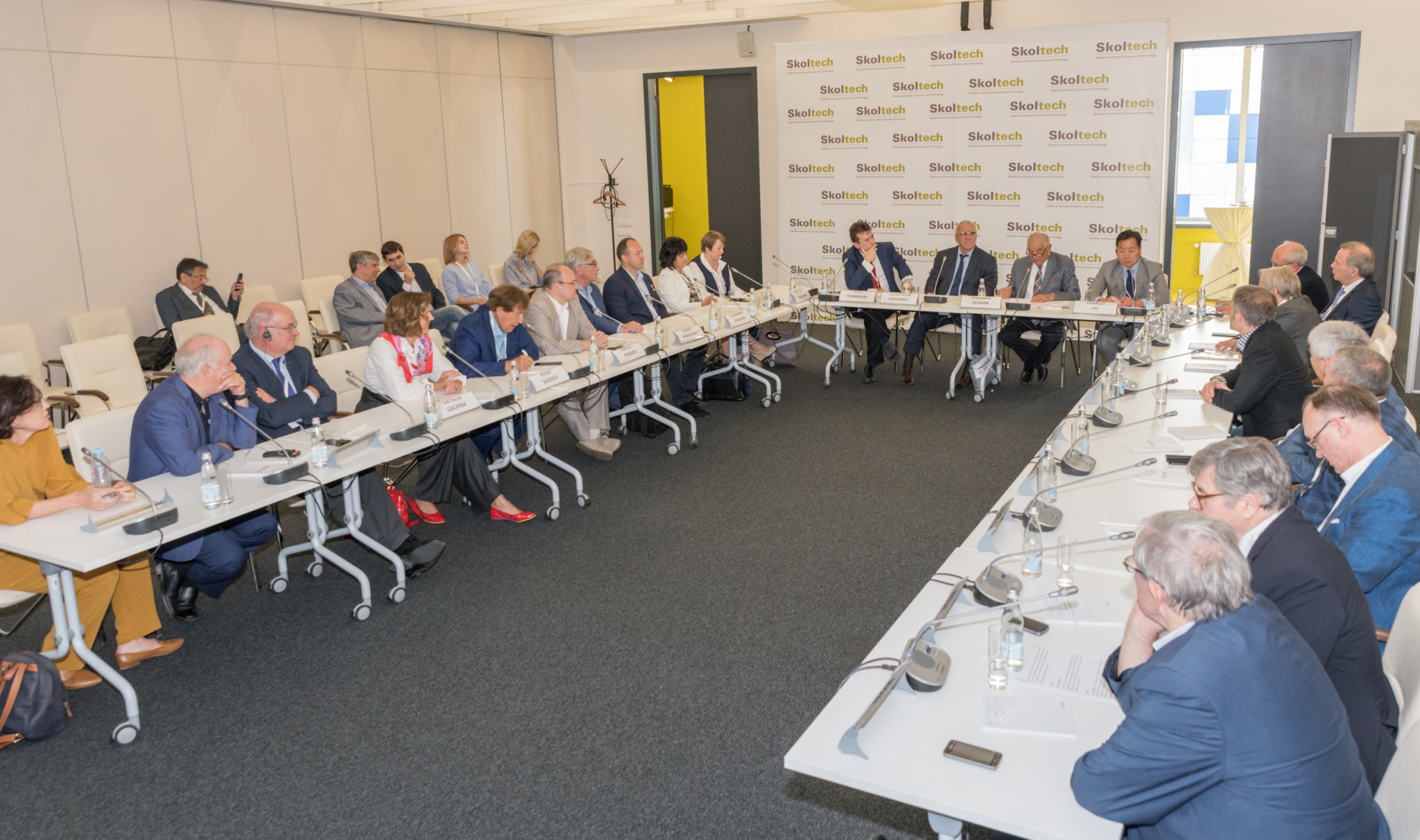 Earlier that same day, Skoltech and the University of Southern California (USC) signed a declaration on the establishment of the Skoltech Neurobiology and Neurorehabilitation Center (NNC). The round table participants were unanimous in that there is a compelling need for a neurobiology center in Russia, which would be hard to create without support from other world-leading centers. The declaration was signed in the presence of Russian Prime Minister Dmitry Medvedev.
USC professor and Member of the Russian Academy of Sciences Vladimir Zelman acted as moderator. The speakers included professor at the University of California Fabio Macciardi, Director of the N.N. Burdenko Center for Neurosurgery Alexander Potapov, Director of the RAS Neurology Research Center Mikhail Piradov, USC professor Charles Liu, professor of neurology at the Keck School of Medicine of the University of Southern California Paul Thompson, Skoltech professor Philipp Khaitovich and others.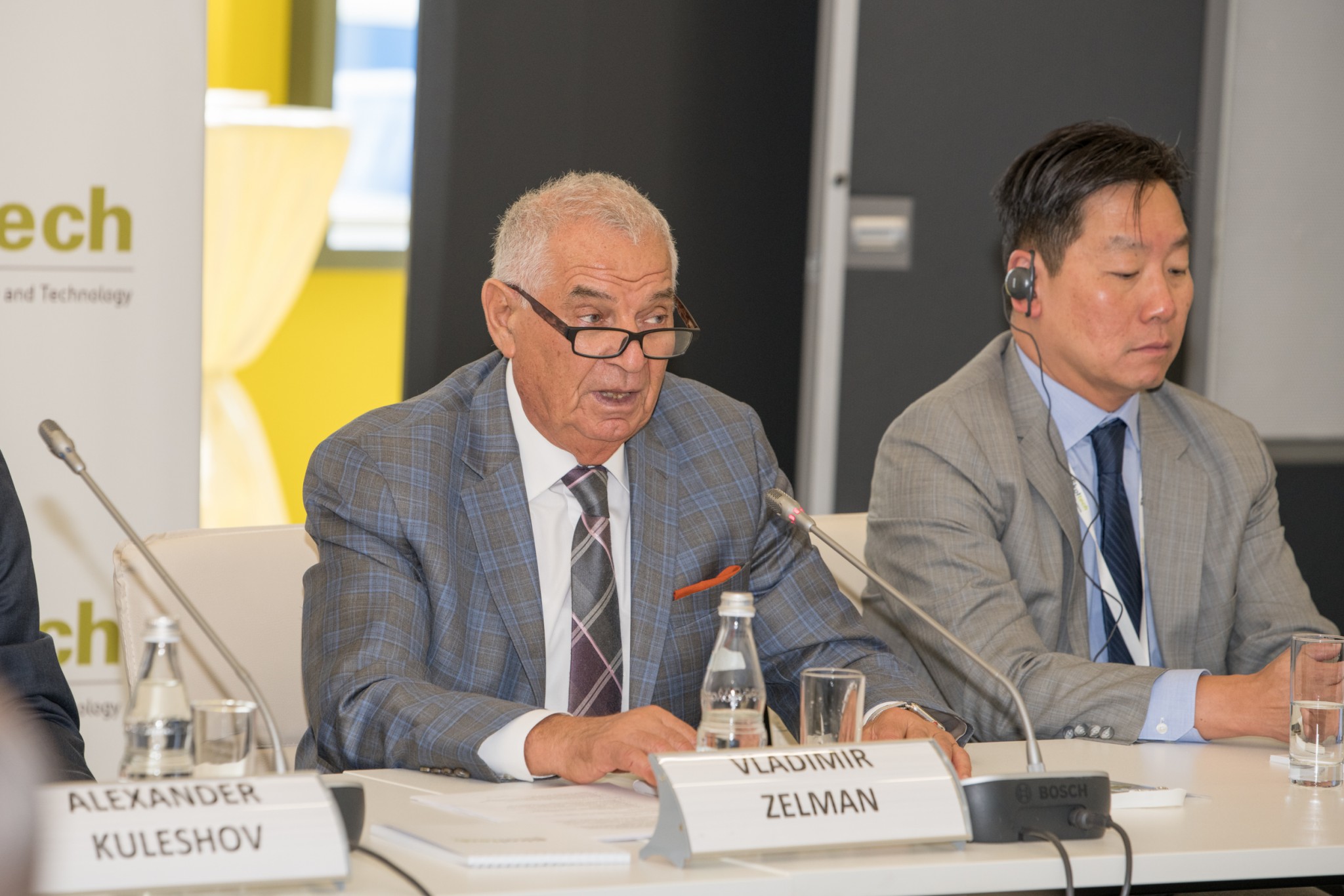 The participants discussed the latest developments and discoveries in neurobiology and neurorehabilitation, presented their research centers and expressed the need for joining efforts to deal with common challenges.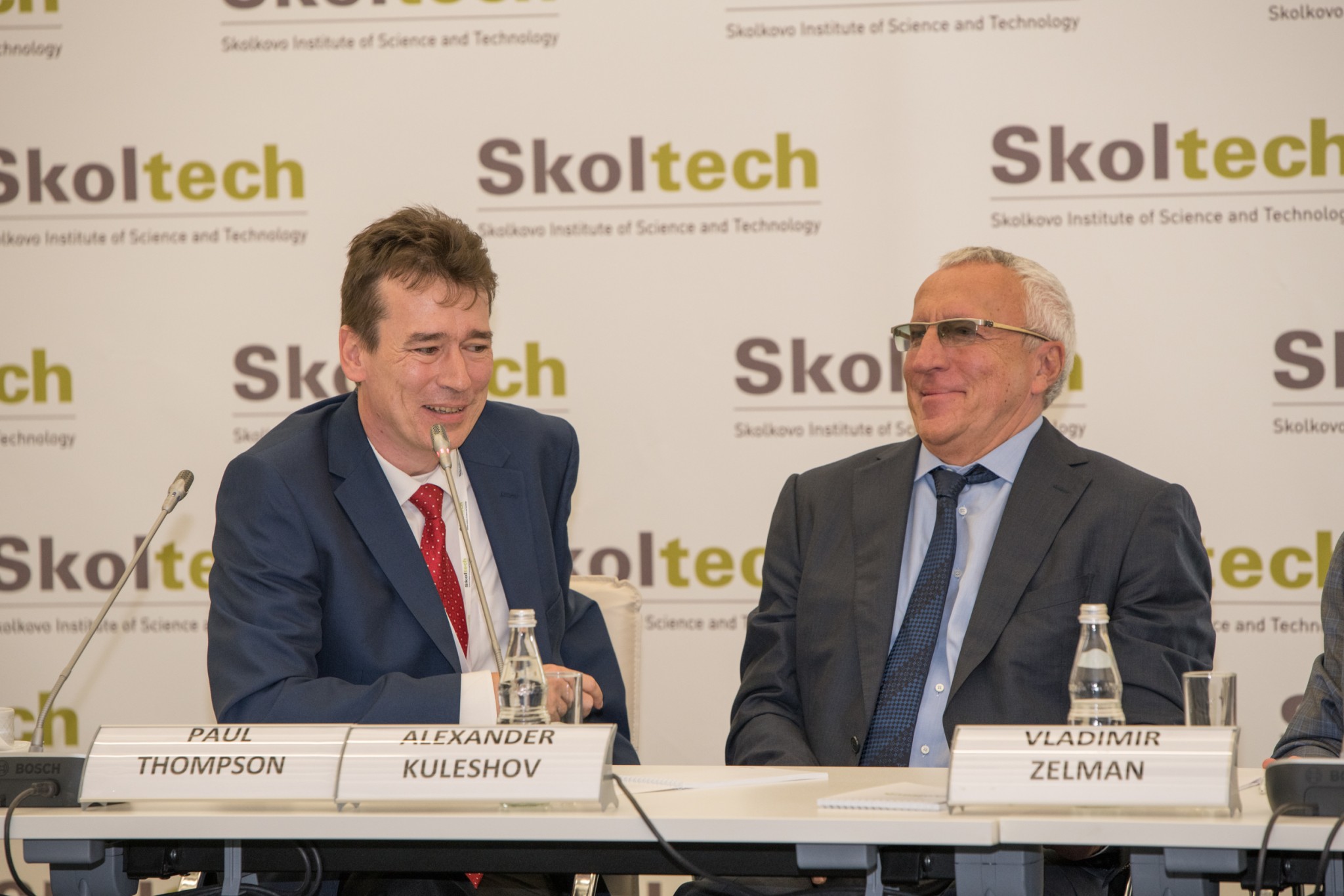 Natalia Galkina, General Director of NeuroChat – a Skolkovo resident: "Russia desperately needs a neurorehabilitation center. I wish we could close the gap between a single-shot invention and long-ranging innovation, since in a majority of cases, it is the gap between the invention and the real product that is the major hurdle. The team here is ready to rise to the challenge and has enough competences to overcome this barrier. I do hope that the new center will be available to both large organizations and eminent scientists and small developers' teams."
The round table took note of the fact that Skoltech is conducting research in the field of artificial intelligence, which will help NNC to deal with massive sets of patient data.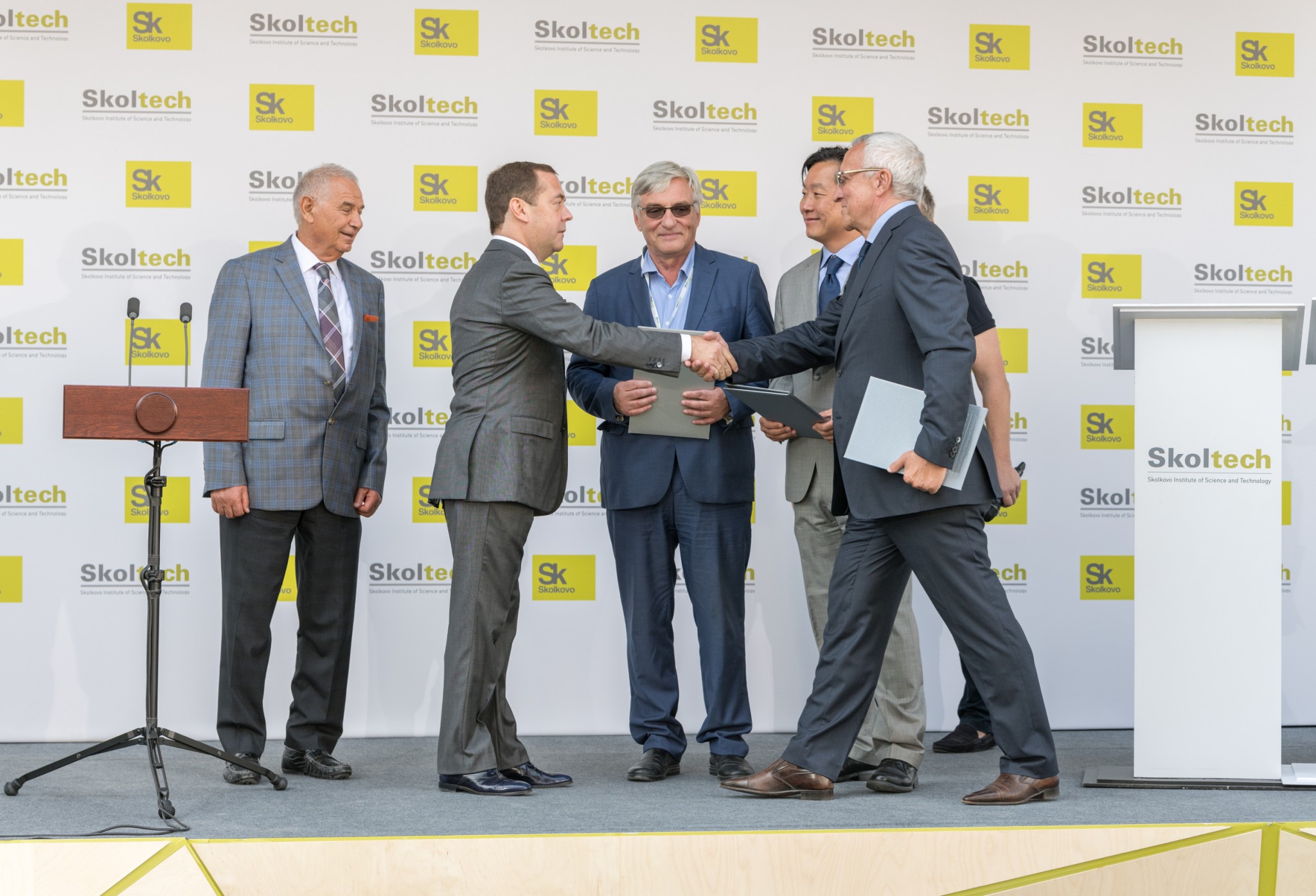 The agreement on establishing NNC was signed by Skoltech President Alexander Kuleshov, USC professor Charles Liu and Director of the V. Zelman School of Medicine and Psychology at the Novosibirsk State University Andrey Pokrovsky. The signing ceremony took place in the framework of Knowledge Day events at Skoltech.
Skoltech's excellence in neurobiology helped it to evolve into a unique research powerhouse and a magnet for talent and skills from Russian and beyond.
******
The Skolkovo Institute of Science and Technology (Skoltech) is a private graduate research university based in the Moscow suburb of Skolkovo. Established in 2011 in collaboration with the Massachusetts Institute of Technology (MIT), Skoltech cultivates a new generation of researchers and entrepreneurs, promotes advanced scientific knowledge and fosters innovative technology to address critical issues facing Russia and the world. Skoltech applies the best Russian and international research and educational practices, with particular emphasis on entrepreneurship and innovation. Skoltech's academic offerings include 10 master's and 7 PhD programs in six priority areas: Data Science and Artificial Intelligence, Life Sciences and Biomedicine, Cutting-edge Engineering & Advanced Materials, Energy Efficiency, Quantum Technology, and Advanced Studies. Skoltech also supports academic mobility programs that run the gamut from short-term trips (conferences, workshops and competitions) to long-term research and training programs at the world's best universities. Fusion of education and science is one of the pillars of Skoltech's strategy: its students do coursework and participate in research projects at all stages of their education. Skoltech's top-notch faculty and researchers give classes and take part in research activities. All the Skoltech centers and labs provide graduate and PhD students with research equipment and tools. Currently, Skoltech has over 100 faculty members, of which upwards of 60% have work experience with leading international universities and labs. Several professors who joined Skoltech in 2017 have worked for Princeton and Columbia universities, the Schlumberger Research Center (USA), the Federal Polytechnic School of Lausanne (Switzerland) and other world-leading research centers. Web: www.skoltech.ru.
******
The Skolkovo Foundation is a non-profit organization established in September 2010 on the initiative of the President of the Russian Federation. Its primary goal is to create an ecosystem conducive to the development of entrepreneurship and research in fields such as energy efficiency and energy saving, nuclear, space, biomedical and strategic computer technologies and software. The Foundation is entrusted with managing the Skolkovo Innovation Center's operations governed by a specific law that grants economic benefits to startups (over 1,800 by now) which have successfully passed the external technology evaluation. In 2017, the Skolkovo resident companies earned 79 billion rubles in revenue, while the project's total revenue over its 8-year history amounts to 250 billion rubles. The Skolkovo startups employ about 30,000 people, including 5,000 based in Skolkovo. To date, the Skolkovo Foundation has patented upwards of 1,300 inventions and engineering solutions. A major player of the Skolkovo ecosystem is the Skolkovo Institute of Science and Technology (Skoltech) ‒ a research university established and operating with the support of the Massachusetts Institute of Technology (MIT). The construction of the Skolkovo Innovation Center infrastructure, including a technopark, a university, a gymnasium, roads and communications, is now complete. Facilities with about 500,000 square meters of floor space have been put into operation, with nearly as much space to be commissioned within the next 3 years. Web: www.sk.ru.
******
The University of Southern California (USC) based in Los Angeles, California, USA, is one of the world's leading private research universities. Founded in 1880, USC is the oldest private university in California. It offers upwards of 400 educational programs to train the nation's business leaders and professionals. In 2018, USC ranked 66th in the World University Rankings. Web: https://www.usc.edu/.
Contact information:
Skoltech Communications
+7 (495) 280 14 81