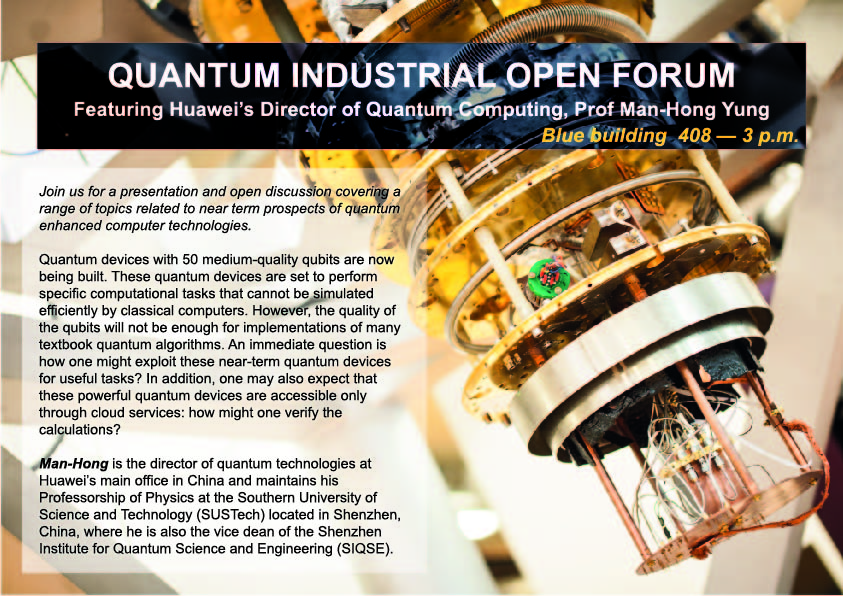 Dear colleagues,
We would like to invite you to the Quantum Industrial Open Forum featuring Huawei's Director of Quantum Computing, Prof Man-Hong Yung.
Blue building 408 — 3:00 pm till 5:30 pm, April 26
Join us for a presentation and open discussion covering a range of topics related to near-term prospects of quantum enhanced computer technologies. 
Quantum devices with 50 medium-quality qubits are now being built. These quantum devices are set to perform specific computational tasks that cannot be simulated efficiently by classical computers. However, the quality of the qubits will not be enough for implementationing many textbook quantum algorithms. An immediate question is how one might exploit these near-term quantum devices for useful tasks? In addition, one may also expect that these powerful quantum devices are accessible only through cloud services: how might one verify the calculations?  
Man-Hong is the director of quantum technologies at Huawei's main office in China and maintains his Professorship of Physics at the Southern University of Science and Technology (SUSTech) located in Shenzhen, China, where he is also the vice-dean of the Shenzhen Institute for Quantum Science and Engineering (SIQSE). 
Best,
Communications