Redox Flow Batteries (RFBs) are considered as one of the most promising technological pathways towards the development of large-scale energy storage systems suitable for integration with re- newables. RFBs store electrical energy in the chemical form of electrolyte solutions converting it inside of electrochemical cells and storing the electrolytes in two separated external tanks. This way the energy and power are decoupled: applications requiring more energy only need larger volumes of the electrolytes, while more power can be obtained by addition of more electrochemical cells.
The main aims of the CompBat project are to develop simulation tools for identifying suitable redox pairs and electrolyte chemistries for low-cost and high-efficiency redox flow batteries and also to perform numerical modelling over multiple scales, from molecular properties to flow battery system cost. The developed concepts will be useful tools for researches and engineers to design a new generation RFBs. "Skoltech is proud to work with a team of world renowned researchers from Finland, Italy, Hungry, Sweden and Russia to develop and enable grid-scale energy storage. Importantly, Skoltech researchers in this area are now being globally recognized and sought after to solve such important storage problems and to advance new technologies in energy storage," commented Keith Stevenson, Skoltech PI and Provost.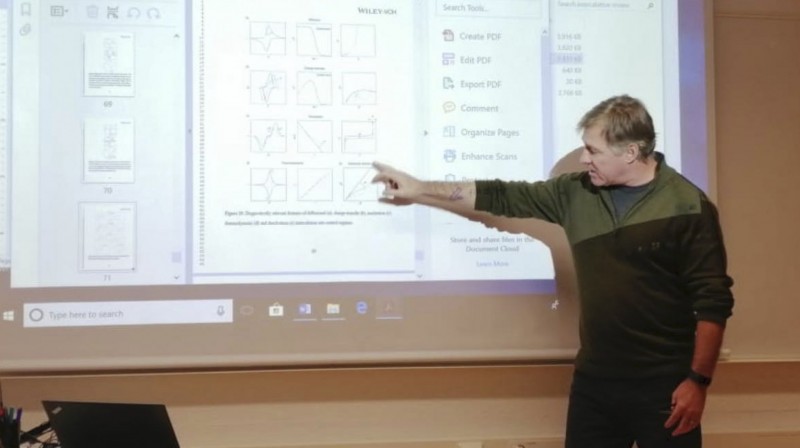 In the framework of the project, Skoltech will develop modeling approach that should be able to predict dynamic behavior of RFBs in real-time simulations. Such approach is a very important part in the multiscale simulations as it connects microscopic modeling (that can be applied only for small lab scale prototypes) with large-scale simulations of commercial RFB systems. The developed approach will provide essential information about main characteristics of large-scale RFBs with different electrolytes identifying their energy efficiency, available capacity and output power at different operating conditions. In addition, the results of the simulations will be used for techno-economic assessments of the commercial RFB systems. 
Mikhail Pugach: "The CompBat project is aimed at a very challenging task. We will be the first in the world who could make the simulation tools that allows one to design a new redox flow battery from scratch: starting from identification of new electrolytes finishing with simulations of real RFB systems based on these solutions.  For Skoltech, it is a unique opportunity to extend our existing experience in the field of redox flow batteries to wider horizons collaborating with leading universities in Europe." 
The project is funded in the framework of Horizon 2020 European program, focus area Societal challenges, Call: H2020-LC-BAT-2019. The duration of the project is 36 month stating 01 February, 2020. The consortia consists of the following partners:
Research Centre for Natural Sciences (TTK), Hungary
Uppsala University (UU), Sweden
Pisa University (UNIPI), Italy
Skolkovo Institute of Science and Technology (Skoltech), Russia
University of Jyväskylä (JYU), Finland
Skoletch maximum EU funding is 300255 Euro.
Contact information:
Skoltech Communications
+7 (495) 280 14 81