The XREADY LAB Startup, which designs 3D simulations for schools and universities, was among the semifinalists of Startup Village Livestream'20. We talked about the project with startup founders Khurram Pirov and Roman Kiryanov, two students in the Data Science Master´s program at CDISE.
Please tell us about your project. What is the basic idea?
We do educational 3D courses, which are available in the form of a game that can be downloaded into virtual reality headsets. We have two formats: a 3D computer game and a VR lab. We give children at schools and students an opportunity to conduct experiments that are impossible to imagine in school or university settings. Moreover, virtual reality allows one to safely explore new worlds, many of which are even hard to imagine.
We help understand abstract things through practice. After all, as we all know, information is best absorbed through practice. In addition, we give tools to teachers to instantly get information about their students: who has made a mistake, who has problems, who uses tips and who doesn't.
In addition, we have created a simple video test constructor, which we have already implemented in some schools in test mode. It allows teachers to compose video tests themselves and to add interactive components to their lessons. As a result of the test, the teacher immediately gets all the analytics about the lesson, its progress and results. Thus, whether it is a Zoom lesson or a traditional class, the teacher can adjust the process to each student's needs on the fly.
How was the company formed? What competitive advantages have you brought to the market?
We can say that we were inspired by MEL Science, a well-known company in the USA and UK. They are both an inspiration and a kind of competitor. But they work only with VR and focus only on the microworld. Our significant difference is that we focus more on interactivity: cognition through action is paramount. Thanks to the strong scientific base of our team and partners in many fields, our main areas are physics, chemistry, mathematics and biology. For example, I personally designed an optical laboratory, since I was involved in quantum optics, for two years I was an experimental physicist. Everyone in our team has multiple skills.
It all started with MEL Science. We bumped into a Facebook post about them, shared it with a friend who has a training center for physics and mathematics Olympiads, and said that it would be cool if students in each class could see such 3D objects; to see how molecules combine, how new crystalline structures are born. Our friend liked the idea, and we started talking to acquaintances, looking for partners and doing early customer development. Then we searched for VR studios that would be ready to take on the project, comparing their prices. They were sky-high, starting at 2 million rubles for some very simple things. But we accidentally saw a post on VK, where some guys – today they are part of our team – performed well at one of the hackathons. There was a guy among them who studied the same school as Khurram, the SSC at Moscow State University, but in the parallel class. We met him and realized that while they had developers, they lacked business components. We joined our forces and began to offer our ideas to all major educational platforms, such as Skyeng and Uchi.ru. In general, they liked the demonstrations, but the implementation of the technology was not clear enough; there was no specific product.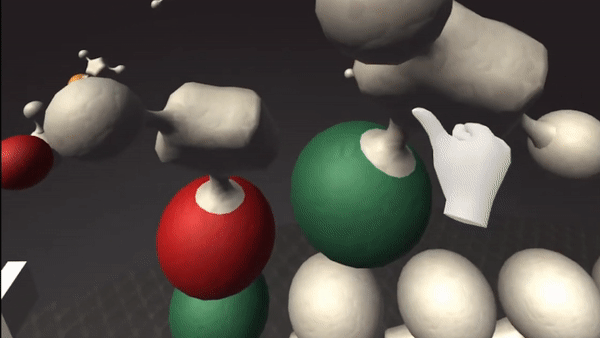 So, through trial and error and thanks to the advice of Alexey Nikolaev, professor of practice at the Skoltech Center for Entrepreneurship and Innovation (CEI), we realized what we lacked and that we needed to do full-fledged laboratories with a clear understanding of who they are for, and in what process to embed them. Our alma mater seemed to be a good fit for our project. Khurram went to the President, Alexander Kuleshov, and demonstrated him the laboratories we had. The President said: "You have spotted a very cool topic!" He rallied some employees, assigned us two business assistants, Dmitry Yumashev and Dmitry Syaglov, and we started brainstorming the topic and how Skoltech could benefit from it.
Understanding that there were many awesome professors at Skoltech, such as Professor Oganov and Professor Gippius, we proposed to make crystallography and photonics tools together; they could be useful both for laboratories and for interactive classes. Thus, we got our first customers and our first invaluable experience.
The initiative to open a VR class in Skoltech was also supported by the President, so that new educational formats with VR glasses, and 3D games could be introduced to schools, universities and Skoltech partners, while the employees could wind down from work using VR meditation applications. We designed the class, found a room, and look forward to the opening.
The name of our startup is not accidental either. Why XREADY LAB? All the members of our team like the movie Ready Player One. V and A ready — in honor of Ready Player One. If you combine the letters V and A, which denote virtual and augmented reality, you get X, extended reality. We say that we are ready for a new future, we are ready for a new format of life.
How did the pandemic affect your company, your business?
A lot of things happen by chance in our life. During the pandemic, my friends and I wanted to create something useful for schools and help teachers somehow. Thus, the idea of the TeacherCase service appeared; we will launch it at the end of June, so far everything is in test mode.
We understand all the problems the teachers are facing these days, starting with how to run Zoom on a computer, and how to send out a mass email. After all, many teachers are sending homework using WhatsApp, getting back hundreds of scans and photos in a day. We decided to create a tech support button. The teacher comes in, presses it, briefly describes the problem, and one of our techies, a volunteer, gets in contact. Then we created a system of video tests and sent it to schools in test mode. The pandemic has intensified our activity.
What are your short-term and long-term goals?
In the short term, we want to introduce a course of school biology together with two Skoltech students, Elizaveta Grigorashvili and Marina Pak. At the end of June, we plan to launch the TeacherСase test constructor for teachers and to attract as many teachers as possible to this project, showing that you can create a lot of interesting interactive activities without developers. For us, this is an opportunity to acquire new contacts of teachers, and for teachers it presents a variety of convenient tools. In a global perspective, it is also interesting to work with schools and universities in North America. There are cool cases, but not enough content.
Contact information:
Skoltech Communications
+7 (495) 280 14 81