Polina Morozova, Skoltech's Materials Science and Engineering PhD student, and her fellow students established a startup with the intention to create and market a new generation of batteries. We caught up with Polina to find out more about her project.
– How did your startup come into being?
Our startup, K-plus, was founded by my fellow PhD student Natalia Katorova and me, with strong support from our research supervisors and inspirers, professors Artem Abakumov and Keith Stevenson of the Skoltech Center for Energy Science and Technology (CEST). The new company builds on our research within Skoltech's Translational Research and Innovation Program (STRIP). The initial idea that our group came up with back in 2016 was the subject of intensive research within a study supported by a large Skoltech-MIT grant. In December 2019, our group demonstrated the first functional prototype of a potassium-ion battery which, despite its limited capacity of about 100 mA·h, powered the Sk LED image throughout the presentation. And this is only the beginning! Although we are just getting started, we have enough evidence to prove that the technology works and can be translated into successful commercial applications! Out startup aims to scale up and commercialize potassium-ion batteries, a new generation that succeeds lithium-ion batteries but is designed for stationary devices and not mobile phones.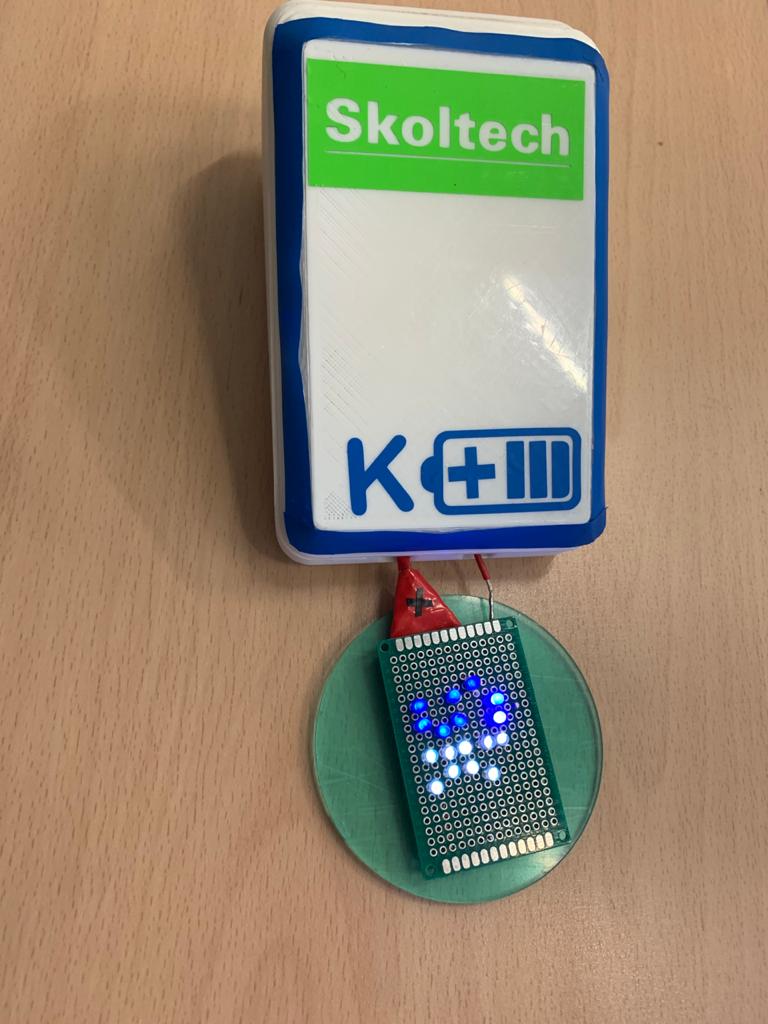 Our potassium-ion battery will cost half as much as its lithium counterpart (per 1 kW·h), even though it is 20-30% heavier.  Actually it is the weight and size that make the new battery unsuitable for portable electronics, so it will be used for stationary UPS devices, solar panels and wind power stations, the applications which require fast and robust energy storage solutions and not continuous mobility. At the end of December 2019, we won START-1 grant from the Fund for Small Innovative Enterprises in Science and Technology (FASIE), also known as Bortnik Fund, for further research and design of more powerful batteries. We established our K-plus startup in early 2020 and became Skolkovo residents in May.
– What do you think are the strengths and weaknesses of your project idea?
Our potassium-ion batteries have a wealth of competitive advantages, such as a long life, a broad operating envelope (although their gravimetric energy density is ~ 1.3 times lower compared to lithium batteries), and low-cost components which reduce the battery cost to nearly half that of lithium batteries.  Also, we estimate that, thanks to cheaper materials, the price per 1 kW·h is 47% lower than for lithium batteries. For example, a material may cost 1,000 and 83 rubles per kilo for lithium and potassium batteries, respectively. It turns out the benefit of in lowering cost is much larger than the loss in capacity.
– What's your competition landscape like? Are there any competitors for your technology?
As regards stationary energy storage, the potassium-ion battery has two key competitors.
One is the lead-acid battery. Right now it is the most common solution used as a starter in cars and, more recently, as an energy storage device for solar panels and UPS. It has its pros and cons, though. It is much cheaper than, say, lithium batteries, and comparable in price to potassium ones. On the downside, lead batteries have a short service life of about 2 to 3 years only, whereas potassium and lithium batteries can work for 7 or 8 years and even longer. Besides, the lead battery has its "whims": you mustn't let it discharge completely. The lead battery must always be charged to at least 60% to avoid quick degradation. This is not an issue with potassium batteries whose operating characteristics are not affected by the charge/discharge level. The potassium-ion battery retains its capacity even if discharged to 60%, 15% or 0%. Plus, lead batteries contain lead, which is toxic, and acid which may cause burns and ruin your clothes despite the reasonable concentration, so you must always be careful not to turn them over to prevent acid spill. Our battery does not contain any caustic substances. Overall, potassium-ion systems are safer and less toxic.
To sum up, the potassium-ion battery costs nearly as much as the lead battery but lasts longer and is not destroyed by complete discharge.
The sodium-ion battery is another competitor, and probably the main one from the fundamental point of view, because sodium, like potassium, is abundant and cheap, and so are the battery materials. Generally, potassium and sodium compete on an equal footing although the sodium-ion systems entered the scene much earlier. Our research team has been working with MSU on sodium, too, however it is important to choose the focus properly. Each of the two electrochemical systems has its own features, and you have to fully concentrate on one or the other to deal with the challenges it poses. You should keep on working and feel confident that your solution will be faster and more efficient!
Some foreign startups specializing in sodium-ion batteries (the most well-known are based in Europe and the United States) have already come up with the first prototype batteries. There are no 'potassium' or 'sodium' startups in Russia, but there are plenty of manufacturers and importers of lead-acid batteries. On the other hand, Russia is the world's largest producer of potassium minerals and salts, which means that potassium can literally be mined right here and be used to make all the materials needed for the battery. Here's to import independence!
– What is your future client like according to your business model? How will the project work?
It is very important to understand that we are not after setting up our own global production of potassium-ion batteries which would require enormous investment. Instead, we can use the production facilities that were built for lithium-ion batteries. So our goal is to develop and scale our technology and build prototypes with capacities of 10 A·h or higher! Our business model is fairly simple. The client knows what they expect from their systems and spells out their requirements. We then tune the design and manufacturing process for a specific task and produce a pilot batch of materials and prototypes for, say, 5 batteries so that the client could check how our technology works and test the batteries on their own equipment. Finally, we supply the batteries and if all goes well provide them with a technology license.
Right now we are going through a transition from lab cells to real capacity prismatic cells. To do this, we rely on the financial support from FASIE. At this stage, we are developing and testing battery assembly methods and technologies. I guess someday you'll hear about K-plus and use our awesome potassium-ion batteries!
For business development and cooperation on startups in Skoltech, please contact Dmitry Piradov (d.piradov@skoltech.ru)
Contact information:
Skoltech Communications
+7 (495) 280 14 81