Scientists at Skoltech have been granted a patent for a software program that helps measure heights of forested areas by monocular multispectral sub-meter-resolution satellite imagery.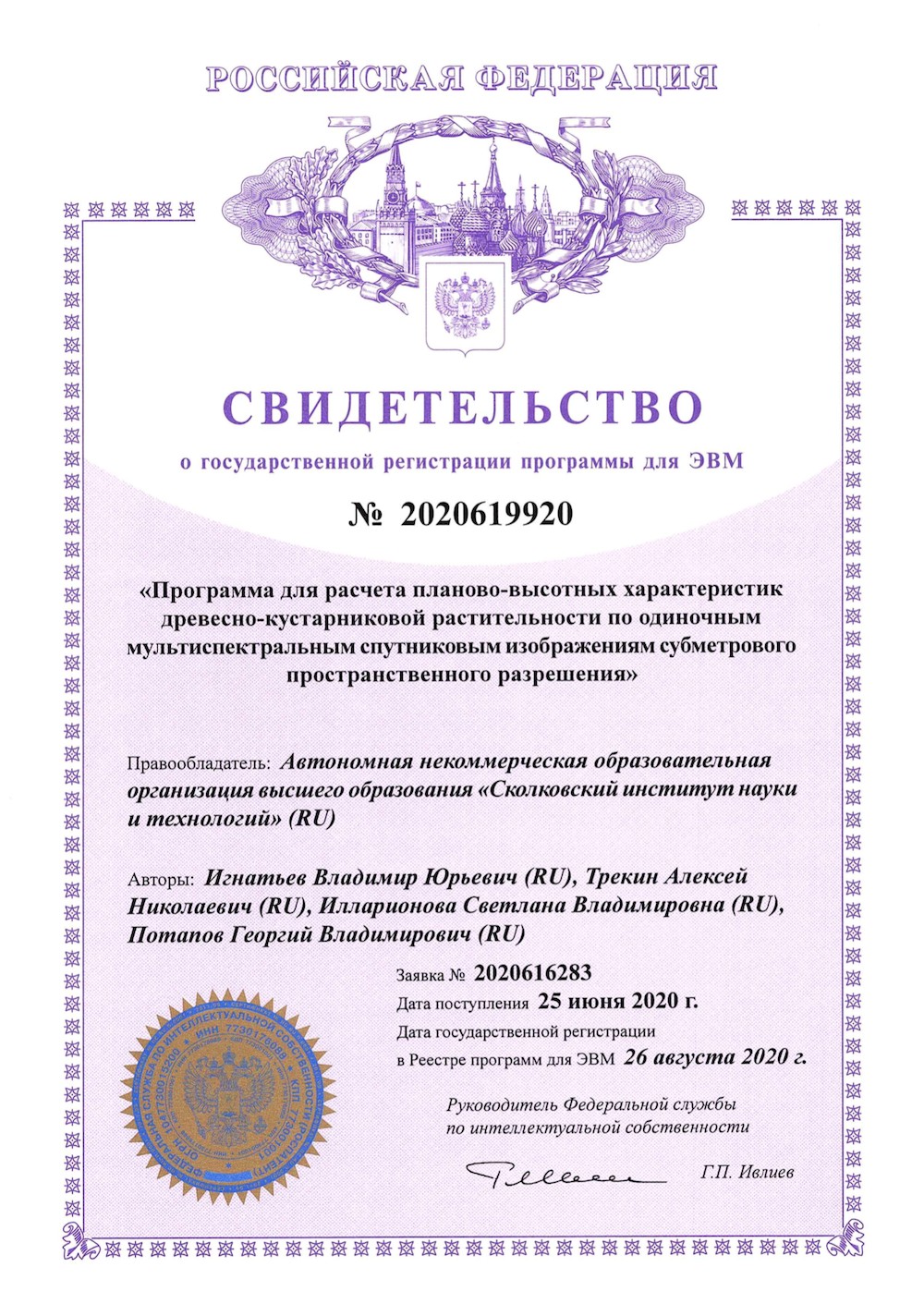 Approximately a year ago, scientists from Skoltech's AeronetLab started research on the use of satellite imagery for forest inventory, relying on neural networks and machine learning (ML) for image analysis. Measuring heights of the stand is one of the key parameters in forest inventory; but getting these measurements for large data sets is an arduous and costly undertaking. Satellite imagery, the cheapest global data source, aided by AI technologies proved to be a more efficient solution.
The new software has been granted state registration and is now used in the Geoalert Analytics Platform that monitors overgrowth near power line corridors. It is also offered as part of a commercial product designed by Geoalert, an industrial partner of the project.
"Getting a detailed map of the forested areas within power line corridors throughout the Leningrad region (with a total length of about 35,000 km) using our platform turned out to be a full-scale experiment similar to the "Urban Mapping" project, in which all buildings for the territory of the Russian Federation were automatically mapped via a neural network.. We discovered over 4.8 million overgrowth spots that accounted for 21% of the total area of exclusion zones in Leningrad region. On top of its great scaling potential on the national level, our project can help deal with a wealth of societal and commercial issues," says Vladimir Ignatiev, a research scientist at the Skoltech Center for Computational and Data-Intensive Science and Engineering (CDISE), who served as the brains behind the project.
Dear partners, if you are interested in any of Skoltech's technologies, our Knowledge Transfer Office will be glad to consult you on licensing and technology transfer opportunities for your business. Here is Skoltech's Portfolio of intellectual property (Rus). For further details, please feel free to contact the .
Contact information:
Skoltech Communications
+7 (495) 280 14 81