Skoltech Center for Photonics and Quantum Materials researchers Pavlos Lagoudakis, Sergey Alyatkin and Alexis Askitopoulos have been granted a patent for a programmable polariton simulator, a device that can be used to solve complex computational problems in solid state physics and quantum mechanics.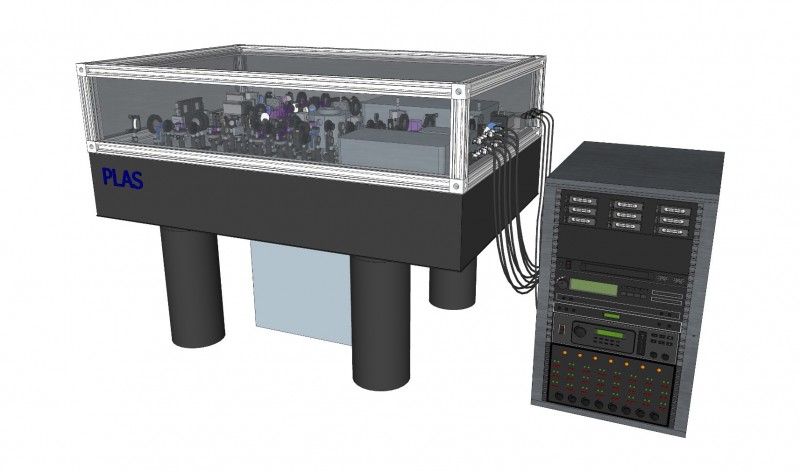 According to the patent application, the new simulator is a step forward to practical applications of a polariton platform because it implements a more universal and scalable method of fine-tuning the mechanism. The results underlying this invention were earlier presented in papers in the journals Physical Review Letters, Physical Review X and Nature Materials.
"Unlike known simulators based on superconducting qubits and ultracold atom-based systems, which can function only at temperatures close to absolute zero, a polariton simulator can work at higher temperatures available in helium cryostats," the patent application adds. 
The most notable competitor on the market, D-Wave, provides a quantum annealing platform using superconducting qubits. They were first to develop a real device, but it is working at ultralow temperatures and extremely expensive, whereas superconducting qubits are very difficult to fabricate, limiting their scalability.
"What we are proposing is a different take on analogue computing using polariton BECs (Bose-Einstein condensates). These systems have a lot of advantages: they can be stable at higher temperatures and for a very long period of time, essentially as long as the excitation laser is on. They can easily be arranged and rearranged in real-time, using spatial light modulation techniques, and there is no fundamental bottleneck limiting scalability that we can foresee now. The downside is that these BECs are classically coupled on the chip, which limits the range of problems we can solve. So the polariton simulator represents a less universal but highly scalable platform, realizable at much lower costs than competing systems," Lagoudakis says.
The polariton simulator solves problems that have far-ranging real-life applications. One example is traffic management for autonomous vehicles. If millions of these self-driving cars have to interact on a busy city highway without the ability to "see" beyond what is immediately around them, it could still cause gridlocks during rush hours.
"A smart idea would be to put all autonomous cars on the same network and to use a specific problem solver, such as our polariton simulator, to simulate traffic in real time. This monitoring system could then tell cars in one section to behave in a certain way to clear traffic in another part of the road. With millions of interacting variables, this is something extremely hard for a classical computer to do," Lagoudakis notes.
The team continues to improve the technology, implementing machine learning techniques that have dramatically improved the reliability of the system. "I think the big next step for us is to find a large industrial partner that could help us the scale up the technology and design a first full prototype. We are in discussions with several companies, and we hope that it can happen in the near future," Pavlos Lagoudakis says.
Dear partners, if you are interested in any of Skoltech's technologies, our Knowledge Transfer Office will be glad to consult you on licensing and technology transfer opportunities for your business. Here is Skoltech's Portfolio of intellectual property (Rus). For further details, please feel free to contact the .
Contact information:
Skoltech Communications
+7 (495) 280 14 81