On the academic side, Dr. Maximilian Rapp teaches courses on innovation management and digital transformation, and design thinking. In the corporate world, he has consulted companies that include Adidas, Intel, BMW, and MasterCard, and is now the head of Innovation Management, Co-Creation and Open Innovation at EY (formerly: Ernst & Young). His work there is centered around co-innovation programs, design thinking, co-creation and digital business transformation.
Max told us about the many mentors with different perspectives engaging with each other for mutual inspiration and having a bit of a multiplicative effect on students. He also shared his impressions of the high-tech toy projects pursued by some of the participants, and how students need to adapt their smartness to the various steps in the innovation process.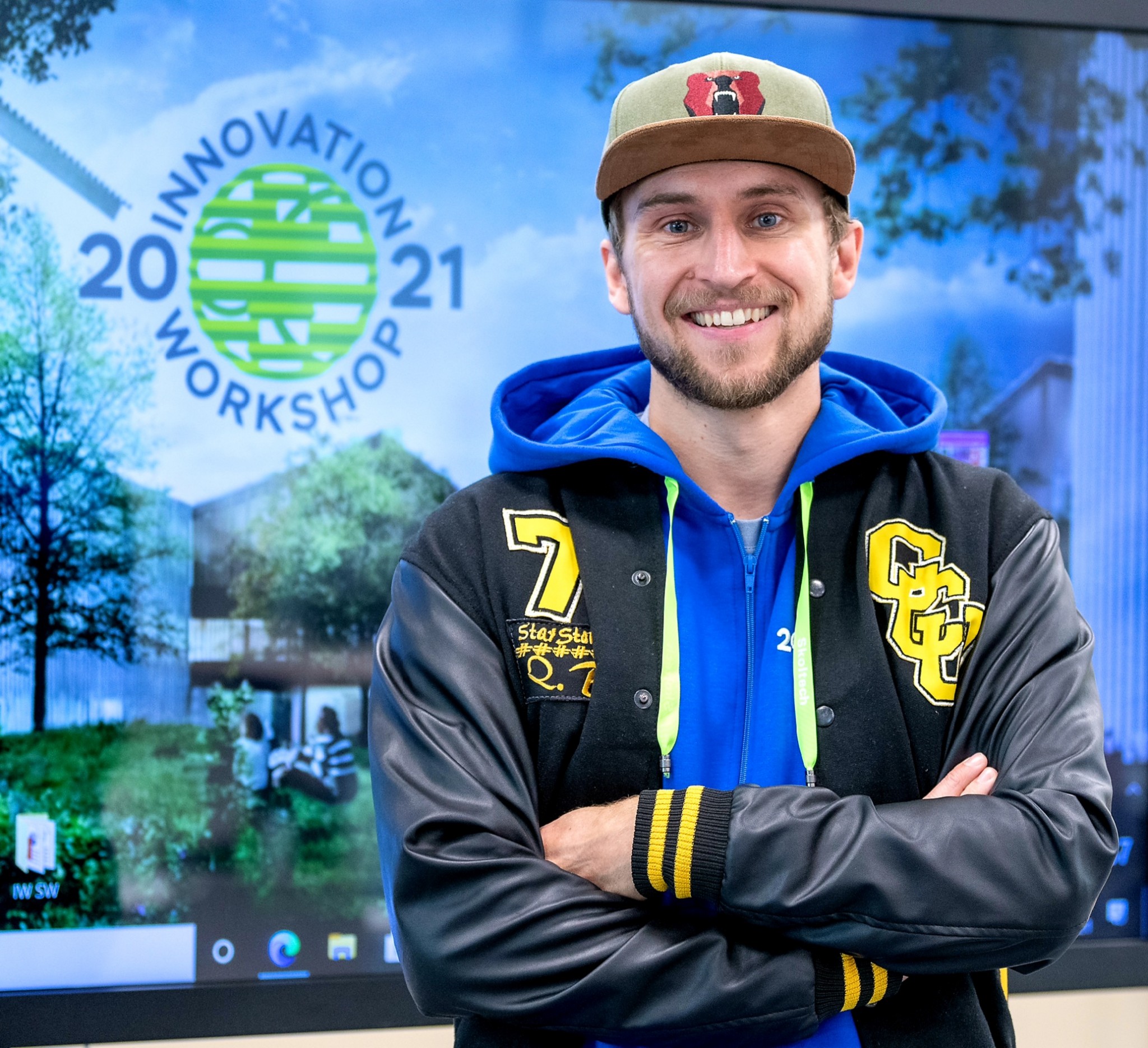 Q: What do you get from the Innovation Workshop as a mentor?
A: First of all, I'm a huge fan of the Innovation Workshop. I think this is unique, even for Western Europe, to get so many different mentors with such professional backgrounds in that size and with so many students involved. And also, in that kind of surroundings. For many mentors coming from the Western world who've never been to Moscow, this is totally mind-blowing.
I think there are two huge benefits for every mentor coming here. Number one is for sure the students, their really cool ideas, and helping them. But number two is also the exchange with the mentors. So many brilliant businessmen and -women are in here, and just the exchange, on that level, is absolutely great.
Q: What is the impact of mentor diversity at IW?
A: I've just come out of a one-on-one with one of the students, and she's basically more in a technological area, where you would have focused cultural feedback in the last couple of weeks. So we bring in the Canadian, the U.S., or even the German perspective on it: The technology is important, but in the end it's about how to sell, bringing it to the market, right? This kind of perspective, more on economics, is as important as the technology itself.
And I think that's exactly where the magic happens: when those kinds of perspectives come together in a student group, in an idea, and even in successful startups anywhere on the globe. You need the perfect technology, the perfect market access, the perfect way to pivot, to be flexible, right? That's also a cultural thing, how flexible you are from week to week pivoting your ideas. I think the cultural impact is so huge and so positive — of the mentors being so diverse and the students having that in the first year at Skoltech.
Obviously, not every mentor can coach every group. Sometimes the "magic sauce" is not 100% working, because you don't have every mentor coming into everything. I always like to take comparisons from sports, and with successful teams in sports, they have to be successful both on the pitch and outside the pitch. The dynamics of a team outside the pitch — how they interact when they're out in a restaurant or something — are as important as how they behave when they're playing hockey or whatever. So to compare that back to our scenario here, the mentors are also doing a better job when they are also inspired themselves. The mentors are inspired by the infrastructure here at Skolkovo, in Moscow, by the students, but also by how creative their talks with the other mentors are.
The competition is going on or some talks, and I'm doing the dry runs for tomorrow's final pitches. And for every dry run, I have a mentor who has no clue about the project in question. I just got them to come into those pitches, and they're listening and giving feedback, even though they are totally out of time at the moment and the schedule is full. The point I'm trying to make is the more dynamics and interactions between the mentors you have, the greater their total contribution to the Innovation Workshop.
Q: As an EY senior manager in charge of innovation management and co-creation, what do you do and how does that inform your input at the workshop?
A: My team is consulting the biggest firms globally on how to be more innovative and how to find good innovation processes, how to execute co-creation. I think bringing in this kind of co-creation, networking, business- and consulting-related style is very important for the students.
The students are enormously smart here. But bringing their ideas to paper, and bringing that paper to life, and bringing that life to the market and earning money with that product are many different steps. So it's not just about being smart. It's about being smart in each of those steps and trying to adapt the smartness you have to be successful. That's what I do with my team around the globe with all the big companies, and that's the experience I'm sharing.
Q: What are some of the projects you've encountered here
A: I have four teams: two times an app and two times a child's toy. So me being a consultant and not an entrepreneur in the sense of having my own startup, I like working with products, because it's about design, visualization, etc.
My favorite idea at the moment is how you can create a child's toy and combine it with AI technology to get small children engaged in a higher level of language skills. I think using AI to do that with toys and technology is absolutely great. When children are coming into school, basically one or two out of five are not ready, because their language skills are still too bad. So it's like an addition to what has to be done before school.
Another idea is from a team that's also creating a child's toy. If babies don't stop crying, it's very hard to get them calm, even as their parents, right? So these guys are building a toy that you can give to a small child, and then it bites on it and there is music coming out of the toy which only the baby can hear. Just imagine you're on a plane and you have a baby crying. The baby can actually hear the music, but no one else can.
So this kind of stuff when you can mix technology with toys — I have two teams like this and both are amazing.
And to be frank, just building the kinds of prototypes students build — transporting music through the bone — in three weeks as a grad student, this is really good.
Contact information:
Skoltech Communications
+7 (495) 280 14 81