WHAT IS INDEPENDENT STUDY PERIOD (ISP)?
The Independent Studies Period (ISP) is a three-week term in January that is an elective period of the Academic Calendar. ISP encourages all members of the Skoltech community (students, faculty, staff, researchers, visiting faculty/researchers/experts, etc.) to create and participate in a wide variety of activities aimed at sharing expertise or relevant interest with others, including ones necessarily related to their day-to-day Skoltech roles. This special term is primarily a requirement for first year Master's students, but all students are welcome and encouraged to participate.
What distinguishes ISP activities is their variety, innovative spirit, and fusion of inspiration and learning.
To learn more about the ISP, please follow the links below:
1. What walking on broken glass teaches young scientists about entrepreneurship
2. From pilot training to Esperanto: Skoltech's most unusual course offerings
3. Independent Study Period – the most creative period of the academic year
4. Independent Studies Period – When Students Teach and Learn from Each Other for 3 Weeks
You can also read Course Catalogs with the lists of all ISP activities 2015-2018 to get a sense of types of ISP activities of the previous Academic Years.
Short-term activities beyond the students' main educational fields:
STUDENT-TO-STUDENT ACTIVITIES
SOFT SKILLS WORKSHOPS
ENTREPRENEURSHIP AND INNOVATION (E&I) COURSES
PROFESSIONAL HARD SKILLS TRAINING
ENJOYABLE ACTIVE LEARNING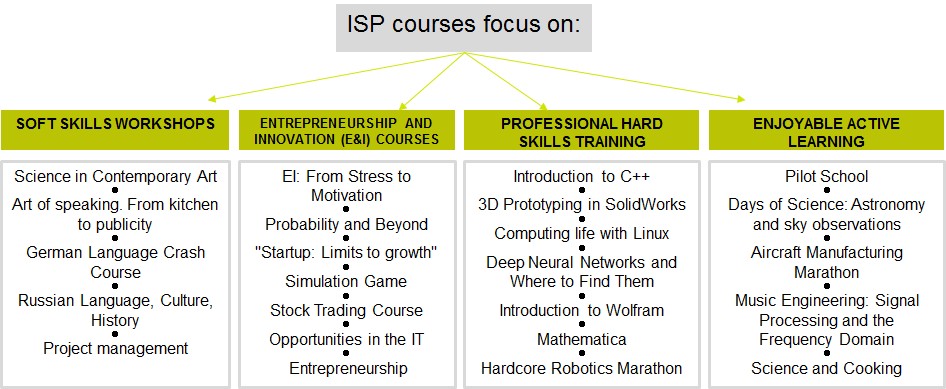 WHY IS ISP IMPORTANT?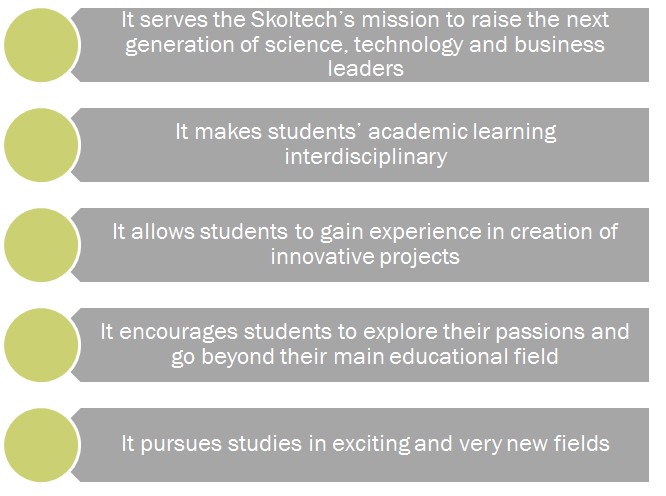 WHO CAN HELP IN CASE OF DIFFICULTIES?
E-mail Education () with "ISP – 20__ (YOUR NAME)" in the subject line.
Responsible specialists:
Anastasia Zueva – general organization of ISP.
Elena Cherenkova – logistical questions (schedule, classrooms).
Boris Kheyfets –SIS and Canvas issues.
ADDITIONAL INFORMATION:

ISP GENERAL GUIDELINES
GUIDELINES FOR ISP INSTRUCTORS

Cannot lead a course but have ideas for ISP courses? Fill in a short survey