Master of Science Program 
Modern Machine Learning is at the cutting edge of various disciplines of mathematics and computer science. Math of Machine Learning is one of the most dynamic areas of modern science, encompassing mathematical statistics, machine learning, optimization, and information and complexity theory. From the start of the program, students collaborate in thematic working groups and actively participate in research, learning from Skoltech and Higher School of Economics scientists as well as leading global specialists in statistics, optimization and machine learning.
Apply at Skoltech
Key information

Program starts
September 1
 
 
Modes and duration
Full time: 2 years
Tuition fees
No tuition fee for applicants who pass the selection process
 

Awarded degree
Master of Science in Data Science

Field of Science and Technology
02.04.01 Mathematics and Computer Science

Language of instruction
English
Accreditation
The program is accredited by the Russian Government, certificate № 2568 from April 14, 2017. License № 2534 from February 7, 2017.

Entry requirements


Skills and Knowledge: Calculus, Differential Equations, Linear algebra, Probability theory and mathematical statistics, Discrete mathematics (including graph theory and basic algorithms), Programming.

Education: Math or IT-related bachelor's degree or its equivalent in Pure and Applied Mathematics/Computer Science/Statistics or other technical areas.

English language requirement: If your education has not been conducted in the English language, you will be expected to demonstrate evidence of an adequate level of English proficiency.

English language requirements
If your education has not been conducted in the English language, you will be expected to demonstrate evidence of an adequate level of English proficiency.
A successful graduate of this track will:
possess active knowledge of modern methods and approaches in statistical learning, including mathematical statistics, stochastic processes, convex optimization
be able to apply and further develop such methods for solving complex practically motivated problems of data analysis 
Aim and objectives
The aim of the program is to prepare the technological leaders of the future. The objective of the MSc program is to bridge the gap between fundamental science and cutting-edge computational techniques.
MSc Program Structure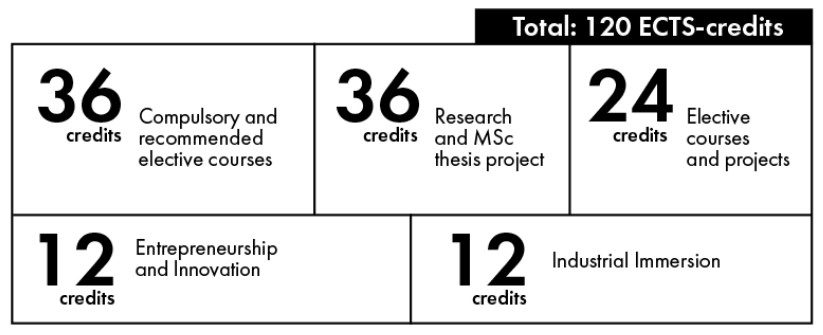 Career opportunities and paths
Graduates of the program may begin an international research career or work with a company (even during the period of study) as the program was developed to meet the high demand for data science specialists in the growing national and international high-tech market. Students gain the opportunity to obtain early access to the national and international research and innovation landscapes and can approach international employers with confidence. In addition, the program enhances students' soft skills, enabling students to compete effectively in the job market.
Industry
Specialist positions such as data analyst, data scientist, consultant in various economy sectors:
Science
Landing PhD positions and continuing research at leading Russian and international research bodies.
Startup
Starting a business on their own or through the Skolkovo innovation ecosystem with its extensive pool of experts, consultants and investors.
Faculty
The program has a globally renowned faculty with international experience and a broad network of collaborations:
Lectures are also delivered by prominent professors including Dr. Denis Belomestny, Dr. Dmitry Vetrov, and Dr. Quentin Paris.
Research
Students are actively involved into research activity starting from Term 3.
Research Areas
Industrial Analytics
Machine Learning
Deep Learning
Computer Vision
Image Processing
High-dimensional statistics and Statistical learning
Next Generation Multiscale Modeling
Fast Solvers for Large Scale/High-Dimensional Problems
Research Groups
Academic Mobility Partners:
Aalborg University 
Bell Laboratories 
Columbia University 
Dartmouth College 
DLR German Aerospace Center 
École Polytechnique Fédérale de Lausanne (EPFL) 
ETH Zurich 
Facebook 
Far East Federal University (FEFU) 
Fondazione Bruno Kessler 
Jilin University 
King Abdullah University of Science and Technology 
Massachusetts Institute of Technology (MIT) 
New York University (NYU) 
Ohio State University 
Philips Russia 
JSC SOYUZNAB 
Technical University of Munich 
University of Edinburgh 
University of Helsinki 
University of Kaiserslautern 
University of North Carolina 
Wigner Research Center for Physics
Industrial Partners:
Sberbank
Yandex
RusAgro
VisionLabs
Datadvance
ScanEx
Geoscan
Gazpromneft
Apply at Skoltech