The process of technology transfer is summarized in the diagram which you may find below. Please note that the steps of this process can vary in sequence, and in many cases multiple actions occur simultaneously.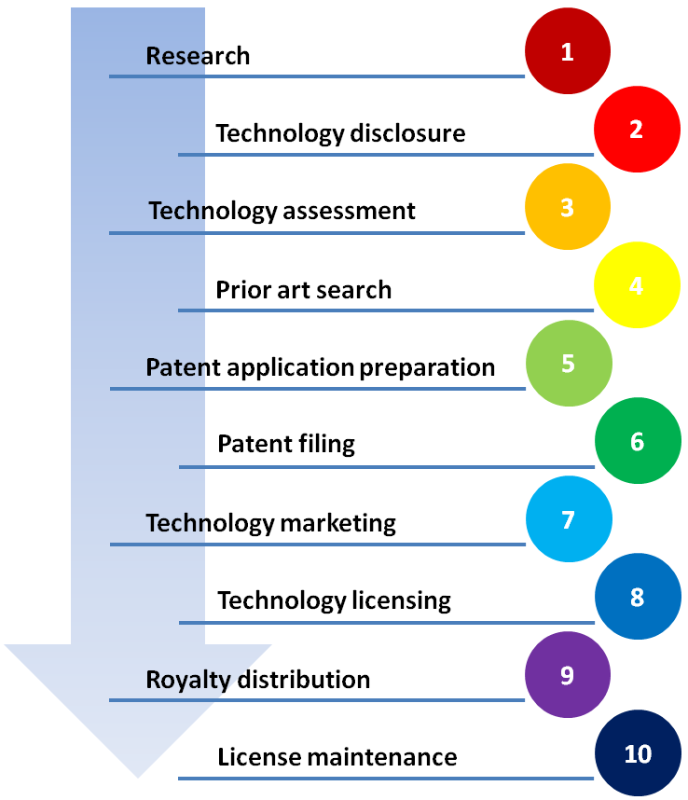 The role of KTO@Skoltech at each stage of this process can be briefly described as follows:
Research:

Working with research sponsors and collaborating institutions in negotiating IP terms (ownership, management, revenue sharing, etc.) of research contracts and agreements.
Executing Material Transfer Agreements (MTA) or Nondisclosure Agreements (NDA) so that researchers could safely exchange samples or confidential information at the research contract initiation stage.
Assisting researchers with the prior art analysis and interpretation so that they could adjust their research direction accordingly.

Technology disclosure:

Reviewing and discussing new ideas and research results to determine what is patentable, how soon, etc.
Assisting inventors with completion of Technology Disclosure Forms.

Technology assessment:

Patentability assessment of technology disclosures (novelty, non-obviousness, usefulness).
Identification of inventors and owners of inventions;
Negotiating and signing Joint Invention Agreements (JIA) with other joint owners, if any.
Expertise towards realization of technology's commercial potential and likelihood of licensing.
Making a decision whether to file a patent.

Prior art search:

Helping researchers with interpretation of results of the prior art analysis in order to check the invention for novelty as one of the patentability criteria.

Preparation for the application of patent:

Finding and contracting relevant patent attorney for a specific technology and handling all related contractual paperwork.
Assistance in patent application drafting, review, and editing.

Patent filing:

File patent application with the Russian Patent Office (via a patent attorney) – either nationally or via PCT procedure.
Nationalizing patent applications in other counties upon direct licensees' requests.
Analysis and approval of patent application examination reports.
Assistance with clarification of patent claims.

Technology marketing:

Facilitate inventor's contacts with companies.
Advice inventor on the possibility of startup creation when interested, facilitating his/her contacts with venture capitalists.
Advising on communication strategy with interested companies
Developing and executing Material Transfer Agreements (MTA) and Nondisclosure Agreements (NDA) with companies, once needed.

Technology licensing:

Negotiating and executing option and license agreements with potential licensees (big companies or startups/spin-offs) on commercial conditions.

Royalty distribution:

Keep track of licenses and statistics in terms of royalty distribution to inventors, Skoltech and other institutions.
Working with accounting office regarding royalty calculation and timely distribution.

License maintenance:

Manage and maintain the license throughout the life of a license agreement.
Oversight of executed license agreements, controlling licensee's diligence, licensees' audit if necessary.
Re-negotiation and making amendments in the license agreements if requested by the licensees.
The inventor will face diverse levels of involvement and responsibility at each step.