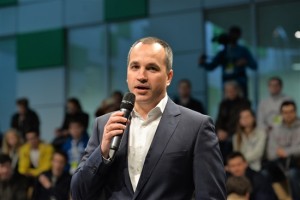 This is the fourth year the conference is being held, and for the first time it was held in an open-air format. Unfortunately the weather wasn't very cooperative, with grey sky, clouds, wind and rain. On the other hand, it was an appropriate background to the opening notes of the conference – Vivaldi's "four seasons".  The first speaker to open the conference was the head of IT cluster at "Skolkovo", Igor Bogachev. In his speech  Mr. Bogacev especially mentioned the crucial role of Skoltech in the development and promotion of robotics, and the fact that a large number of promising start-ups in this area were made by students and post-graduate students of Skoltech.
Alexander Kuleshov, Skoltech's president, began his speech by thanking the audience: "Thank you for coming, even in such a disgusting weather – it shows the great interest in robotics. Today robots are not only machines, but also we can call a robot any device capable of performing "human-like" function. Therefore, it is no coincidence that the function of development of robotics in our country was taken over by the "Skolkovo" IT-cluster. Unfortunately, robotics is an area where our country is behind, and we are talking not about machines, but the "intelligence" in the software, which is required for robot navigation, control, operation of sensors. We have a lot of work to do in these areas. I am pleased to see here an absolutely multyaged audience. This means great interest in Robotics among old and young. I think that the combination of youth and experience will give a good result in the future".
After the official part of the conference, participants began work on the program, which featured a few dozen presentations, workshops and demonstrations, including performance demonstration of the  "reSET" team, representing Skoltech in the Eurobot international competition.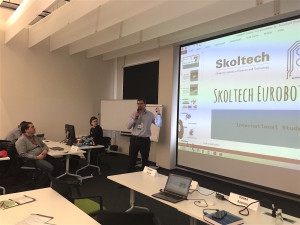 One of the most exciting presentations was the presentation of Skoltech's head of Robotics lab, Dzmitry Tsetserukou. He presented the projects of his lab and The Skoltech Eurobot team and the history of its creation. he explained that the goals of the Eurobot contest and the importance of this event for the robotics science. "I worked a lot abroad and noticed that in countries such as Japan, they know Russian scientists of the past, even Lomonosov's name. But they almost have no idea about contemporary scientists in Russia. My goal is to change this situation, at least in the field of robotics , and we have a potential for it".