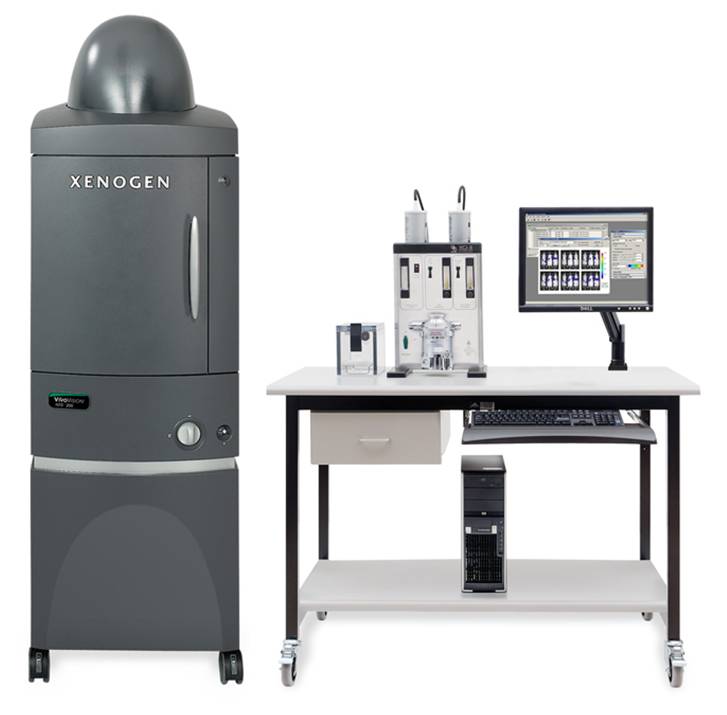 Preclinical in vivo imaging system (tomograph + CT) IVIS Spectrum CT, PerkinElmer
System of preclinical in vivo 2D and 3D visualization with digital microtomography, which makes it possible to obtain images of phantoms of biological tissues using fluorescence and X-ray microscopy.
Advantages:
The system allows in vivo molecular and anatomical longitudinal studies.
The stable rotating animal platform rotates 360 ° for full 3D data.
Multiple animals can be scanned at the same time, with an average scan dose of about 13mGy, scan and recovery times of less than a minute.
Optical and microCT methods can also work independently of each other.
Specifications:
Integrated optical and micro CT technology
3D optical tomography for fluorescence and bioluminescence
Optimal for: Bioluminescence, multispectral fluorescence and spectral immiscibility
Cherenkov imaging for optical radiolabel imaging
Low dose and ultrafast micro CT
DyCE ™ Dynamic Enhanced Imaging for real-time examination of the distribution of fluorochromes or PET tags, ideal for PK / PD applications