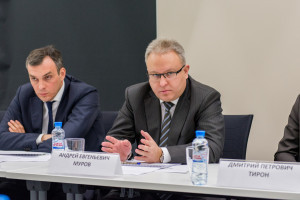 The leaders of the Federal Grid Company "UES" visited Skolkovo Institute of Science and Technology to learn about Skoltech and its abilities, and to discuss possible cooperation in the area of power-grids in the future.
The delegation was headed by Andrey Murov, Chairman of the Board of "FGC UES", and included Pavel Korsunov and Natalia Ozhegina, Vice-Chairmen of the Board of "FGC UES"; Dmitry Klokov, director of external communications; Dmitry Tyron, Deputy General Director of Construction "ECMC UES"; Anton Sheverdov, director of the construction of facilities in the regions of the Center of "ECMC UES" and Sergei Ponomarev, chief expert at "FGC UES". The guests got acquainted with the program of construction projects at the "Skolkovo" Innovation Center, and with the work of Skoltech and activity of its research centers.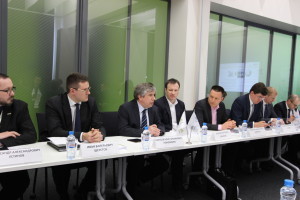 High officials of the Skolkovo foundation – Maxim Sheifel, Acting Vice-President, Skolkovo City Manager; Vasily Belov, Senior Vice President of Innovation; Nikolai Grachev, vice president and executive director of the Cluster of energy-efficient technologies; Anton Yakovenko, General Director of "ODAS Skolkovo" – informed the guests about the progress of the construction of the energy infrastructure at the Skolkovo Innovation Center.
Alexey Ponomarev, Skoltech's vice president of strategy and industrial cooperation; Prof. Alexander Ustinov, deputy director of the Research Center for Energy Systems and Ivan Sherstov, director of programs for cooperation with the industry, presented Skoltech's program of activities and proposals for cooperation with "FGC UES" in the field of electric grid systems.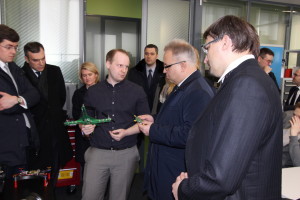 The guests were shown a complex pilot of an overhead power lines monitoring system, as well as individual solutions in an integrated power line monitoring system: project of the unique "Kanatahod" ("tight rope" in Russian) copter-rope walker, able to land on a high-voltage lines wire, to monitor power lines and the icing monitoring system (MIG).
The guests from "FGC UES" got acquainted with the work of the energy systems laboratory, advanced structures, processes and materials. At the end of the visit, both sides agreed to continue to discuss promising areas of cooperation with Skoltech at the level of experts.