Master of Science Program
In the last decade, the Internet of Things (IoT) paradigm and Next Generation Wireless Technologies (5G, 6G) have been increasingly conquering the minds of researchers and engineers. Now it is one of the most promising fields of Industry 4.0 with a market value of more than $100 bln and stable annual growth.
Key information

Program starts
September 1

 

Modes and duration
Full time: 2 years

Tuition fees
No tuition fee for applicants who pass the selection process

 

Awarded degree
Master of Science in Internet of Things & Wireless Technologies

Field of Science and Technology
09.04.01 Information Technology and Engineering

Language of instruction
English

Accreditation
The program is accredited by the Russian Government, certificate №3539 from April 07, 2021. 
License №2880 from February 05, 2020.

Entry requirements

BS degree in Information and Communication Technology, Computer Science, Electronic Engineering, Applied Physics, Mathematics.

English language requirements
If your education has not been conducted in the English language, you will be expected to demonstrate evidence of an adequate level of English proficiency.
Aim and objectives
The aim of the program is to instruct the next generation of STEM leaders ready to design principles and architectures as well as develop applications and services in the framework of IoT paradigm and Next Generation Wireless Technologies (5G, 6G), including following objectives:
Develop IoT real applications and improve them with smart technologies and leverage on sensed data
Deliver an IoT-based product from scratch, 'pitch and sell' it
Become a developer of next-gen wireless communication protocols and solutions, such as 6G and beyond
Devise solutions for industrial cases (healthcare, agriculture, etc.) using IoT
MSc Program Structure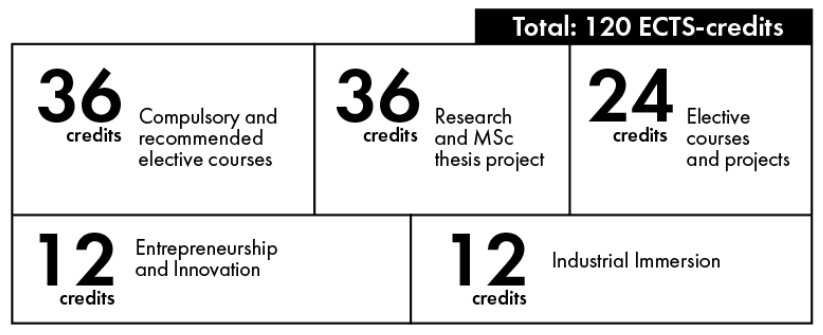 Career opportunities and paths
Program graduates work in the private and public sector in software engineering, communications, manufacturing, etc.
PhD positions and continuing research at leading Russian and international research bodies (Stanford, ETH Zurich, etc.).
Starting a business on their own or through the Skolkovo innovation ecosystem with its extensive pool of experts, consultants and investors.
Faculty
Program Director

Dmitry Lakontsev

Professor of the Practice, Director of the Project Center for Next Generation Wireless and IoT

Program Coordinator

Maria Kolotiy
Research
Students are actively involved into research activity starting from Term 3.
Research Areas
Next-Generation Communications
Coding theory and Digital Signal Processing
ML methods in communications
Industrial IoT and industrial data processing
Sensing and actuation in environmental/industrial/biomedical applications
Wearable sensing and wireless sensor networks
Embedded AI
Information Protection in Computer Systems and Network
Research Groups
Academic Partners
MIT, USA
ETH Zürich, Switzerland
Technische Universität München
Technion, Israel Institute of Technology
Moscow Institute of Physics and Technology, Russia
Tomsk State University of Control Systems and Radioelectronics (TUSUR), Russia
Industrial partners
Huawei
Nokia Bell Labs, UK
МТС
Rostelecom
TELE2
Beeline
XILINX
Marvell
Radisys
Altran praxis
Apply now!