Master of Science Program
Skoltech CLS
Skoltech CNBR
Skoltech DAL
The Master of Science Program in Life Sciences is a unique program based on Skoltech's cutting-edge research in data-intensive biomedicine and biotechnologies.
Highlights:
 Opportunity to master the fields of biomedicine and biotechnology in a unique educational environment, with emphasis on hands-on lab and field experience rather than abstract learning;
Special emphasis on bioinformatics and mathematical biology methods and approaches;
Renowned international faculty with global experience and collaborations;
A variety of disciplines covering major topics in modern and medical biotechnology;
Flexible individual educational tracks;
Diverse and strong collaboration with international and Russian partners, including MIT, Harvard Medical School, the Pasteur Institute, and others;
Many of the students' projects result in publications, often in top journals.
Key information

Program starts
September 1
 Application dates
 
Modes and duration
Full time: 2 years
Tuition fees
No tuition fee for applicants who pass the selection process
 
Awarded degree
Master of Science in Life Sciences
Language of instruction
English
Accreditation


The program is accredited by the Russian Government, certificate №3539 from April 07, 2021. 
License №2880 from February 05, 2020.

Field of Science and Technology
19.04.01 Biotechnology

Entry requirements
Relevant Bachelor's degree, or its equivalent in biology, chemistry, agro, IT, physics, medicine.

English language requirements
If your education was not conducted in the English language, you will be expected to demonstrate evidence of an adequate level of English proficiency.

Aim and objectives
The aim of the program is to train highly qualified researchers both for academia and biotechnology companies:
to learn from the best international experts in priority areas of biotechnology;
to master an interdisciplinary approach to breakthrough scientific projects;
to acquire hands-on experience in the biotech business.
Content
The biotechnology program includes courses and seminars on gene engineering, molecular biology, pharmacology, bioinformatics, neurosciences, and a range of additional subjects that students can elect as options.
In the first year we offer courses and seminars and extensive hands-on training in a well-equipped molecular biology teaching laboratory and a brand new bioinformatics teaching laboratory. In addition to courses in the broad field of life science, students are expected to take courses in innovation and entrepreneurship, as well as at least one industry immersion program with our industrial partners. During the second year of the program, students complete individual research projects under the supervision of Skoltech faculty, followed by their Master's thesis defense.
MSc Program Structure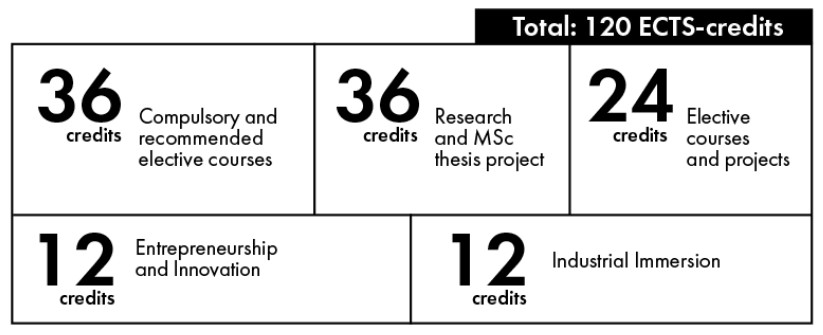 Learning and professional outcomes
A successful graduate of the program will know and be able to:
Apply knowledge of mathematics and science;
Design and conduct experiments, as well as to analyze and interpret data;
Function in multi-disciplinary teams;
Identify, formulate and solve problems in biotechnology;
Communicate effectively;
Use the techniques, skills, and modern technological tools necessary for biotechnological practice;
A recognition of the need for, and an ability to engage in life-long learning;
A knowledge of contemporary issues;
A knowledge of probability and statistics, including applications appropriate to the biotechnology program and objectives.
Career opportunities
Students engage with biotech business and entrepreneurship and work closely with innovative companies. Understanding how biomedical business works and helps not only to choose a more successful career path, but also to become a more efficient researcher. This is why Skoltech embeds several industry immersion programs into the curriculum, which are organized in partnership both with large established companies and early stage start-ups.
In addition, students take courses on innovation management and entrepreneurship.
Career paths:
PhD positions in academic & research institutions
Specialist positions such as biochemist, bioinformatician, medical genetics, biomedical engineer in related biomed economy sectors as well as Skolkovo resident companies and startups
Program Director
Vera Rybko, Assistant Professor

Program Coordinator

Faculty
Research
Main research areas:
Bacterial CRISPR-Cas immunity; genome editing, new antibiotics
Study of Long Noncoding RNA in cancer and liver pathology, targeted and non-targeted drug delivery
Dopamine transporters, receptors, signal transduction and GPCR regulatory mechanisms in dopamine-related functions and behaviors
The ubiquitin ligases in cancer
Variation of gene expression in adult and embryonic stem cells and stem cell sub-populations
Evolutionary genomics of bacteria
Three-dimensional structure and functional state of chromatin
Biotech academic partners:
Immanuel Kant Baltic Federal University
Far Eastern Federal University
Kazan Federal University
Russian State Agrarian University – Moscow Timiryazev Agricultural Academy Biotech
and others
Industrial partners:
Atlas
Genotek
Generium
Agroplazma
Sirius
MiLaboratory
M&S Decisions
BIOCAD
ATP Labs Ltd
Center for Genetic Engineering and Biotechnology (CIGB), BioCubaFarma
Philip Morris International R&D
TransAlgae
InsideDNA
Analytical Spectrometry
Evogene
Visual Science
DNK-sintez
and others
Apply now!