Master of Science Program
The Petroleum Engineering program was developed to prepare scientists and engineers to be able to produce novel technological solutions for enhancing recovery of the existing hydrocarbon sources (secondary and tertiary recovery methods) and developing new methods for recovering unconventional hydrocarbon reserves (tight oils, heavy oils, bituminous sands, shale oil, gas hydrates, etc.). 
The key features of the Petroleum Engineering program are:
Cutting-edge research in the exploration and production of hydrocarbons;
Special emphasis on unconventional resources and enhanced oil recovery;
Special emphasis on involving methods of mathematical physics and data science;
Provides a unique educational environment in the fields of petroleum science and engineering;
Renowned faculty with international experience and collaborations;
Diverse and strong collaboration with international and Russian partners;
Publications in top journals.
Key information

Program starts
September 1
Application dates
 
Modes and duration
Full time: 2 years
Tuition fees
No tuition fee for applicants who pass the selection process
 

Awarded degree
Master of Science in Petroleum Engineering

Field of Science and Technology
21.04.01 Petroleum Engineering

Language of instruction
English
Accreditation
The program is accredited by the Russian Government, certificate №3539 from April 07, 2021. 
License №2880 from February 05, 2020.
Entry requirements
Relevant bachelor's degree, or its equivalent in physics, mathematics, geology, petroleum engineering and IT.
English language requirements
If your education was not conducted in English, you will be expected to demonstrate evidence of an adequate level of English proficiency.

Aim and objectives
The main scope of the Petroleum Engineering program is to train students in the fields of exploration and development of hydrocarbons, with a focus on fundamental knowledge and competency to carry out experimental and theoretical research to develop new technologies relating to hard-to-recover and unconventional reserves.
Content
The master's program includes student immersion into the oil and gas production industry, execution of real-life projects in production and service companies, execution of scientific research at the Skoltech Center for Hydrocarbon Recovery together with its partners: leading universities in this sphere from Russia, Europe, USA, Canada and Great Britain. 
Petroleum Engineering MSc Program Structure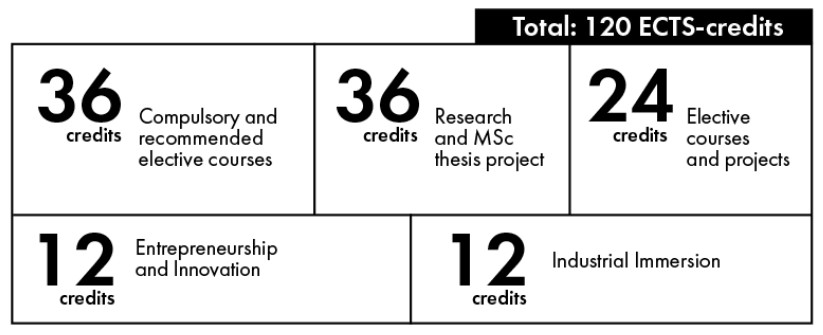 See additional info about courses on modern hydrocarbon recovery technologies by following this link (in Russian). View the outstanding laboratory of the Center of Hydrocarbon Recovery.
Learning and professional outcomes
A successful graduate of the program will know and be able to:
Apply knowledge of the technology in terms of the petroleum engineering areas;
Design and conduct experiments, as well as to analyze and interpret data;
Function in multi-disciplinary teams;
Identify, formulate and solve problems in Petroleum Engineering;
Communicate effectively;
A recognition of the need for, and an ability to engage in life-long learning;
A knowledge of contemporary issues.
Career opportunities and paths
Students graduating with a Master of Science degree in Petroleum Engineering are in great demand throughout the international oil & gas market.
Career paths:
1. PhD positions in academic & research institutions;
2. Specialist positions in related economy sectors:
Petroleum industry; 
R&D;
Consulting;
Skolkovo resident companies and startups.
Faculty
| | |
| --- | --- |
| Program Director | Program Coordinator |
Research
Main research areas:
Geophysics, petrophysics and geochemistry for unconventional hydrocarbons;
Geomechanics;
Enhanced hydrocarbon recovery;
Reservoir fluids, gas hydrates;
Numerical simulation;
Data science.
Apply now!