It's mathematics that helps us to describe, foresee, formalize and organize our lives. There is no doubt in its significance and value nowadays. Biologists, economists, historians, geographers, businessmen, politicians – all are dealing with this science every day, more or less.

However, few people really know what happens with mathematics nowadays: we have invited the leading experts of the nation to tell about it. Mathematics is a precise and very complicated science, that is why we have decided to reduce the degree of intellectual tensity and chose a laid-back format of a stroll…
PostNauka invited Sergey Nechaev for a walk
November 9, 2016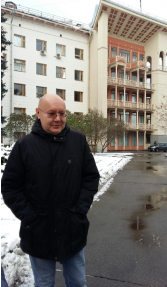 Web-journal about science PostNauka invited Sergey Nechaev, lead research scientist of P.N. Lebedev Physical Institute of the Russian Academy of Sciences, Head of Laboratoire J.-V.Ponselet, for 'Mathematical walks'.

Sergey Konstantinovich picked the Leninsky Prospect neighborhood for a stroll. The conversation touched upon not only the operation of the Russian-French Laboratoire J.-V.Ponselet (starting from January 2017 it will turn into the International Multidisciplinary Scientific Centre of J.-V.Ponselet). In the 'Aktualnaya Matematika' video section at postnauka.ru mathematician told about and demonstrated what 'Collective methods in topology' mean.
Here's the longread to read.