The startup immersion in San Marino was designed to be a prolonged hackathon, but it turned into a kind of mini innovation workshop. It was supposed to be a field experience only, but it ended up being a culture rich adventure as well. It promised to be a study experience but turned out to be real life.
The project idea belongs to Zeljko Tekic, a professor at Skoltech's Center for Entrepreneurship and Innovation (CEI), and Samir Mastaki, founder and CEO of Nuland and a mentor at the 2019 Skoltech Innovation Workshop. Professor Tekic initially invited Mr. Mastaki to offer together a course for Skoltech students during the Independent Studies Period (ISP), but then that turned into an invitation to be Nuland's guest and to bring students into a bootcamp-style activity in San Marino. To offer others such good team-building, collaboration, and innovation hands-on opportunities befits the Nuland philosophy. Nuland is a San Marino startup that develops a location based mobile application that encourages people to do good for their local community (e.g. take a group of kids to school), the greater world (e.g. plant a tree) and themselves (e.g. exercise regularly) by rewarding them for performing good deeds. The idea is that by doing good things and verifying that good things are done by others, one increases their karma, which one can use later for a number of activities in real life with multiple benefits.
With this experience, everybody finishes with a better and higher karma.
Let's begin with the facts though. Five teams of three, altogether fifteen first and second year Master's students, were selected based on the ideas they submitted in early December 2019. They traveled to San Marino on Saturday, January 25, and were guests of Nuland for eight days, during which each of the five teams developed its own idea into a tangible prototype.
The teams got carte blanche to innovate and suggest improvements to the emerging application. And they used it to be creative! The teams proposed a range of improvements, from developing a recommender system, a knowledge for knowledge sharing system and a dynamic system for assigning rewards for doing good deeds to easy mapping of any area based on sustainability criteria and novel (and fun!) ways how to transfer connections from real-life into Nuland application. Common for all the projects was creative approach and focus on social responsibility.
Although all the projects started as ideas, at the end, only a week later – all the ideas were translated into technological prototypes that were fully covered by a front- and back-end programming.
To make it happen, the students had to use their hard programing skills as well as the mindset of an innovator and startupper. "The whole thing resembled Innovation Workshop squeezed into one week," noticed Ivan Zakazov, one of the participants. Marina Pak, another student that went to San Marino, clarified: "…instead of hardcore 24/7 coding typical for hackathons, there was, similarly to Innovation Workshop, immersion into the life of a startupper, both direct, through brainstorming the project idea, team-work, consulting with mentors, prototyping – and indirect, such as official visits and various networking events for establishing contacts and gaining long-term support."
The teams acted as if these were their own startup projects. And as it typically goes with startups, they learn the best from mistakes. Tatiana Filippova, one of Skoltech students, reported that type of learning: "On the first day, our team approached the problem purely at the programmer level: we started writing scripts for working with Google maps, found a bunch of bugs and even decided to bravely solve them. But during conversations with Samir, Yegor and Ilya [from Nuland team] our understanding of the problem changed and we understood that we need to change our approach and mindset: to build a product without developing everything from scratch." 
The students initially had insufficient experience in mobile apps development but finished with a tangible prototype. The tasks were challenging enough to motivate our students to learn. "We had to learn how to develop an Android application without any prior knowledge of Java language and everything else that goes with it. This was pretty hard at first but seeing other people struggle the same way made it easier to cope with and, after a couple of days, I managed to get a hang of it," Lusine Airapetian said. Liubov Kupriianova's team had similar experience. They used their superpowers – passion and mentors to deal with the challenge: "…we were quick learners and had brilliant mentors, so the passion about our idea was enough to do things we were not experts in." All the efforts put by Skoltech students were clearly acknowledged by Nuland's CEO, Mr. Mastaki: "We appreciate teams coming up with great ideas, mobile application prototypes and presentations."
As a result of this project, many new things were learned on a diverse spectrum of hard and soft skills. Ruslan Aliev admitted: "I had a lot of fun, and learned a lot – before San Marino I did not know anything about developing mobile apps, but somehow we finished our project in time." Two main things Anton Semenkin learned were "…android development using several modern tools for computer vision and augmented reality technologies," while Vladislav Zhuzhel improved his team-work skills. "Done is better than perfect!" is an important learning Anastasia Remizova picked up from this experience.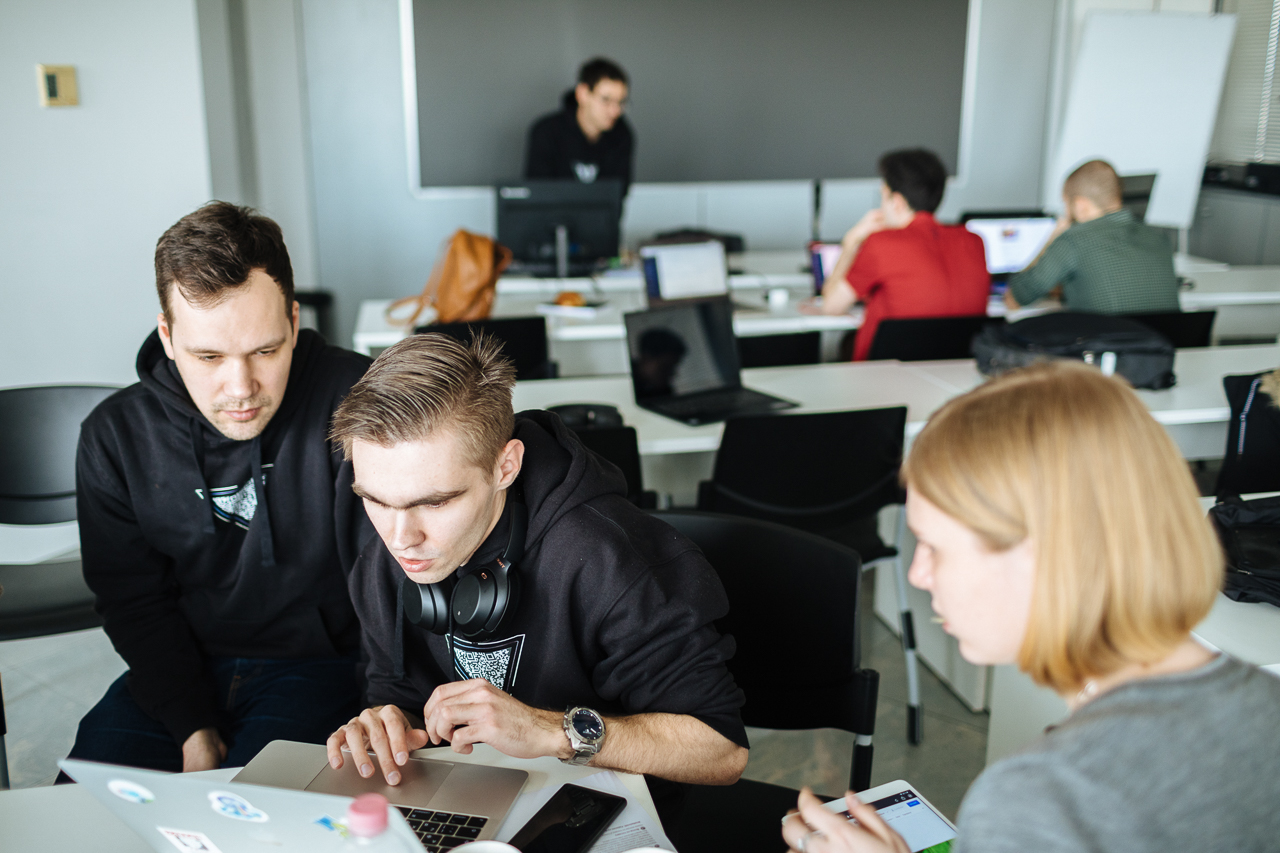 Networking was another highlight of the whole experience. Provided with outstanding hospitality and a friendly atmosphere by the Nuland team, which boosted productive and inspirational work on the project, the students also dealt with impressive contacts.
"It was impressive getting to shake hands with the presidents of San Marino. Perhaps that is the standard of hospitality in San Marino that people tend to comply with, but for me it sometimes felt like being a part of a movie," said Ivan Zakazov.
"The most incredible aspect of the trip was the spectrum of communication opportunities we had: we spoke with Italian hosts, with San Marinian Captain Regents (two presidents) and ministers, and even with Bangladesh's vice prime minister," echoed Aleksandr Rubinshtein.
Altogether this collaborative project with Nuland offered students, through new and non-typical activity – startup immersion, better understanding what career options they have. Ruslan made it clear: "I met a lot of new people [from Nuland], and watched from inside how a startup company works. Before the trip I only had experience of working in large corporations. Now, I am really considering to start a business on my own or join some cool startup."
All the students, without exception, speak about the hosts' amazing hospitality and the great balance between work and other activities, such as visiting cultural places and high representatives. Samir Mastaki, the Nuland CEO, who organized this fully funded activity and became a real mentor for everyone, was happy to assist our students. He describes Skoltech as "a great place where the best talent meets great educators and diverse opportunities" and hopes to continue the collaboration. 
If Samir was a guru for Skoltech students, Zeljko Tekic was, as they say, their guardian angel, assisting and encouraging them at every moment. This trip and unusual experience also helped him to see the other side of the education life.
"Typically, when you're a professor you teach students in a classroom two to three times per week, but you do not interact out of classroom. During this trip we spent a lot of time together – working, traveling in between places, sightseeing and dining – they played games and they sang. For me, it was the first time to engage in this way with our students and I really enjoyed it; it was the human side that until then I had mostly missed. I knew that they are talented, and now I know how nice they are."
Samir Mastaki mirrored this perception of Skoltech students: "Next to being skillful, results oriented and fast learners, they are kind, brilliant and open minded people."
After the San Marino experience, everyone involved felt more powerful. Nuland has been enriched with new ideas as a mentor team which really knows what good deeds are. Through his role as a creator of opportunities for Skoltech students, Professor Zeljko Tekic ensured that they better understand what they want and, no less important, they know that they can do. Pursuing good deeds that lead to increased karma seems to be an effective idea.
Contact information:
Skoltech Communications
+7 (495) 280 14 81