On June 4, the Analytical Center under the Government of the Russian Federation and the Skolkovo Institute of Science and Technology (Skoltech) signed a cooperation agreement within the framework of the St. Petersburg International Economic Forum. The agreement was signed by head of the Analytical Center Konstantin Kalinin and president of Skoltech, academician Alexander Kuleshov.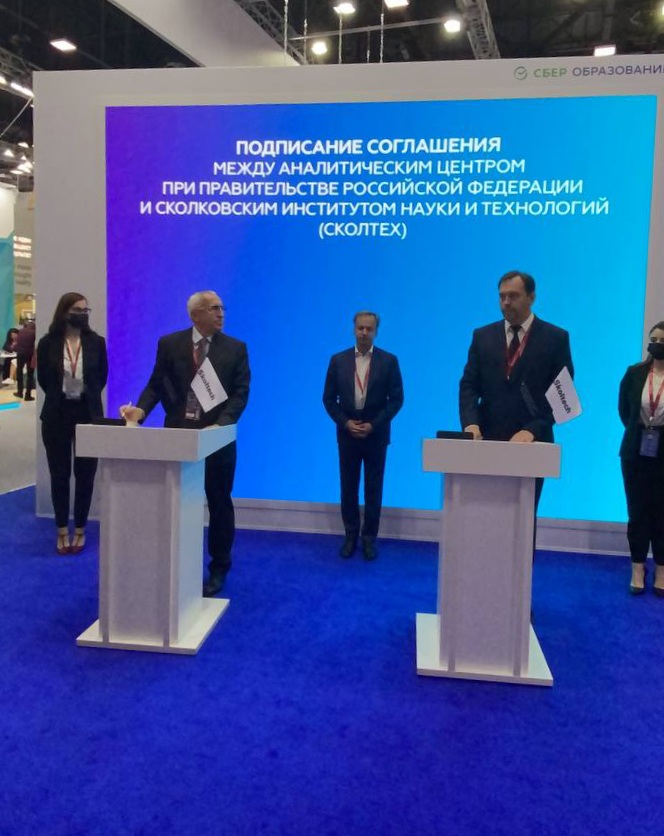 "Our cooperation aims to combine expertise in technical and statutory regulation of artificial intelligence (AI) and end-to-end digital technologies and draw up relevant documents, as well as engage in collaborative multi-faceted research, create new educational programs and hold scientific events," Kalinin said.
The partners will jointly support Russia's international initiatives in the development and regulation of AI-based technologies, prepare grant and contest applications, and develop and deliver training courses within professional education programs.
President Kuleshov pointed to the broad scope and high significance of the agreement for the digital transformation that is currently occurring at various levels across Russia.
"Digitalization is an absolute necessity in the modern world and the first step towards building a new technological culture. Skoltech will be happy to make an expert contribution to the common cause in the interests of the Russian society thanks to its cooperation with the Analytical Center under the Government of the Russian Federation, among other things," Kuleshov noted.
The partners recognize that while public sector employees, businessmen and society as a whole wish to improve digital literacy, the state lacks advanced research on topical issues and risks associated with nation-wide digitalization. The Analytical Center's Data Management Department and the Skoltech Center for Computational and Data-Intensive Science and Engineering (CDISE) will manage the joint projects stipulated by the agreement.
Chairman of the Skolkovo Foundation Arkady Dvorkovich has no doubt that the agreement between Skoltech, one of Russia's leading universities, and the Analytical Center will contribute significantly to the implementation of the Federal Artificial Intelligence Project.
"Of particular importance are the plans to support and develop international cooperation, without which it will be too hard to maintain global competitiveness in a wide range of areas from medicine and education to mechanical engineering and banking. The fact that Skolkovo is a hub of digital economy regulation expertise and a testing ground for the latest advances in AI will certainly help make this agreement a success and ensure that AI is used in real life with the utmost effectiveness to make life more comfortable and safer for people," Dvorkovich said.
Contact information:
Skoltech Communications
+7 (495) 280 14 81