What's the first thing that comes to mind when you hear the word 'surf'? Monster waves off the coast of Hawaii? The Beach Boys and that bushy bushy blonde hair do? Or these weird neon shorts your aunt just loves to wear to family reunions? For most people, surfing would not usually be associated with a group of Russian and American students strategizing together. Then again, SURF stands for the Stanford US-Russia Forum, a bi-annual conference where young, bright minds discuss policy and economy. Four Skoltech students ventured forthto Silicon Valley (Googleplex included) last month, presented their startups and tech projects, and took a million selfies. Then they returned to Moscow. Here are their stories – and photos.
Anna Dubovik is a student with Skoltech's IT track and the entrepreneur behind "SKILL-TREE ", which she presented to the Stanford faculty and students. Her aim is to create a web service for future professionals. It uses young professionals' social network profiles to determine their set of skills and provide informed advice on their career's future course. Skill tree's ultimate goal is to scale the service and help professionals worldwide realize what's missing from their careers.
Another young entrepreneur who presented a career decision making tool is Tatiana Smirnova. She studies Bio Medicine – not IT – which goes to show the interdisciplinary nature our MSc tracks. She told her audience in Palo Alto about brainselecta.com, a web service which focuses on removing some of the ambivalence from the process of soul searching and job hunting.
"People were very open and asked lots of great questions", says Tatiana.  "Ambivalence is an ever growing issue in society and that is true for both young Russians and Americans.  With our service, a person chooses topics of interest and then listens to multiple audio tracks. We simulate a busy street scene where you need to employ selective attention. The interesting part is what people pay attention to. Based on this, the system creates a recommendation. It's an intuitive approach based on cognitive science. But we also developed mathematical algorithms for criteria analysis and evaluation."
Sergei Kasatkin studies IT. His project aims to detect children at risk of drowning – and save them. He told his audience in Silicon Valley statistics show that two out of ten people who die from drowning every day are children (14 or younger).
Sergei's project is based on a smart bracelet containing a gyroscope and a sensor, worn by a baby or toddler while taking a bath. An alarm goes off if a child's heart beat and position in the water indicate that something is wrong – and the baby might be drowning. The prototype's estimated cost is $60 US. "In return I provide a tech solution that could take parents' anxiety away," he tells us. Sounds like a smart business plan: ask any American or Russian and they would probably say that this is a fair price for saving a child's life (Martian moms and dads are likely to agree.)
Alexander Vidiborskiy is a Master's student of Energy. "At the beginning of SURF, I was a little confused. How can I present complicated experimental physics to people interested in politics? But adapting a presentation for a new audience turned out to be an extremely useful experience."
His project envisions the creation of highly-tunable active filters for satellites and large observatories. These filters could make life easier –and quieter – for communications and astronomy professionals because they allow higher noise tolerance. "I was surprised that Stanford students deal with the same research questions we explore at Skoltech. We had lots to talk about in terms of RU-US collaboration."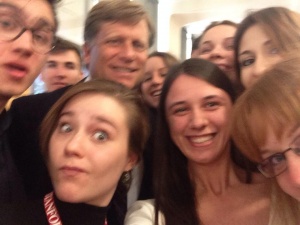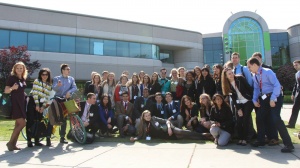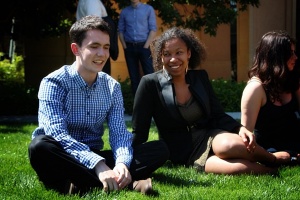 * The Skolkovo Institute of Science and Technology (Skoltech) is a private graduate research university in Skolkovo, Russia, a suburb of Moscow. Established in 2011 in collaboration with MIT, Skoltech educates global leaders in innovation, advance scientific knowledge, and foster new technologies to address critical issues facing Russia and the world. Applying international research and educational models, the university integrates the best Russian scientific traditions with twenty-first century entrepreneurship and innovation.