It is already a known fact that Skoltech is a unique university in Russia, as it puts Innovation as the core of its research and educational programs. In our Laboratory for Innovation and Intellectual Property Management, researchers led by Prof. Kelvin Willoughby focus on the role of Intellectual Property (IP) in the development of start-ups. In the past month, Willoughby and Ph.D. student Punyapat Saksupapchon, have done some research in Thailand, and as a result, were invited to hold a seminar for Thai entrepreneurs.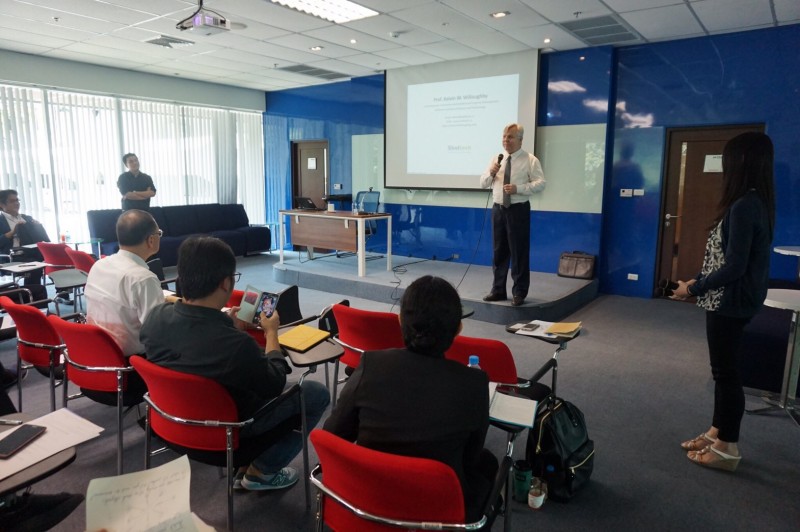 Punyapat Saksupapchon graduated last year as a space track student, and wanted to stay in Skoltech for her Ph.D. She ended up at Prof. Willoughby's team at the Laboratory for Innovation and Intellectual Property Management. As part of her research, Saksupapchon went to her homeland, Thailand, to investigate the role of intellectual property in the international commercialization strategies of firms in the lithium ion battery industry and complementary industries such as electric vehicles, mobile electronics and electrical grid storage.
Prof. Willoughby joined her for a meeting with officials of Thailand's National Innovation Agency (NIA), in which they requested NIA's assistance in introducing them to companies in Thailand relevant to Punyapat's research. During the meeting, the NIA officials wanted to learn more about the overall program of research carried out by Willoughby's team at the Laboratory for Innovation and Intellectual Property Management. They were especially intrigued by the research and teaching on the role of intellectual property in the strategy of technology-related start-ups and small and medium-sized enterprises (SMEs). As a consequence of the meeting, Prof. Willoughby was invited to deliver a half-day training seminar for Thai entrepreneurs, under the NIA's sponsorship.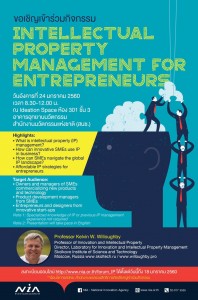 The NIA advertised and promoted for managers and entrepreneurs in small and medium-sized enterprises in Thailand. It was for business people, not academics. On January 24th, about 30 participants, from a variety of industries, including automotive engine technology, pharmaceuticals, medical devices, transportation, telecommunications, aerospace, manufacturing and food processing, attended the seminar.
The seminar focused on four practical case studies in technology entrepreneurship, taken from Prof. Willoughby's own research and personal experience, in the following fields: medical devices, digital media distribution, weapons and specialized manufacturing tools. In each case he described the role of intellectual property management in the strategies of the ventures, and mapped out general principles of intellectual property relevant to entrepreneurs. The case studies were each followed by group discussions in which the industry participants compared the issues and ideas presented to them with practical cases in which they were involved in Thailand.
We asked Prof. Willoughby to share his impression from the event: "I was delighted by the enthusiasm and engagement of the participants. The thing that most impressed me about the seminar was that almost of the participants — who were mostly practical business people — had encountered serious IP management challenges in their business, and seemed to have a thirst for insights guidance and conversation about how to deal with IP problems. They also seemed to enjoy very much have a variety of international examples to compare with Thai experience.
At the end of the seminar almost all of the participants expressed how refreshing and helpful the found my approach to be, in contrast with what they described as the normal approach in Thailand where a lawyer would give a dry or turgid talk about principles of IP law. The participants seemed to really appreciate the fact that I shared real practical stories (rather than dry law and theory) with them, and that I brought theory to life with real cases and discussion with the participants".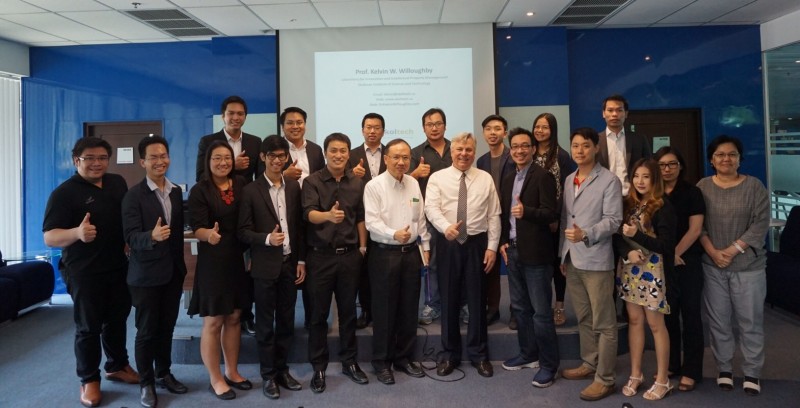 The success of the seminar was not overlooked by the organizers, who asked Prof. Willoughby if he would be willing to come back to Bangkok to deliver a similar seminar again for oaths audiences of entrepreneurs in Thailand.