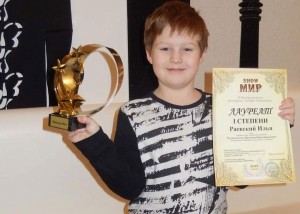 Ilya Rajewski has become a celebrity after "Direct Line with the President" (an annual event in which the president of Russia answers citizens' questions), when he not only complained that he was not allowed to go to "Artek" and "Sirius" (a science summer camp for talented kids), but also told about his plans to become a scientist and study at Skoltech. Not long afterwards, the talented fifth-grader from Yaroslavl received an invitation to come to Skoltech and to get acquainted with its research centers and laboratories, including the robotics lab, which he so keen on. 
At eight years young, Ilya skipped grades, he speaks good English, already exploring 3D-modeling, has an interest in robotics and he even passed the program in Chemistry for 8th grade. The boy repeatedly became the winner of competitions in mathematics, English, natural history and reading. Last year he has written a book called "My Adventures in MINECRAFT".
The latest passion of Ilya is rockets and the idea of a rocket ship with turbo engine. This is why he wants to study science: "My dream is to develop a rocket fuel in "Skolkovo", Ilya told reporters, "I love science, and "Skolkovo" is just about science. It will be very interesting to me there .
The interest of talented fifth-grader has not gone unnoticed. During a Skype conversation Alexei Sitnikov, Skoltech Vice-President invited Ilya to visit the University. According to the Sitnikov, Skoltech will be glad to see wonder kid from Yaroslavl, but he will have to learn a little bit more: "Looking how fast Ilya develops his education, I think that this will happen very soon", said Sitnikov, "Therefor, I would like to invite Ilya to come visit us and see what we have built and what we develop, so he can made the  choice for himself".