Postdocs – get ready to Vroom. Science Drive is here.
The new  program is aimed at supporting the professional development and research initiatives of talented young Russian scientists. For the program's first year, an expert panel will choose a shortlist of seven researchers specialized in experimental condensed matter physics. Two winners will travel to Manchester where they will work for two years under the leadership of renowned physicist sir Andre Geim – then return to Moscow to work at Skoltech. 
The university's Center for #Quantum Materials along with Skolkovo Open University (OpUS) will manage the application and selection process, which began yesterday. 
Key dates and timeline:
May 26, 2014 ( 11:00 Moscow time ) – Candidates' application deadline.
May 28, 2014 – Announcement of seven finalists .
June 1, 2014 ( 11:00 Moscow time ) – Deadline for submission of presentations by finalists.
1-3 June 2014 – Personal interview (or Skype interviews) with members of the Expert Council.
June 3, 2014 – Announcement of two winners.
June – August 2014 – Paperwork and UK visas.
September 1, 2014 – Beginning of work on research project at the University of Manchester.
Professor Andre Geim is the first ever scientist to have won both the Nobel prize – for his groundbreaking work on Graphene – and Ig Nobel, for using magnets to levitate a frog. That's right: he actually made a frog float midair.
Think you're a high flyer too? Start by reading here about the possibilities – and requirements.
After you've read and understood all relevant information, please send your application to: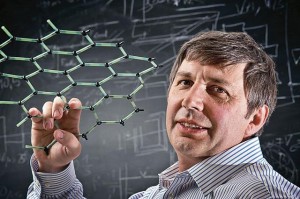 Professor Andre Geim. Photo credit: Scientific Russia
* The Skolkovo Institute of Science and Technology (Skoltech) is a private graduate research university in Skolkovo, Russia, a suburb of Moscow. Established in 2011 in collaboration with MIT, Skoltech educates global leaders in innovation, advance scientific knowledge, and foster new technologies to address critical issues facing Russia and the world. Applying international research and educational models, the university integrates the best Russian scientific traditions with twenty-first century entrepreneurship and innovation.