Mauricio Sobrero (Founding Faculty Fellow), Mats Hanson and Ilia Dubinsky (Director of SkTech's Center for Entrepreneurship and Innovation) at the Stockholm Workshop.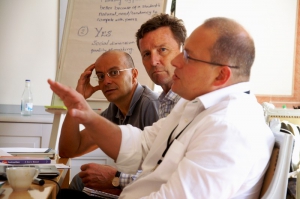 Gathering near Stockholm, Sweden on Thursday and Friday, 15 members of the Skoltech team, including Founding Faculty Fellows, dove into an intensive two-day workshop on curriculum and course design.
A group of experts on reforming the practice of engineering education led by Kristina Edstrom, Director of Educational Development, presented an innovative educational framework. The underlying objective was to analyze teaching from the learning outcomes that it generates — seeing teaching from a learning perspective.
"We focused on a few key principles for learning-centered course design," commented Edstrom. "At first, those principles can seem simple and obvious. But we thoroughly analyzed concrete examples to investigate the implications that they have in practice. Then you realize that this is in fact a whole different way of seeing teaching and learning."
From the workshop the Skoltech members will gain essential knowledge to guide and support student learning in the institute's novel problem-led and discipline-led courses.
"It is important to have a joint frame of reference, some common concepts that will facilitate our work when we discuss and develop education," Edstrom said.
The workshop was designed drawing on a decade of experience from the CDIO Initiative — which was founded by President Edward Crawley and now engages over 80 universities to produce the next generation of engineers. Speakers came from KTH Royal Institute of Technology in Stockholm, Chalmers in Gothenburg, and from Aalborg University in Denmark.