Click here to read the entire February 2013 Newsletter!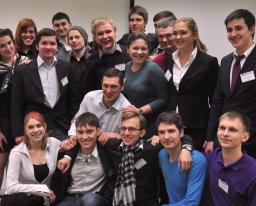 Greetings from Skoltech!
The new year has begun and we continue to pick up pace at Skoltech.
Our students have already returned to classes following their winter break. They impressed an audience comprising Skoltech leadership and Skolkovo Foundation President Victor Vekselberg with presentations over the lessons they had learned while abroad.
We are continuing to develop our factory for innovation by concentrating efforts on the search for CREI directors and selecting 20 semifinalist proposing teams in the Second Round Call for Proposals.
We have also been active integrating the needs of industry with our research priorities, signing research agreements with four Russian energy companies and holding conferences with leaders from industry on composite materials and upsteam oil.
We are looking forward to the March student Selection Weekends at Skoltech as more promising students join us in accelerating innovation.
Edward Crawley President of Skoltech