Silicon Valley, CA — On March 28, Skoltech and the MIT Skoltech Initiative hosted the panel discussion "Global Partnerships: Accelerating Innovation. Spotlight MIT-Skolkovo Collaboration" for international entrepreneurs and investors interested in Russia.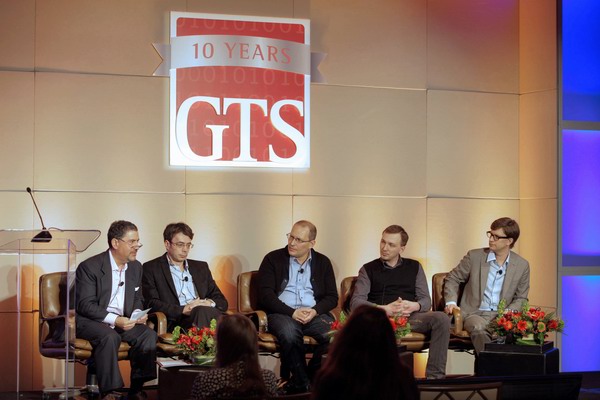 This forum, held during the Global Technology Symposium (GTS) in Silicon Valley, CA, was designed to inform the participants about collaborative activities between Skoltech and MIT. The discussion highlighted the universities' co-projects that accelerate technology transfer and maximize both economic impact and social benefit within Russia.
The panel was chaired by Jose Estabil, Director of Entrepreneurship and Innovation for the MIT Skoltech Initiative and MIT Portugal Program. In his opening address he noted that universities have a recognized role in economic development. "By definition, the Skoltech project is to contribute to economic growth in Russia. It's a brand new university, and its principles are translated from what we've learned in terms of best practices of innovation at MIT and elsewhere," he said.
Among the panelists, Ilia Dubinsky, Skoltech Director of the Center for Entrepreneurship and Innovation (CEI) discussed Skoltech's mission to bridge the gap between the lab and the market place. He stressed that it will only become possible with the help of collaborators from outside the university, including industry and investors.
Igor Seleznev, CEI Director of Research Programs, described how the translational research model is implemented at Skoltech. He focused on innovation support initiatives designed to assist researchers in transferring technologies to the market.
The speakers on the panel also discussed a number of technological projects launched through the Innovation Support Program, and expressed varied views as to how similar initiatives might contribute to developing an innovative environment in Russia.
Background:
The Global Technology Symposium is the leading investment conference on venture capital, technology, and entrepreneurship in emerging markets. Each year since 2004, the Symposium has brought more than 300 selected opinion leaders in business, finance, technology, and policymaking to Silicon Valley, where they share insights into the opportunities and challenges of globalization.