The second cohort of Skoltech students kicked off their Master of Science degree studies on August 6 by diving into a unique Innovation Workshop hosted at the Massachusetts Institute of Technology (MIT). This experience teaches them to apply fundamental scientific knowledge and empowers them with the confidence to innovate.
At the opening ceremony, Dr. Luis Perez-Breva, the Workshop's director and designer, Lecturer in Technological Innovation at MIT and Research Scientist in MIT's School of Engineering, challenged the 42 participants: "The workshop is your opportunity to take ownership of the student culture at Skoltech — to firmly ground it in entrepreneurship and innovation."
Skoltech emphasizes Entrepreneurship & Innovation (E&I). Each academic year begins with the four-week Innovation Workshop in order to give Skoltech students a foundation in E&I. It also calibrates their understanding of solving real-world problems with technology and fosters a "can-do" student culture. The workshop shows participants how to become innovators before they plunge into the Biomedical, IT and Energy curricula.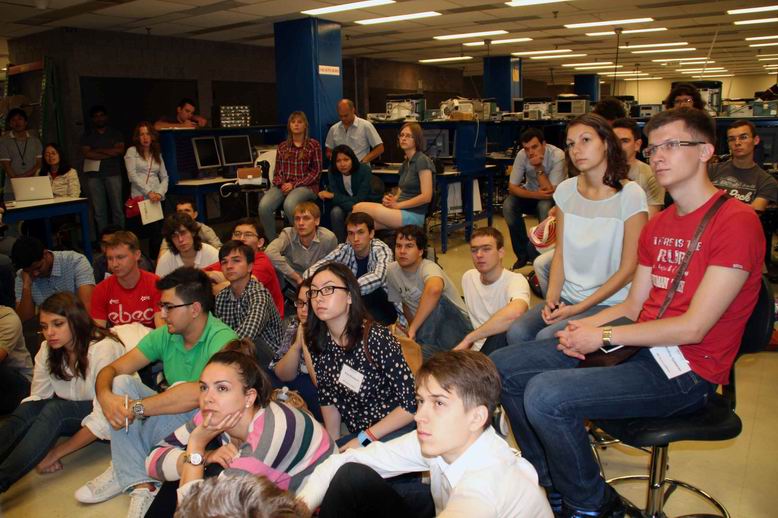 To achieve these goals, Dr. Perez-Breva and his colleague Professor Charles Cooney, Faculty Director of the MIT Deshpande Center for Technological Innovation, engaged over 50 contributors from the MIT ecosystem – faculty members, lecturers, guest speakers, entrepreneurs and mentors – to develop this intense course. This second edition of the Workshop builds on the success of the first and incorporates new material on innovation in energy, information and biomedical technology.
"Our job is to share with them expertise, to be committed to the students throughout the month, so they fully understand that we work with them," said Dr. Perez-Breva. "We'll be challenging them every day, and it is going to be very fast paced with lots of activities."
The workshop features lectures on technology and its impact, hands-on labs, leadership experiences and social activities with a purpose. It culminates with an innovation prototyping lab.
"I'm really excited by the prospect of collaborating with internationally renowned faculty for a whole month and understanding the culture of entrepreneurship," said Roman Prilepskiy, a new student in Skoltech's Information Science and Technology program. "You quickly get inspired by how everything is open and available to you during the Innovation Workshop at MIT. You just have to start working on your project and you'll find all the resources you need."
Founding the Institute's Culture
"The Institute is fundamentally about people, communities of people with common values and goals," Skoltech President Edward Crawley said to students in this year's Workshop. "Together we are going to contribute to strengthening the economic development and the university system in Russia."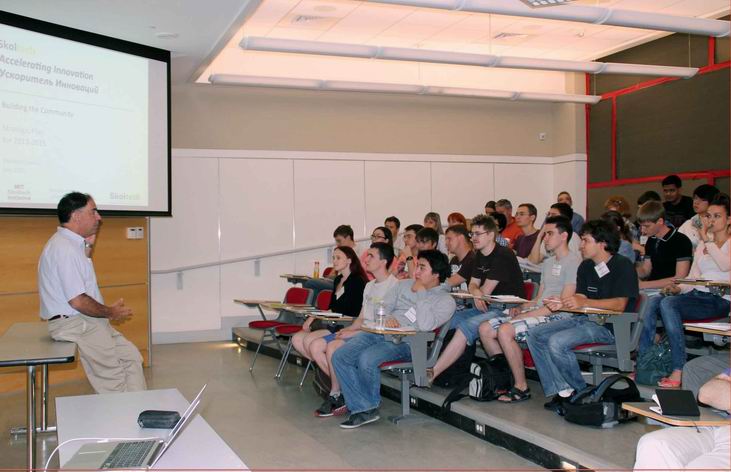 Skoltech's students are challenged to be active contributors in defining the campus's culture, not just passive participants in the educational process. "We are not just faculty and students, but one team. We will collaborate on making this very exiting experiment of building a new university at Skoltech successful. And Skoltech's success will be measured by its students' success in future years," said Professor Cooney.
Innovation brings together technology and impact. The Workshop helps new students experience the cultural attitudes and thought processes that lead to successful entrepreneurship and innovation. Skoltech graduates will acquire the skills necessary to reconcile fundamental knowledge and ideas with the means and strategies to discover, plan and build for impact. As they apply and refine these skills through their studies, they will lay the foundations for a "can-do" culture that will define future generations of Skoltech innovators.
"Speaking about bringing the student culture to Skoltech when we come back, I believe one of the most challenging things will be to bring this tolerance to failure," said Andrey Vyatskikh, a new student in the Product Design and Realization program. "If you fail, you learn what went wrong and you try again. This is kind of an essential thing for innovations. In Russia most of the young entrepreneurs lose their motivation after failure."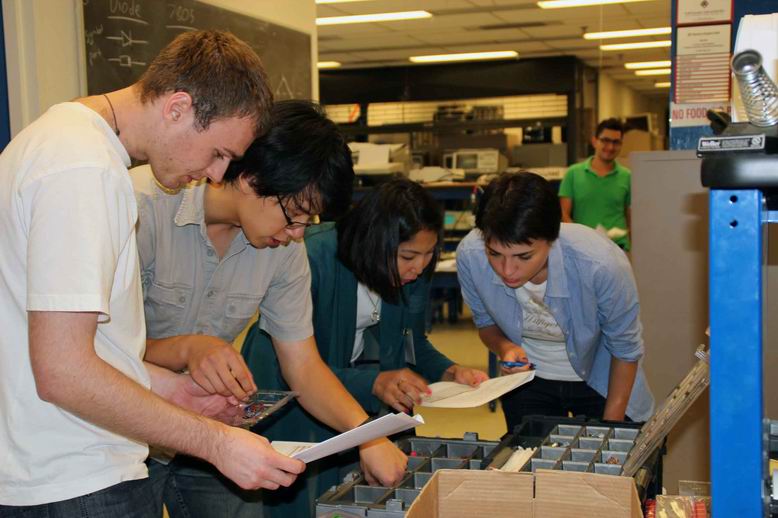 Building a Team
The Innovation Workshop also provides opportunities for students to know each other better so that they will support each other's ideas and become a fully functioning team. Throughout the month, students work in groups that are organized to ensure that every person has the opportunity to collaborate at least once with every other student. Such collaboration and collective brainstorming will enable them to fully realize their Capstone Innovation Prototyping Projects.
"We are delighted with how the course is organized and the connection between theory and practice. We all feel like a big team now. And one of the things that brought us together here, what we have in common, is our love for science," said Adela Kondic, a new student in the Information Science and Technology program.