MOSCOW, Russia – "It's a glorious new day. And almost everything around us is new!" said Skoltech President Edward Crawley as he rang a ceremonial bell to mark the first day of classes on September 2.
Students, professors and honored guests attended the ceremony, marking the first time Skoltech opened its doors to teach students in Russia.
"This is a new generation, not just a new group of students," said President Crawley during his speech. "It's a time of transformation and transition in Russia and around the world and we want to prepare you to be agents of change in that transition. We don't want you to be pushed along with the world. We want you to be leading the world."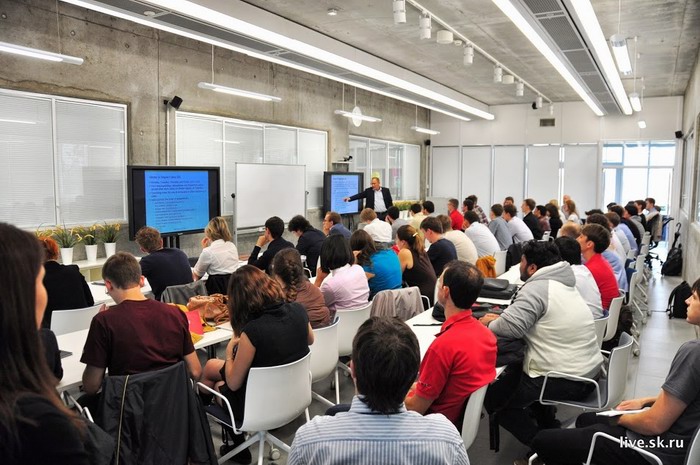 The 52 Master's degree students at the ceremony began their two-year program in Energy Science and Technology and Information Science and Technology. The programs, taught in English, bridge fundamental science and innovation, so students understand how to produce economic and social impact. Skoltech's key partner, the Massachusetts Institute of Technology (MIT) is also playing a major role during this academic year, as a number of MIT professors will be assisting in teaching courses.
Another 13 M.Sc. students will be participating in a pilot year abroad in Biomedical Science and Technology and Product Design and Realization at MIT and University of Groningen. Following their year abroad, they will all return to begin classes for the 2014-15 academic year.
Producing an Impact
Skoltech places special emphasis on innovation, and begins each year a month before classes with a special Innovation Workshop. From the workshop they gain an understanding of how to solve real-world problems with technology and foster a 'can-do' student culture. With this basis, they are then able to apply their knowledge, form their own companies or solve the problems in every day life.
"I've always been interested in the engineering aspect of science. Russian universities generally focus on theories. Here, you can apply theories to practice. And there is an opportunity to connect with real businesses and companies."
Artem Naumov, Information Science and Technology
"During my undergraduate study, I decided to work as a dedicated scientific researcher and innovator. But the main problem that I kept facing was that the typical universities I've attended did not have the combination of education, research and innovation which is the "backbone" for creating future researchers and innovators. Now I've found Skoltech and for me it is like a "dream come true" kind of opportunity."
Mohammad Amirul Islam, Energy Science and Technology