Autumn semester ended on December 20, 2013 with presentation of students' projects.
Opening the meeting, Mats Hanson, Dean of Education, summarized the results of the academic semester and reported about the achievements of students and professors over the last months.
The projects presented last Friday were educational innovative projects that the students invented during the last six days of the autumn semester, supervised by Skoltech professors. Each of 8 projects was assigned to a group of students. Optimization and modelling of coal, oil, gas, energy and other systems by the example of one country was the main topic. China, to the economy and industrial development of which a separate module was dedicated during the academic semester, was chosen to be such country.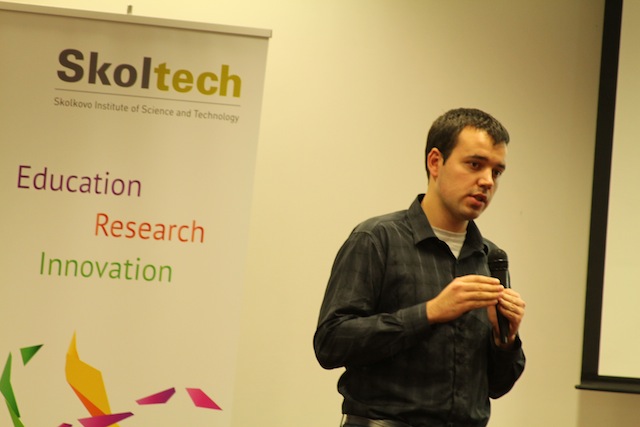 The presentation of students' projects at the end of a semester is a landmark event in the institute's life. It is attended by all students, faculty members and other staff. This time, the presentation was also visited by professors from other universities, experts in related fields, representatives of industry, as well as researchers and representatives from the Skolkovo Innovation Center. MIT Professor Amy Glasmeier, who taught the energy module during the autumn semester, was also present, though remotely. After presentations, she said: "I am absolutely satisfied with the results! Evaluating the level of the projects, I can say for sure that the knowledge of Skoltech students will be appreciated highly wherever they go." Janusz Bialek, Skoltech Professor and Director of Power Systems Center for Research, Education and Innovation (CREI), supported Amy by saying that he was amazed with the level of the students' projects.
Among representatives of Russia's industry who attended the presentation were Z.D. Dibrov, Head of Innovative Development Department, JSC RAO ES of the East; V.N. Fedorov, Head of Department for Innovation, Technical Policy and Energy Efficiency Improvement, JSC Russian Grids; A.E. Tumanin, Head of Innovative Development Unit, JSC Russian Grids; Y.A. Kulikov, Head of Innovative Development Unit, JSC SO UES; S.P. Chekletsova, Deputy Director for work with educational establishments, JSC SO UES; and V.V. Boyarkin, Leading Expert, Directorate for Information and Analytical Products and Methodology, CJSC Energy Forecasting Agency.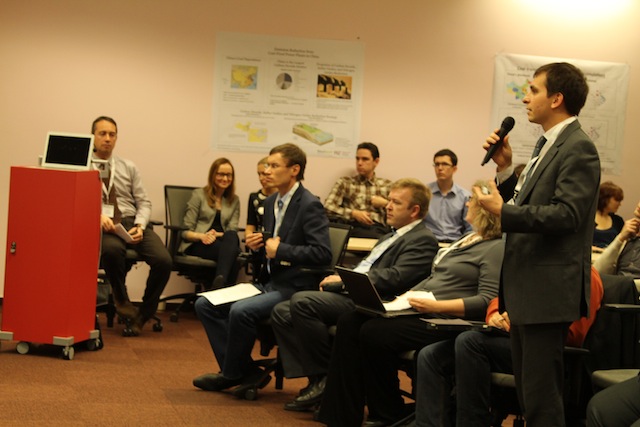 Following the official part, all guests and participants actively participated in a discussion of students' projects at individual booths. The discussion was held in the form of personal conversations and consultations with trade professionals and experts.
The students thanked their tutors and each other for their efforts and work done. Skoltech's master's student Boris Urman (IT) said: "On behalf of all students, I'd like to thank Skoltech team of professors – you are the best, as well as the organizers for organizing this remarkable event! It was great, thank you very much!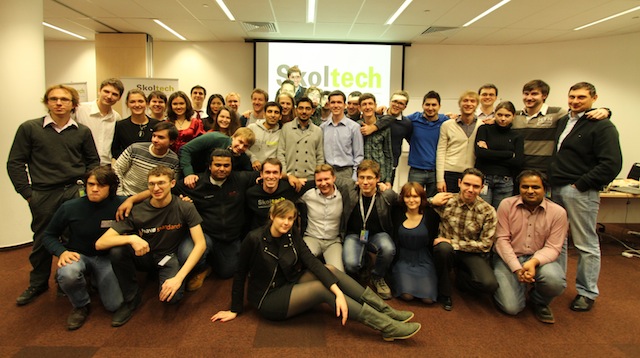 The next presentation of students' projects will be held at the end of spring semester 2014.