Some call the first day of the academic year in Russia 'First Bell' ('Первый Звонок' in Russian), citing the tradition of a first grader schoolgirl ceremoniously carried around while ringing the school's bell. Others refer to it as 'Knowledge Day' (День знаний). We, at Skoltech, are fond of all these historical names. But we also like to look at the present and future of tech and science education. Enter Skoltech's new students, who officially began today their journey towards a Masters or Doctoral degree in science.
Photos: Aleksei Kalabin, Vitaly Shustikov, Maxim Nazarov, Ilan Goren
With the addition of Skoltech's 115 new students the university's community now numbers 400 members, almost half of whom study at the institute.  After doubling the number of enrolled students each year since Skoltech's establishment 3 years ago, the tech and science institute now has 190 MSc and PhD grads in Biomed, Energy, IT, Product Realization, Space, Advanced Studies and Composites.
Skoltech's president, Ed Crawley referred in his address at the Hypercube Innovation Center's auditorium to the ongoing growth of a "community of founders", slated to move into its new home – a state-of-the-art campus building – in 2016. Later, as he took a break from chatting with faculty, doctoral researchers and MS students, he looked around the hall, filled with young and excited faces, and simply said: "they feel something is happening here – it's called opportunity."
At the end of the ceremony a young tree was passed from Dmitry Smirnov, a straight A's senior Energy student and the students' council founder to Divya Shankar, a freshman MS student in Space technology.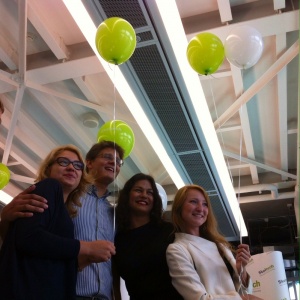 Smirnov told the audience he feels the plant symbolizes of continuing growth and responsibility. Judging by the applause, listeners seemed to concur. Then all they went downstairs and had their pictures taken, greeted each other and experimented with the helium-filled balloons. Perhaps this was the students way of reminding themselves that this is, after all, an institute of science and technology.
Some of Skoltech's outstanding students received accolade – and awards. The Academic Excellence Award was given to Mikhail Barannikov, Alexander Ivanov, Dmitry Smirnov, Boris Urman, Jelena Nadj, Andrii Omelianovich, Vahe Taamazyan, and Alexander Vidiborsky.

The Outstanding Contribution Award was handed out to Dmitry Smirnov for his impact as founding president of Student Council, and to Nikita Rodichenko for his impact as a leader of the engineering club and masterskaya developer. For their impact in running three hackathon events – Vladimir Eremin, Rustem Feyzkhanov, Dmitry Vasiliev, Alexander Ivanov, Vahe Taamazyan, Irina Zhelavskaya – got on stage and received their awards.
* The Skolkovo Institute of Science and Technology (Skoltech) is a private graduate research university in Skolkovo, Russia, a suburb of Moscow. Established in 2011 in collaboration with MIT, Skoltech educates global leaders in innovation, advance scientific knowledge, and foster new technologies to address critical issues facing Russia and the world. Applying international research and educational models, the university integrates the best Russian scientific traditions with twenty-first century entrepreneurship and innovation.