"So how was it?" a science editor queried a tech blogger.
The journalists were riding down an elevator from the 4th floor of the Hypercube building. They had just listened in on Skoltech scientists presenting research trends in brain evolution, renewable energy and quantum physics.
"Original, not banal," replied the fellow journo and the elevator doors slid open, "even interesting." The two hit the buffet and began grilling professor Philipp Kahitovich on the difference between human and a chimpanzee's brain.
An event organizer who shared the chrome cubicle with the media representatives let out a content little sigh. Dozens of journalists attended the first ever 'Sci – Talks', a series of presentations by Moscow based thinkers and researchers (for full list of speakers and topics, please see below.)
The speakers were well aware of their audience's needs. They kept talks to the point. All spoke for less than 15 minutes. And still, this was a test run of how top-notch scientists might connect with the press and public.
Bottom line: most of those who attended said they would be content to revisit the technology and science institute. The next Sci – Talks is already in the works.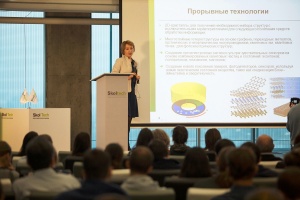 List of speakers and topics:
Prof. Natalia Berloff, Dean of Faculty
PHOTONS VS. ELECTRONS: THE QUANTUM REVOLUTION AND TECHNOLOGIES OF THE FUTURE
Prof. Janusz Bialek, Director of the Skoltech Center for Energy Systems
NEW PARADIGM IN POWER: RENEWABLE ENERGY
Irina Dezhina, Doctor of Science, Economics, Group Leader of the Scientific and  Industrial Policy Group
ADVANCED MANUFACTURING TECHNOLOGIES: THE RUSSIAN WAY
Prof. Kelvin Willoughby
Mind Your Business: Ideas and Property
Prof. Philipp Khaitovich
Human Brain Evolution: Myths and Facts
* The Skolkovo Institute of Science and Technology (Skoltech) is a private graduate research university in Skolkovo, Russia, a suburb of Moscow. Established in 2011 in collaboration with MIT, Skoltech educates global leaders in innovation, advances scientific knowledge, and fosters new technologies to address critical issues facing Russia and the world. Applying international research and educational models, the university integrates the best Russian scientific traditions with twenty-first century entrepreneurship and innovation.