When Jeffrey Sexton, the public affairs counselor at the US Embassy in Russia took the podium in central Moscow, he knew he had the audience's attention.
The main hall at the Digital October Center was packed with scientists and entrepreneurs. They had gathered for the opening session of the Russian American Research Symposium, an event organized by the Massachusetts Institute of Technology (MIT) and Skoltech. The American diplomat briefly scanned the hushed room. Then, with an even voice, he spoke:
"No country can go it alone in today's globalized world. A new measure of success may very well be the degree to which a country is able to cultivate cooperative relationships across many fields – business, scientific, educational, cultural – and with many countries. The United States has benefited immensely from these trends and will continue to foster them in all of our bilateral relationships, including our relationship with Russia." He paused, perhaps for emphasis, or simply for air.
He pressed on. "We regard people-to-people programs, such as the MIT – Skoltech initiative in science, as more important than ever." Sexton thanked his listeners, and left the podium, leaving behind him a lighter mood. The day's agenda commenced.
More than 30 key figures in the Russian and American science and startup communities described their research initiatives and the challenges they face in biomedicine, energy, computer science, advanced materials, aerospace, and entrepreneurship. They hashed out tactics for translational research and debated scientific strategies. And they all reiterated one overarching principle: international cooperation is a key element of the innovation process.
At the end of the symposium two of the participants were making their way down the main staircase and out of the Digital October center. On the mezzanine level, they paused next to a quote by Guy Kawasaki, an American entrepreneurship guru, painted on the wall in big black letters.
"If you're an entrepreneur, there is no bad time to start a company", one of the men read out the writing on the wall.
"You got that right," the other hummed in agreement.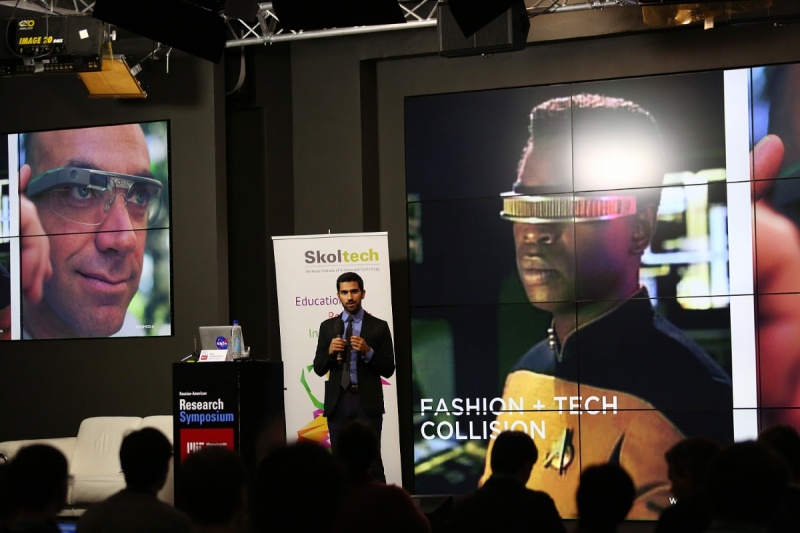 Gihan Amarasiriwardena, CEO, Ministry of Supply, at the 'Entrepreneurship & the Research University' session
* The Skolkovo Institute of Science and Technology (Skoltech) is a private graduate research university in Skolkovo, Russia, a suburb of Moscow. Established in 2011 in collaboration with MIT, Skoltech educates global leaders in innovation, advances scientific knowledge, and fosters new technologies to address critical issues facing Russia and the world. Applying international research and educational models, the university integrates the best Russian scientific traditions with twenty-first century entrepreneurship and innovation.