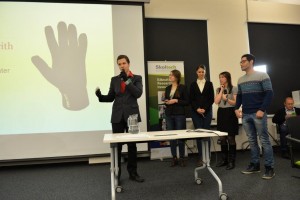 A young student is jumping up and down at the corridor. Her face is red and a big smile is smeared on her face. "Yes! They loved us and believed in us" she shouted quietly. After all, the next presentation already takes place behind the door.
This is the result of long and demanding two months, during which the students were divided to 22 groups, each working on a different project. Each week they met with their mentors, and polished the details. Today was the last and final stage of their innovation workshop. The students presented their projects in front of their colleagues and their mentors. Victor Safronov, one of the mentors said: "the process is exciting, it upgraded their skills. I was very glad today to see the progress of the students"
Even though these two months were packed for the students with other courses and exams, they managed to team up with people they hadn't knew before, to work on a topic they haven't considered before, with an average budget of 25$ per person and to deliver interesting projects and even working prototypes.
Ilia Dubinsky, the director of the Center for Entrepreneurship and Innovation, who leads the workshop summed up: "I think it's a success, and a significant step up for all teams and the students. They figured out many things, they have advanced and they learned a lot. One important thing is that they understood that "innovation" is a real thing, and not just blah blah we say". When asked about next year's workshop, Dubinsky replied "Last year we had 76 students on the workshop, and this year we had 130 students and the workshop had to be changed significantly. Next year we'll have even more students and the workshop would have to be redesigned".
We are certainly looking forward to next year's workshop. Until then, this year's students will present their projects in the "Open innovation" forum at the end of the month. Good luck!