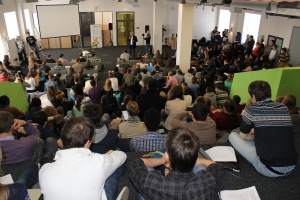 "We found here a great atmosphere, both from students and administration" said Azat Slyamov, a student in the Joint Institute for Nuclear Research (JINT), who was one of the hundreds of guests who came to Skoltech's open doors event. The cohort space on the fourth floor was overcrowded as Skoltech's vice president Alexei Sitnikov explained about the uniqueness of Skoltech and invited professors to present their angle. After each lecture, the audience got time for question and the speakers answered patiently and thoroughly. As predicted, excitement level rose as Skoltech students presented their projects with robots and drones. Who said that just children and dogs steal the show?
Slyamov, who aims to be a future student in Skoltech's Photonics and Quantum Materials center, explained why: "I'm interested in applying my research as soon as possible, to make it useful for society and industry. That's what I like about Skoltech" he says, and immediately adds with a smile "not that my research now is not useful". His friend, Angelina Ustinyenkova from Moscow State University of Fine Chemical Technologies (MSUFCT), added "I want to come to Skoltech because I want the practice, not only theory". She intends to apply the center for Design, Manufacturing and Materials. Adding to the international essence of Skoltech, a group of students from Cuba attended the event. One of them is Vladimir Sanchez, who currently studies software engineering in Bauman University, and wants to get to our Center for Computational Data-Intensive Science and Engineering (CDISE). He summed up the event saying "It was all very interesting".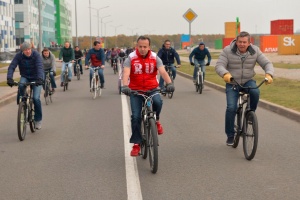 The open doors event was held as part of the "Skolkovo day" celebration, marking the 5th birthday of what is referred to as "Russian silicon valley". Apart from visiting Skoltech, the activities included a bike tour in the Skolkovo campus, performances of a BMX team, martial arts masters, music bands and DJs, innovative entertainment, boat sails, vintage bikes exhibition, children's playground, fitness activity, food court and more.
We would like to thank the organizers for a lovely and fun event, and to the guests who came to learn about us from within, and we wish happy 5th birthday to Skolkovo! Hope to see you all next year.
Photos: Ido Nativ & sk.ru