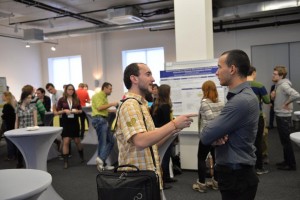 A very unique event took place on Skoltech last Friday – a conference. You might ask what's so unique about a conference in an academic institute. Well, this conference was an event of students, for students, made by students. SkoltechOn, Skoltech's multidisciplinary student conference, was born in the mind of Hripsime Matevosyan, a PhD candidate in the field of Space Systems Engineering and Systems Architecting within the Strategic Innovation Research Group (SIRG).
Her idea was to form an event in which graduate students from Skoltech and partner universities present their research achievements in order to show the impact of the research on science, innovation and technology. A main theme was interdisciplinary approach to science.
The conference included science talks in four fields: Biomed, energy, IT and space, a scientific poster exhibition, vision talks in the format of TEDx, and a special celebration for Skoltech's 4th birthday. In order to fulfill the vision, an organizing committee was form, including Hripsime and colleagues Aliya Khayrullina and Dominik Knoll. They worked days and nights to make this a successful event.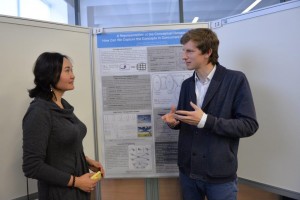 And it was! Students and faculty members of Skoltech and students from partner universities as well gathered and listened to each other, associated in networking and assessing the scientific posters. All went according to the schedule, the atmosphere was high and pleasant (the food was good too). At the last minutes before the birthday party, prizes were awarded to the best posters.
After the event, the organizers summed it up. Matevosyan: "We enjoyed the process very much, albeit all the tasks and issues we were facing during past almost a year. Pioneering is not easy usually, we knew that from the beginning. The conference went as we expected, productive and to the point. Since the community was very small, presenters were getting immediate responses unlike the big conferences. As a result we had a small compendium of all the research that is going on in our university". Knoll: "The attendance was very good, being the first time. I was very happy about the support of key people of staff". Khayrullina added: "I saw PhD students coming out from the Science Talks sharing ideas and the words, like: "Wow, what a great project you are working, I didn't know!", and I truly realized that the conference has served its purpose".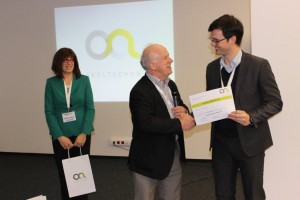 Clément Fortin, Skoltech's Dean of Education said after the event: "I think the students who decided to organize this conference had an excellent vision. I really like their criteria of interdisciplinarity and impact of research because this is at the heart of Skoltech. For me, today, this successful first edition is an excellent opportunity to see where we are in Skoltech, in the broad coverage. Of course it's a student perspective, but it tells us where we are, what we're doing and how well we are doing to a certain extent, because the students are representing their knowledge. I'm very happy to have it today, on the 4th anniversary of Skoltech and I think it's great for the future. I hope that the students will be able to organize this conference every year. This is the goal, and it would be fantastic".
We thank the organizers and all who took part in the successful result. Looking forward to seeing SkoltechOn going on and on and on.
Photos: Sk.ru and Ido Nativ