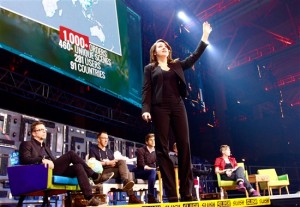 Skoltech graduate Ekaterina Kotenko-Lengold has made a Skoltech history, as she was announced "the runner-up with the bold idea" in the Slush100 pitching competition, during the SLUSH conference in Helsinki, Finland.
This is the biggest achievement of the team presented by the Skolkovo Innovation Center in its 4 years of participation in Slush startup conference in Finland.
Out of 1700 applications presented to Jury, 100 pitches were selected before the event. In the run of the tough competition on the Slush Silver Stage in Helsinki, 20 pitches made it to semi-finals, and only 4 to finals, including Australian Caremonkey.com, Estonian Velmenni.com and German Plugsurfing.com.  CareMonkey took the first prize.
Slush is one of Northern Europe's biggest events for innovators and developers, interested in attracting global investors. This year's conference sees more than 15 000 visitors and 1700 participant-company registered.
AstroDigital is a platform to access satellite data, which makes searching, processing and integration of satellite imagery into web and mobile applications simple, fast and convenient. Thanks to this online platform the client can pick an image of the area he is interested in a certain time frame. No doubts, this technology will be of demand not only among professional market players, but also casual users like farmers, owners of timber land holding and various infrastructure domains.  Earlier in October AstroDigital also became the winner of the grand-scale Naviterra-2015 contest in navigation and Earth remote sensing.
Edward Crawley, Skoltech President: 'We are thrilled that Katya is being on the pathway of becoming a successful entrepreneur, because it's really the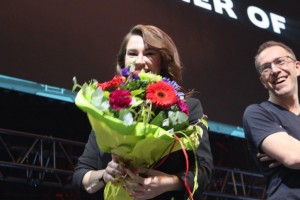 embodiment of what we are preparing our students here at Skoltech to be. The idea that she took a technical discipline like Earth imagery (which we discussed in my class – Katya was my student at Skoltech), combined it with an interesting IT approach, put it into entrepreneurial framework, and is now being a successful young entrepreneur – is exactly the pathway that we want our students to follow. Furthermore it's highly aligned with the space strategy at Skoltech which is to use lower orbit Earth assets for the betterment of society and life on the Planet, both in the IT domain and the health domain. So in many ways Katya is both an embodiment of the spirit of Skoltech, and a very important contributor to our space strategy'.
The whole Skoltech community congratulates Katya and is proud of her success. Educational programs at Skoltech are focused at innovation and entrepreneurship studies to motivate students develop and further monetize their findings. Skoltech Center for Entrepreneurship and Innovation (CEI) is mainly involved in these activities: at CEI experts offer MSc and PhD students help in bringing their ideas from lab to market, developing already existing projects, consult on licensing and IP management.