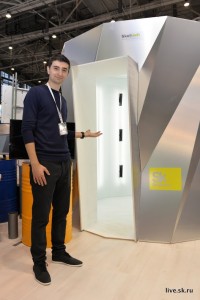 This was not the first year that Skoltech participates in the "Open Innovation" forum, but surely this is the most prominent participation yet. The reason is that for the first time in Skoltech's four years, its graduates participates as individuals, as company owners presenting their own products. This is the case, for example, of Vahe Tahmazyan who presented his TARDIS 3D – a 3D full-body scanner as part of the Skolkovo foundation stand.
The "Open Innovation" forum, which is the most important innovation event in Russia, took place in the VDNH Expo center between Oct. 28th and Nov. 1st. Skoltech president, Prof. Ed Crawley explained the importance of the event: "Skoltech considers this a very important event in the year in Moscow, because Skoltech is about innovation, about improving the innovative content of the Russian economy and moving it to a knowledge base. That's what really the theme of this meeting is. It's a meeting that's almost designed to help Skoltech achieve its missions. It's very important to us and we're very active participants".
And Skoltech was active indeed. During the whole five days, Skoltech was represented at the Skolkovo foundation stand, which was strategically positioned right at the entrance. But the highlight was on the forum's fourth day, which was dedicated to education. During this day students, professors and executives from Skoltech dominated the round tables, the exhibition stands and the conference halls.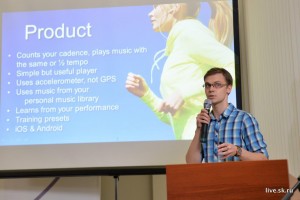 The "Big bang" started at 12:30, when our students started presenting their products of the innovation workshop that was concluded just a week before. The students presented such projects as airbags for drone safety, self-heating shoes, special case for laptops and much more. The moderator of this part was Dr. Alexey Kosik, and in the audience sat, among others, José Estabil – director of innovation and entrepreneurship, MIT Skoltech Initiative, who said: "Today I saw teams of students presenting their technology that came out of the innovation workshop, which I thought could become products".
The students themselves were satisfied, as the "Forget-me-not" tracking device team members said: "It is cool that today we could not only show our project at such a forum but could get the expert's view on it. It is a step forward for us". We hope that in a couple of years, they will have their own place in the Skolkovo foundation stand, just like Vahe Tahmazyan.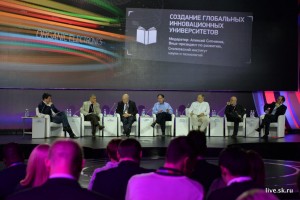 Half an hour later, in the Sergey Korolev conference room, started a round table discussion: "Building global innovation universities". The participants were directors and presidents of various innovations universities from around the world, including Prof. Crawley. The moderator for this event, and a few others during this day, was none other than Skoltech's vice-President for institutional and resource development, Alexei Sitnikov. During the discussion, Prof. Crawley explained his position about today's innovation universities: "21st century universities need to apply knowledge, and that's what we do in Skoltech – we give the students the knowledge and immediately want them to apply it".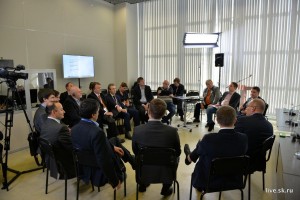 Moving on to another round table – "Exchange of experience and best practices in technological entrepreneurship and engineering innovations", with the participation of Skoltech's CEI team: Ilia Dubinski, director of the Center for Entrepreneurship and Innovation, Igor Seleznev, director of research programs and technology transfer, Dmitry Pebalk, Skoltech Translational Research and Innovation Program manager and Rustam Kagirov, Skoltech Translational Research and Innovation Program specialist. Another participant was José Estabil who left the student presentations to take part in this discussion. Afterwards he said: "In this round table, when questions were asked about direction of education for entrepreneurship Skoltech could say "we are doing this and we are doing that" which is very concrete and tangible. Many people were saying "maybe we can try this and maybe we can try that", and Skoltech was able to say "We ARE doing these things". Ilia Dubinski shared his take on the importance of this round table: "the round table, dedicated to the teaching of entrepreneurship and innovation, will give us the chance to create a special net of universities, which are interested in exchange of the courses, professors and methodologies related to this subject teaching".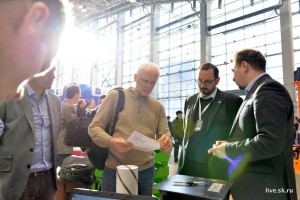 The CEI was not presented just in this discussion. In the Skolkovo foundation stand were held presentations of the current projects taking part at the Translational Research and Innovation Program. You can find short descriptions of the projects led by Konstantin Severinov, Artem Oganov, Alexander Ustinov and others here. These projects were presented in the 7th Translational Research and Innovation conference that was held two days before in front of students and faculty, and today they were presented to the public, with the opportunity to discuss the projects with the professors themselves.
And if you think that these talks about innovation and all these presentations are nerdy, came the last day of the forum, with the inspirational round table talk "Can science be sexy?", in which took part Skoltech's director of communications Liliya Boyko, and Prof. Artem Oganov. For us the answer is clear: science can be, and is, sexy.
Photos: sk.ru