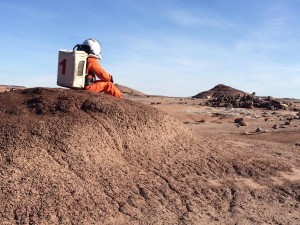 Isolated in a habitat in the middle of the desert, with hard weather conditions outside and surrounded by rough terrain, 6 Skoltech students face the challenges of planet Mars. Well, they are doing it in the Mars Desert Research Station (MDRS) in Utah, USA, but it's as close as it can get.
The Skoltech team, or as they are called on-site "Crew 161", includes students from the space and energy tracks in Skoltech. Each one of them spent at least a semester at Massachusetts Institute of Technology (MIT), USA as part of their graduate studies, and each specializes in a different field and has a unique role in the mission:
Divya Shankar – team captain
Adeniyi Adebayo – executive officer / journalist
Michael Khmelik – engineer
Veronica Shteyngardt – astronomer
Natalia Glazkova – Crew Health and Safety Officer/ Biologist
Md. Mahbubur Rahman – engineer
Crew 161 started the mission on January 9th, and they will stay in the research station until January 24th. Their goal is to "understand Mars as a potential planet for human habitation". Three research projects underpin this goal:
Soil analysis – Commander Divya is studying the Mars regolith with a focus on the chemical composition of the various soil samples. In Divya's words, "we cannot colonize Mars without a thorough understanding of the chemical composition of its constituent soil." Her research will shed more light on the regolith of the North Pinto Hills around the Mars Desert Research Station.
Robotics – the crew engineer, Mikhail Khmelik, is developing a robotic arm that will be able to perform autonomous scooping of soil samples with varying shear strength.
Plant studies – Apart from taking care of the team's health, crew biologist Natalya Glazkova is studying plant growth using a variety of soil samples collected on the Red Planet. She is currently growing radish and very soon will be adding some peas to her collection of plants.
Why do they do it? Divya Shankar, the crew commander, gives the answer "In the grand scheme of things, mankind has to become an interplanetary species to survive in the long run. So, it's an honor to be at the cutting edge of space studies. The Skoltech space track provides an excellent platform for this. How better to understand Mars than simulating life on it?"
We will keep following the team as their mission gets along, and in the meantime we wish them good luck!