Engineering education and real-world demands on engineers have in recent years drifted apart. Realizing that this widening gap must be closed, leading engineering schools in the USA, Europe, Canada, UK, Africa, Asia, and New Zealand formed the CDIO (Conceive – Design — Implement — Operate) Initiative: A worldwide collaborative to conceive and develop a new vision of engineering education.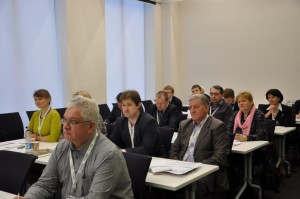 On February 16-17, Skoltech held a joint advanced training program for management and faculty members of Russian Universities, which provide engineering programs of higher education. The training was in the framework of "CDIO Academy", and was organized in cooperation with the National Research Tomsk Polytechnic University. The objective of this program was to develop the competence of its participants for efficient and high-performance application of the CDIO Concept and CDIO Standards aimed at upgrading the quality of engineering education.
The concept of education and training engineering program graduates capable of performing complex engineering activities was developed within the international CDIO Initiative and is currently being implemented in 100 universities around the world. The CDIO Initiative involves university professors, industrialists, representative of professional engineering organizations, and other interested parties. Since 2011, a number of Russian Universities joined the CDIO Initiative.
The two-day program that was held in Skoltech was focused on two of the CDIO standards: standard 9 – Enhancement of Faculty Competence: actions that enhance faculty competence in personal and interpersonal skills, and product, process, and system building skills; and standard 10 – Enhancement of Faculty Teaching Competence: actions that enhance faculty competence in providing integrated learning experiences, in using active experiential learning methods, and in assessing student learning.
The schedule was pretty intensive. The trainees received lectures from both Skoltech and Tomsk Polytechnic University senior managers. The more practical part was the excursion in different engineering-related labs in Skoltech: The robotics lab, introduced by Prof. Dzmity Tsetserukou, the Concurrent Engineering Design Laboratory, introduced by Giovanni De Angelis, and the students' Masterskaya, introduced by Brendan Smith. At the end, all participants received their certificates.
Skoltech's senior education officials were very much involved in the program. We asked them in to which extent the CDIO standards are implemented in Skoltech's curriculum, and in what way it can influence other institutions in Russia.
Clément Fortin, the Dean of Education states: "Skoltech curriculum, the way our courses are built, is based on CDIO principals.", and Tatiana Petrovskaya, Assistant Dean for Education elaborates: "Educational programs at Skoltech are based on students' proactive work and implementation of their skills in project activity. This is the realization of one of the CDIO standards – creation the context of future engineering activity. From the very beginning the students have so called "Innovation Workshop", course aimed at making the project, some prototype or business product. Moreover, Skoltech has the space for engineering activity, its labs and workshops, where students have all the possibilities for their idea realization, working in groups and creating real engineering projects".
"One of the roles of Skoltech is to have a wide influence on Russian universities", Says Fortin, "By participating in this CDIO academy and developing it, in collaboration with Tomsk Polytechnic and other universities, we really encourage and sponsor the development of leading edge curriculum development methodologies, particularly in engineering, for all Russian universities. So for us in Skoltech it's a way to influence the Russian university system and it's a very important goal for Skoltech to do this. It is at the heart of our mission to do this."
"This program was created for modernization of engineering education and there is nothing better and more systematic at the moment." Adds Alexander Chuchalin, Associate Dean of Education, "This method has to be developed and for sure adapted to different grades and levels, for example, for masters and PhD programs, as it was mainly created for Bachelor programs. Besides Skoltech and Polytechnical university of Tomsk, there are several other Russian universities, which made success in using worlds practice and standards. Think that we should make the audience of the program wider and now Skoltech and Polytechnical university of Tomsk are working on online version in order to attract more teachers, managers, etc."