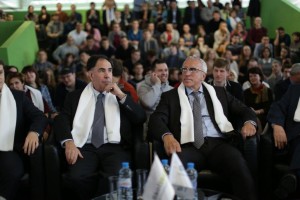 "The key feature that defines any university is its students. Thus the pivotal moment for Skoltech is the day our students begin to frame who we are. Today, they will put us on the map". So said Prof. Edward Crawley at the launch of Skoltech's first academic year, with a little less than two dozens of students and numerous faculty members. Today was yet another pivotal moment for Skoltech, as its students, faculty, staff and friends, now at a much larger scale, gathered together to say a big "Thank you" to Prof. Crawley, as he steps down and hands over the title to academician Prof. Alexander Kuleshov.
A special banner, in an Andy-Warhol pop style, featuring Ed's face with his famous smile was hanged in the entrance. The cohort space on the fourth floor was decorated, and a variety of delights and beverages was waiting on the tables when the crowd started filling the hall. Alexei Sitnikov, Vice-President for Institutional and Resource Development took the microphone to his hand and launched the event.
Skolkovo senior Vice President Alexander Chernov blessed Prof. Crawley on behalf of the Skolkovo foundation, and presented him with a special gift: a helicopter that was built by Skoltech students, which was taken by the foundation, and now was returned to Ed. With the gift came a request: to think about Skoltech whenever he flies the copter, or to fly the copter whenever he thinks about Skoltech.
Prof. Alessandro Golkar, who knows Ed for long years, spoke on behalf of the faculty: "Ed's footprint in Skoltech is everywhere. Having known him for quite some time, and having seen him succeed in a number of ventures in the world during these years, I can spot Ed's style very easily by now. He founded a university from scratch – do you know anybody else who has done that? –built a strong team of faculty and staff, and attracted quite an impressive number of students all over the world. He has done so in quite difficult times. I am not sure how many American citizens, in his place, would have stood up in a tense environment to his mission. Ed has done it because he loves his job and he really believes in what he is doing. Skoltech should be immensely proud of your stubbornness and willingness to do well, Ed!"
After him, came Dmitry Smirnov, representing those first two dozens of students. Smirnov told a funny story of how, in 2012, Ed asked the pioneer students this question – how many tennis balls can be placed in the car, how it took them a few good people and a few good hours to come with the number –  just over 10 thousand. Smirnov stated how for them, and for him personally, Ed was not just the rector, but "a friend and a true academic dad".
After Smirnov it was the time for the man of the hour to make his speech: "this is really touching", opened Crawley, "I want to give my thanks to all of you, of course, for the accomplishment of the human drama of building a university in Russia from scratch. And I want to summarize this with the ten firsts, we accomplished during our five years together:
The first meeting ever at Skoltech. I began the meeting by talking about the values of Skoltech. I want to remind you what they are, because this is my last opportunity as president to do that: focus on innovation, the development of useful knowledge and valuing all contributors as they take scientific knowledge and apply it to the problems of society. We're going to deliver the highest quality education, based on innovation, that's the first. The second is excellence, unity and limited objectives. This is not a classical university, it's one focused on finding the technology, if we have one faculty who works together on important problems and does so with the utmost of intellectual intensity, curiosity and attention. And finally, the way we deal with each other, with equity, diversity and respect.
The remarkable leap of faith of 20 students, applying to be students in Skoltech, when there was nothing more than me, a few people, a laptop and a website.
The first donation. It's probably not hard for you to guess who made the first donation to Skoltech. (Victor) Vexelberg, and he made many. We have to thank him both for his leadership and his strong support.
The first ringing of the bell, at MIT, our important colleague and partner, in august 2012. The first academic exercise of Skoltech took place in the innovation workshop in MIT.
The first class ever delivered in Skoltech, by Ilia Dubinski. Ilia was the first person who walked into a classroom, as a Skoltech faculty member and taught a class to Skoltech students.
The first research that was affiliated to Skoltech, made by Raj Rajagopalan, "Dynamics and thermodynamics of water around EcoRI bound to a minimally mutated DNA chain".
The first license agreement, not long ago.
The first company founded by Skoltech alumna, "imaginarium", which became "astro digital".
The first building.
And something that happened just yesterday – the first doctoral examinations in Skoltech. Another stepping stone in the process.
You are still all founders of this place, and I want to thank you from the bottom of my heart for the help that you've given me, for helping establish this. I want you to continue with the second president of Skoltech, Alexander Kuleshov. Now we come to the last of the firsts: the first change of command. Today I'm going to be succeeded by my colleague and good friend, Alexander Kuleshov. A strong scientist, with expertise in mathematics and information theory, areas of direct relevance to Skoltech. He is of course a member of the Russian Academy of Science. Throughout his career, he has worked to make connections between his science and application, exactly what we call fundamental research with a consideration of use. He's a Russian, but brings a distinct international onlook, and he wears really nice suits, much better than the suits I wear. He has been, since the very beginning, a member of the board of Skoltech. So I would like to introduce to you, and I have the great honor of saying "Mr. President, Alexander Kuleshov"."
The next President responded with strong and warm words of his own: "today I'm taking over as the president of Skoltech, which is both great honor and a big, enormous responsibility for me. I would like to take this opportunity to talk a little bit about the past and future of Skoltech: MIT was a technology talent factory in the second half of the 20th century, and this century as well. This is remarkable that MIT was involved in the creation of Skoltech, and has been our senior partner and advisor. The contribution of Edward Crawley, the MIT professor, is impossible to honor enough. Ed, thank you for the job you have done. Thank you very much.
What makes a real difference between an average school and a top university is of course the quality of the students, the percentage of gifted students. For me personally, the main slogan is "Skoltech – the school for the gifted". Russia has plenty of gifted young minds now.
I'm sure that Ed will stay a true American when he gets back home. Any enterprise is remembered by its founder, not the second or third person. In this respect, Ed, you have done a great job. Let me express our gratitude to Ed, and I'm sure we will continue to work together for years. Thank you Ed".
After the speeches, a short ceremony was conducted – passing the presidential icons from one president to the other: the ceremonial bell (the one the president is ringing with to open the first day of the academic year) and the key to the university (an actual, physical key, and a disk-on-key, containing all the founding documents).
The event ended with food, drinks, music, and a lot of people standing in line to take a picture with Ed Crawley, which from this day on will hold forever the title of Skoltech's "Founding President".